Harry Reid says he's moving to Anthem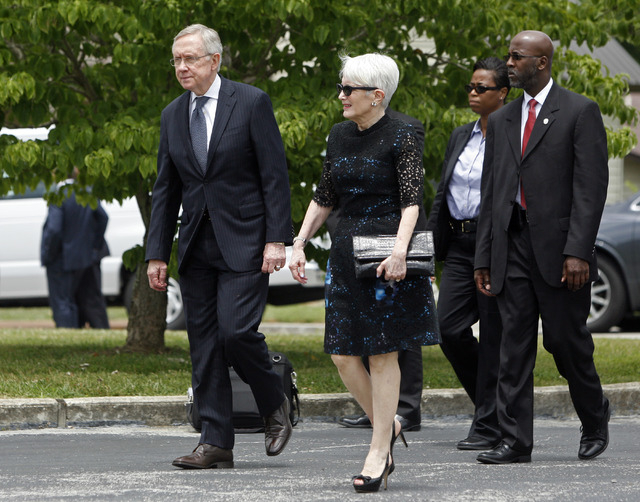 WASHINGTON — Residents of Anthem are about to get a new neighbor.
Sen. Harry Reid on Tuesday confirmed he and his wife, Landra, have picked a home in the upscale Henderson community, and plan to move in later this summer.
The Reids are moving out of Searchlight, where the Nevada senator was born and where he returned as he built his political career.
"We bought a home," said the 74-year-old Senate majority leader in a brief interview in the Capitol. "It hasn't closed yet but we made an offer on it."
Not disclosing the address, he said it was previously owned, and was about 3,500 square feet, roughly the size of the two-bedroom ranch house the couple had built for them in Searchlight.
Reid said he expected the closing would take place at the end of the month, and the couple would move in during August. He said his wife found the property, and he went and looked at it last week during the Senate's recess.
The location was strategic for family purposes, Reid said, as three of his sons live in or near Henderson.
"It's a mile from one of my boys and a half-mile from the other," he said.
Reid is likely moving into Anthem Country Club, a gated community with armed guards. Sons Josh and Key Reid live there with their families. Attorney Key Reid has lived on Plum Hollow Drive since 2004, and Josh Reid moved into a house 1.1 miles away on Winding Road in 2008.
Kristen Routh-Silberman, a real estate agent for Synergy Sotheby's International Realty specializing in Anthem properties, said Anthem Country Club is a golf, swim and tennis community built around a 7,291-yard private golf course with a 3½-mile walking loop.
"There's a big sense of community," said Routh-Silberman, who has been an agent since 2006. "As a master-plan community, it was a really good master plan. The only concentric one we have in the Las Vegas and Henderson area. They laid it out quite nice."
The gated community has 24-hour armed guards. Two lanes for visitors are greeted by the guards to make sure the visitor's name is listed. A third lane is for residents and outside club members who have an electronic pass.
The 4,755-acre community was originally master planned by Del Webb in the 1990s, and homes can range from $300,000 to $10 million for a custom home, Routh-Silberman said. Most homes range from 1,600 square feet to 5,000 square feet. Current listings range from $339,900 for 1,393-square-foot home on 0.19 acres, to $7.8 million for a 10,650-square-foot home on a half acre.
From the information on the home provided by Harry Reid, they are likely buying a popular "Cantata" model, a one-story production home with an open floor plan, big open kitchen with a wet bar in the center between the kitchen and living room, Routh-Silberman said. Big doors usually open to a backyard with a pool or a patio.
The community is home to many celebrities and professional athletes, ranging from magician Criss Angel to National Football League player Jonathan Ogden. The community is mostly built out with a few custom lots still available, including an acre lot with 360-degree views listed with Routh-Silberman for $2.5 million.
Reid, leader for Senate Democrats, will be living in a Republican area. U.S. Rep. Joe Heck represents the 3rd Congressional District, Joe Hardy represents state Senate District 12, and Melissa Woodbury, daughter of former County Commissioner Bruce Woodbury, represents state Assembly District 23.
Contact Stephens Washington Bureau Chief Steve Tetreault at stetreault@stephensmedia.com or 202-783-1760. Find him on Twitter: @STetreaultDC. Contact Arnold M. Knightly at aknightly@reviewjournal.com or 702-477-3882. Find him on Twitter: @KnightlyGrind.