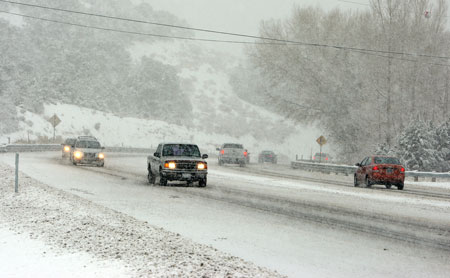 Heavy snowfall forced road restrictions in the Spring Mountains this morning and the National Weather Service forecast rain and cold temperatures in the Las Vegas Valley today.
There is a 90 percent chance of precipitation in the valley, with one-third to 1 inch of rain expected.
In the mountains, at elevations between 4,000 to 7,000 feet, 6 to 12 inches of snow is expected. At elevations above 7,000 feet, 1 to 2 feet of snow is expected.
At Mount Charleston, between 12 and 20 inches of snow is expected by 1 p.m. today, according to a Las Vegas police advisory.
The Nevada Department of Transportation is requiring four-wheel-drive, chains or snow tires on all vehicles using state Routes 156 and 157 leading to Mount Charleston and the ski and snowboard resort in Lee Canyon.
Officers plan to check vehicles, and those without proper equipment will be forced to turn around, police said.
Opportunity Village's Magical Forest won't open tonight because of the rain, according to special events Manager Stephen Miller.
"With the weather, we can't operate our rides," he said.
The Magical Forest, an annual fundraiser for the organization that helps those who are mentally challenged, was scheduled to open at 5:30 p.m. today. It will reopen Tuesday at 5:30 p.m., weather permitting, Miller said.
Contact reporter Mike Blasky at mblasky@reviewjournal.com or 702-383-0283.
Review-Journal reporter Ed Vogel contributed to this report.
Review-Journal reporter Lawrence Mower contributed to this report.