Heller close to announcing run for Ensign's Senate seat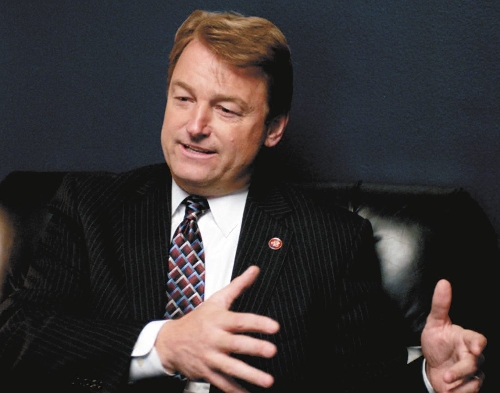 CARSON CITY — Rep. Dean Heller is telling confidants he's planning to announce as soon as next week that he's getting into the race to replace U.S. Sen. John Ensign, a declaration that will set off a swift GOP scramble among candidates seeking his House seat.
Heller's move has been widely expected in Republican circles. Insiders told the Las Vegas Review-Journal on Thursday that he's informing people of his plans, although the logistics and timing are still being worked out. Heller's office didn't comment.
Republicans believe Heller's the best candidate to defend the GOP-held seat against an expected all-out attempt by the Democratic Party to win it. Behind the scenes, the GOP is hoping to discourage potential primary opponents from challenging Heller so he won't be wounded for an expected tough general election battle.
GOP Lt. Gov. Brian Krolicki is considering running for either the Ensign seat or Heller's job, as is Sharron Angle, the Tea Party favorite who lost to U.S. Sen. Harry Reid in a marquee 2010 race the GOP initially thought it could win.
Krolicki said he didn't want to discuss his or Heller's plans, but he acknowledged Republicans are trying to avoid another messy election for the Senate seat, although the House race is likely to include a competitive GOP primary.
"Most of us are sincere friends," Krolicki said of the potential GOP contenders, many of whom were caught off guard by Ensign's sudden decision to retire. "The whole process has been accelerated now."
Heidi Smith, the GOP national committeewoman, said Republicans can't afford another divisive Senate primary.
"He's our best chance to hold this Senate seat," Smith said of Heller.
On Monday, Ensign announced he would not run for re-election in 2012. He said he didn't want to put his family through a tough campaign in which his admitted affair and a related Senate Ethics Committee investigation would haunt him.
Once Heller announces, it will be open season on his House seat, which he first won in 2006, beating Angle in the GOP primary. Heller's district covers Northern and rural Nevada and is considered a safe seat for the GOP .
Other Republicans considering a run for Heller's seat include state Sen. Greg Brower, who was appointed this year to finish retired Sen. Bill Raggio's term through 2012, and Nevada Republican Party Chairman Mark Amodei.
From Washington, Democrats already have started targeting Heller.
Earlier this week, in a memo distributed by the Democratic Senatorial Campaign Committee, Executive Director Guy Cecil argued that a Heller candidacy "is very much a paper tiger."
"Though Heller is perceived as a formidable candidate, a close examination of his Nevada vote performance reveals his support is a mile wide and an inch deep," Cecil wrote. He contended Heller, who won election to secretary of state in 1994 and re-election in 1998 and 2002, "has never faced a competitive statewide election."
The memo says Democratic polling further shows Heller "has very little profile in Clark County and among Hispanics," both expected to be strongholds for a Democratic candidate,
Heller political adviser Mike Slanker said the memo was a sign the Democrats are nervous.
"Do you really believe the National Democrats would take the time to put together and release an attack memo on Dean Heller 20 months before an election if they actually believed he was weak? Of course not," Slanker said Wednesday. "They are well aware that Dean is the strongest candidate in the race."
Democratic Rep. Shelley Berkley is expected to run for Ensign's seat, although she's taking her time polling to make sure she has a path to victory.The Democratic Party also is vetting as possible candidates Secretary of State Ross Miller, Attorney General Catherine Cortez Masto and Treasurer Kate Marshall.
Stephens Washington Bureau Chief Steve Tetreault contributed to this report. Contact reporter Laura Myers at lmyers@reviewjournal.com or 702-387-2919.