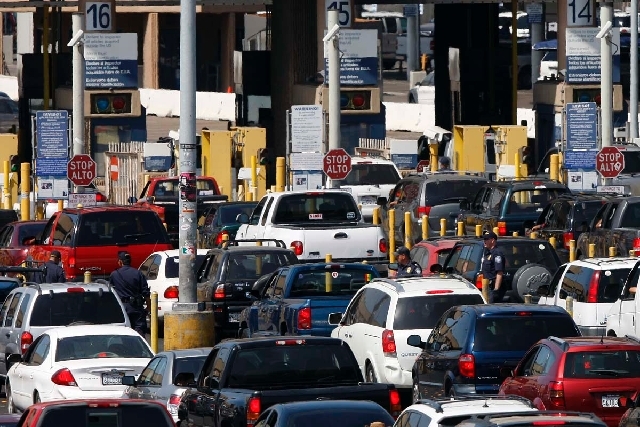 WASHINGTON — Sen. Dean Heller said Wednesday he wants to vote for comprehensive immigration reform, and it doesn't have to be perfect.
"I'm hoping at the end of the day there is more good in this bill than bad," said Heller. "Nobody is going to get everything they want. But the goal is to get more good than bad in the legislation, and to support it.
"Some people want perfection, and we just don't get it in these halls," the Nevada Republican said in an interview outside the Senate chamber.
For Heller, who usually keeps his cards close, the remarks were the clearest he has given on his approach to far-reaching legislation that seeks to further button up security along the southern border, overhaul work systems for immigrants and open a path to citizenship to 11 million undocumented residents.
It comes on the heels of a meeting he convened in Las Vegas two weeks ago that was attended by dozens of activists and Hispanic officials in the state, including state Sen. Ruben Kihuen and state Senate Majority Leader Mo Denis, both D-Las Vegas, who took part by phone from Carson City.
Denis is in Washington this week and met with Heller on Tuesday.
"I needed to have this dialogue so that we know what people can live with and what they can't live with," Heller said. "So far so good. It's going well."
While he might be leaning in favor, Heller said he will not commit until he sees a final product.
"I want to vote for a bill, but I am not there yet," Heller said. "The reason is there are going to be 300 amendments to this thing. Who knows what this thing is going to look like at the end of the day."
Heller did not identify any potential show-stoppers among amendments that could be gleaned at this point. He said he plans to vote for an amendment by Sen. John Cornyn, R-Texas, that would tie the "path to citizenship" to broader and tougher border security requirements.
But that amendment, which has split Republicans while being opposed by Democrats, is expected to fall short of the 60 votes that would be needed to advance. Heller said that would not affect his votes later on the overall bill.
Likewise, he said, he would vote against a possible bid to extend immigration rights to same-sex couples but declined to call that a deal-breaker for him if it were to pass.
Heller on Wednesday introduced three amendments to the bill. He has been described as someone to watch, as a Republican from a state with a large and growing Hispanic population.
One amendment would give Nevada a seat on a Southern Border Security Commission that would be created in the overhaul. The other two aim to avert tie-ups at McCarran International Airport when authorities implement new passenger screening provisions.
Heller said he was considering more amendments.
The immigration bill would establish a border commission if a security plan formed by the Department of Homeland Security failed to stop 90 percent of individuals trying to cross into the United States from Mexico during the first five years after the law is enacted.
The bill envisions a 10-member panel, with six appointed by the president and congressional leaders, plus the governors of Arizona, California, New Mexico and Texas.
The Heller amendment, co-sponsored by Senate Majority Leader Harry Reid, D-Nev., would add a Nevada representative.
"As a state that faces many of the same problems of other Southern and Southwestern border states like Arizona, Texas and California, Nevada deserves a seat at the table," Heller said. "Nevada's unique location and position as a world-class travel destination leave it highly vulnerable to our nation's flawed immigration system."
Contact Stephens Washington Bureau Chief Steve Tetreault at stetreault@stephensmedia.com or 202-783-1760. Follow him on Twitter @STetreaultDC.