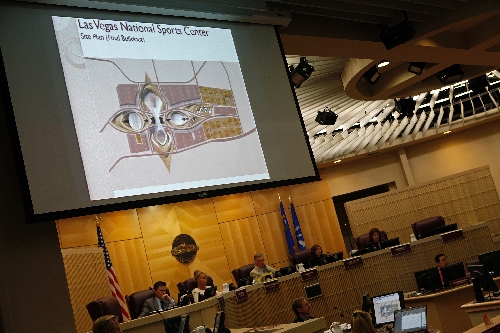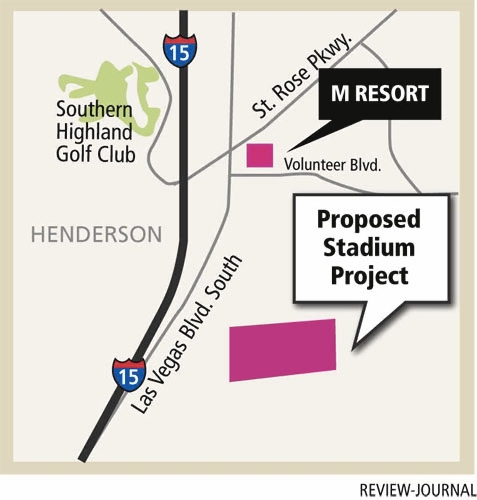 Developer Chris Milam won support Tuesday night from the Henderson City Council for a proposed Las Vegas National Sports Complex.
"People are saying this is a done deal," Henderson Mayor Andy Hafen said. "This is far from over."
The developer and the Las Vegas National Sports Complex, the company behind the proposed project, are hoping to develop the stadium east of Interstate 15 near the M Resort and Las Vegas Boulevard.
With a 5-0 vote, the council agreed to submit a nomination letter to the Bureau of Land Management, which owns the 485 acres.
The letter only recommends that the BLM consider selling the land to complex backers.
If accepted, the site would cost close to $1.35 million, said Lee Haney, a representative of the Las Vegas National Sports Complex.
Henderson could reap the benefits, with close to 10,000 jobs estimated to be produced by the development.
Henderson officials entered into discussions with the company in July.
"There still has to be a feasibility study done to ensure this can happen," Hafen said.
Christine Guerci-Nyhus, interim city attorney, said there are several provisions in the current agreement that protect the city.
"There are ways to exit the agreement if it is found not to be feasible," Guerci-Nyhus said.
The complex would include an entertainment arena with 18,000 seats and a 22,000-seat stadium designed to host major soccer and rodeo events.
Milam's past proposals, which failed to get off the ground, included developing the site at the former Wet 'n Wild water park near Sahara Avenue.
Another proposal was to develop a site near Mandalay Bay. That plan needed legislation, which it did not receive, to create a special tax district.
Contact Henderson/Anthem View reporter Michael Lyle at mlyle@viewnews.com or 387-5201.