Henderson becomes a Purple Heart City
January 15, 2014 - 7:26 am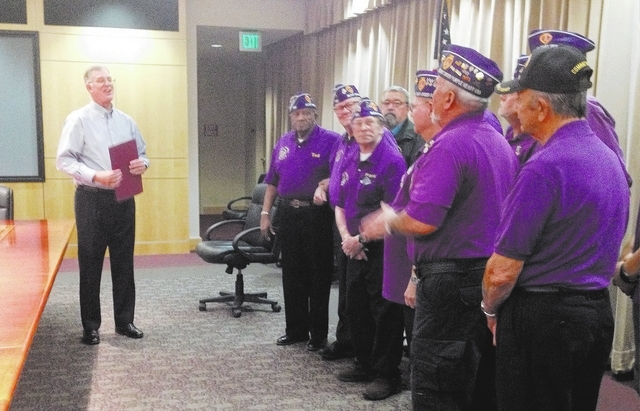 Henderson is proud of its veterans, especially the ones who wear purple shirts.
Mayor Andy Hafen proclaimed Henderson a Purple Heart City on Monday. It joins more than 410 other cities and counties across the nation listed on The Military Order of the Purple Heart website.
"Four years ago, we started with four members. Now we have 63," said Senior Vice Commander Rudy Loupias of The Military Order of the Purple Heart Chapter 730, the Henderson chapter.
Loupias, like his fellow chapter members, is a wounded combat veteran and recipient of the Purple Heart Medal.
He served with the 2nd Battalion, 4th Marines in Vietnam from 1967 to 1968. While positioned near the Demilitarized Zone, his unit was often hit with mortar and rocket fire in addition to firefights they encountered while on patrol.
Vietnam War veteran David Hugus, served twice in Vietnam, first as an infantry platoon leader in the Army's 101st Airborne Division. On his second tour he commanded a rifle company in the 25th Infantry Division. He was wounded during the Tet Offensive in 1968.
The chapter includes one World War II veteran and two post-Sept. 11 veterans, according to retired Army Lt. Col. Don Sacco.
Hafen said he welcomed the opportunity to proclaim Henderson a Purple Heart City because "we want to be as accommodating to the veterans as we can be."
He noted the city has a wall to honor veterans that dates to the 1990s. In addition, the city hosts a celebration each year on the Saturday before Veterans Day and acknowledges the service of veterans with banners along Water Street and two signs at City Hall for combat-wounded veterans.
"Whatever we can do for them we do," Hafen said. "It's a great tradition in Henderson to support our veterans."
The city is home to chapters of the Vietnam Veterans of America and the Veterans of Foreign Wars.
Henderson is the second city in Nevada listed as a Purple Heart City. Henderson, which also is Nevada's second- largest city for population, followed Las Vegas, the state's largest city, which became one several months ago at the request of Commander Richard Small.
Loupias said he now has his sights set on changing the name of Atomic Street to Purple Heart Street.
"We're working on that," he said.
Contact reporter Keith Rogers at krogers@reviewjournal.com or 702-383-0308. Follow him on Twitter @KeithRogers2.