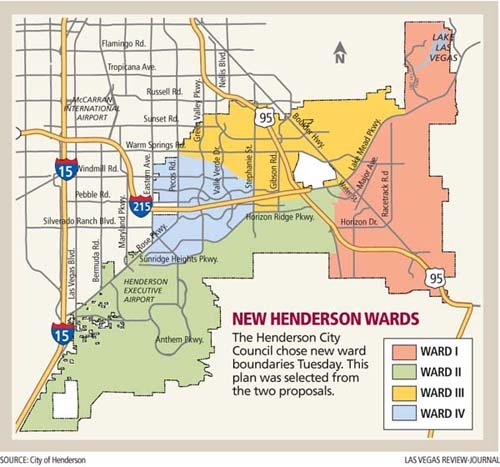 Population changes mean the boundaries of Henderson wards will be moving for the first time since 2008.
The Henderson City Council voted Tuesday on a new ward map, which takes effect at the end of the year. City spokesman Bud Cranor described the revisions as minor.
Nevada law mandates that the city redraw the boundaries to ensure that the population of any ward does not exceed the population of any other ward by more than 5 percent.
The most recent data showed that Ward 2 had the largest population in Henderson, with 68,460 residents. That made its population 6.3 percent larger than the smallest ward, Ward 4, which had 64,422 residents.
Ward 2, which includes the Anthem community, also had the largest number of active voters in the city: 37,119. It is represented by Councilwoman Debra March.
Data showed that Ward 3 had 67,953 residents, making it
5.5 percent larger than the smallest ward.
City spokeswoman Karina Milani said the new ward map adopted by the City Council will affect 4,963 residents.
Ward 3 will gain four voting precincts from Wards 1 and 2 and lose two precincts to Ward 4. All of the changes occur near Interstate 215.
Under Nevada law and the city charter, wards must be as equal in population as can be conveniently provided, no voting precinct may be split, and all precincts within a ward must be contiguous.
Contact reporter Carri Geer Thevenot at cgeer@reviewjournal.com or 702-384-8710.