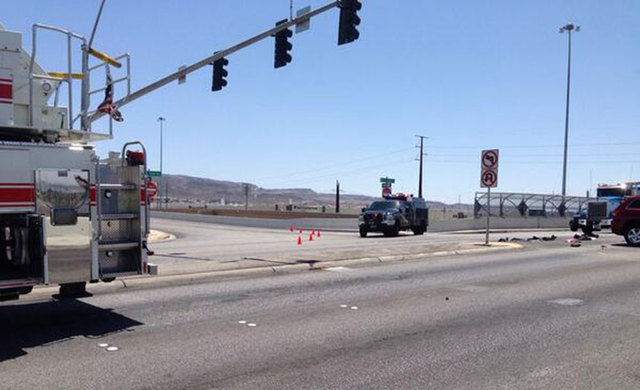 A crash in Henderson left two men dead Thursday afternoon, according to Nevada Highway Patrol.
The crash happened just after noon on the northbound U.S. Highway 95 off-ramp at Auto Show Drive.
A semitruck pulling two trailer cars was exiting U.S. 95 and entered the intersection at the same time as a gold or beige Chevrolet minivan and a Jeep Laredo that were headed east on Auto Show, Highway Patrol spokesman Loy Hixson said.
The front of the semi hit the front of the Chevy, and the front of the Jeep hit the semi's cargo trailers. The semi and the Chevy conitued north, almost onto the Auto Show on-ramp, until the vehicles veered right and struck a concrete divider.
The man driving the semi and the driver of the Jeep were sent to the St. Rose Dominican Hospital, Siena campus with injuries that were not life threatening, Hixson said.
The two men who died were in the van. Hixson said the semi was on top of the van, which he described as mangled. It took hours to access the van and find one of the men inside.
Writer Annalise Porter contributed to this report.
Contact reporter Wesley Juhl at wjuhl@reviewjournal.com or 702-383-0381.