Henderson vote centers catching on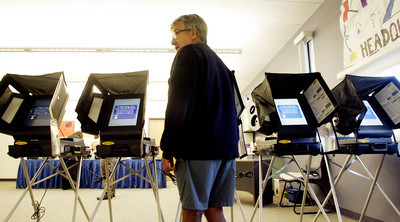 After two years and three municipal elections, it appears the vote center concept is here to stay in Henderson.
Just don't expect the idea to spread beyond the city limits anytime soon.
Though voters and election workers in Henderson seem to like the freedom — and the cost savings — associated with vote centers, officials in Clark County, Las Vegas and North Las Vegas are not seriously considering a change, which would require polling places to be wired together and some election workers to be trained on new computer equipment.
"I really like vote centers," said Clark County Registrar Larry Lomax. "It just comes down to a resource issue."
The centers replace the traditional method of assigning voters to specific precinct polling places. On Election Day in Henderson, voters were free to cast their ballots at any one of 15 vote centers spaced strategically across the city.
That's the main reason the polling locations need to be wired together. If voters can cast ballots anywhere, there must be a way to make sure they vote only once.
North Las Vegas spokeswoman Brenda Fischer said the city is not considering a change at this time.
Las Vegas City Clerk Beverly Bridges said the idea has appeal but she wants to see how well it works in Henderson before investing in the manpower and equipment.
Nevada's second most populous city made the switch for the 2007 primary in hopes of cutting costs and boosting participation in municipal elections.
So far, it has been at least somewhat successful on both fronts, said Henderson City Clerk Monica Simmons.
"Henderson voters have embraced the vote center concept," she said.
Turnout increased from 11 percent in the 2007 primary to 13 percent on Tuesday. That may not sound like much, Simmons said, but it represents an additional 4,000 voters casting ballots.
"Any improvement is good, but that to me was significant," she said.
It's hard to tell what specific role the vote centers may have played in the increase, Simmons said, but that's not really the point away. "We're just saving money and making it more convenient at the same time."
According to Simmons, Henderson spent $86,500 on Election Day costs in 2005 and just over $30,000 in 2007.
Those savings were offset somewhat because the city had to spend more than usual to advertise the switch from assigned polling locations to the vote centers, but she said the city still wound up saving about $45,000.
It will take a few more weeks to tally the costs of Tuesday's primary, but Simmons expects it to be even cheaper because not as much marketing was needed this time.
The centers are only used for municipal elections. For state and federal elections, Henderson switches back to precinct polling locations.
Throughout Tuesday, the city surveyed voters at all 15 centers to see how they liked the idea. Simmons said the results were still being tabulated on Thursday, but most of the comments she had seen were positive.
She said her office did not receive "a single phone call" from anyone upset about the vote centers on Election Day.
In 2007, there were only a handful of complaints, mostly from people who did not read their sample ballots or any of the reminders the city sent out and went to their normal polling place only to find the place deserted.
"If out of 131,000 registered voters we have one or two complain, I think we're doing really well," Simmons said.
The system got high marks from election worker Carl Friedrich, who spent Tuesday at the vote center inside the city's new north area police substation.
For one thing, election workers don't have to worry about whether a voter is at the proper polling station; they only have to confirm whether the person standing in front of them is eligible to vote in Henderson.
"It helps the voter. It helps us," Friedrich said.
Lomax said the current system of assigned polling locations was designed to provide people a place to vote near their homes. Increasingly, though, that model doesn't work for everyone, he said.
"Now for most people it's not convenient to vote near your house, because you're at work and you don't spend most of your day near your house."
The trouble with switching is the cost. Lomax said to make the idea work on a countywide scale would require "well over 100 vote centers" all wired together and staffed with workers trained to keep the system up and running.
Bridges raised similar cost concerns, especially "in these trying economic times."
But don't mistake that for lack of interest in the idea — or any idea that might boost voter turnout. Bridges said she plans to keep watching what happens in Henderson.
"You do want to track it because it could be the wave of the voting future," she said.
Contact reporter Henry Brean at hbrean@reviewjournal.com or 702-383-0350.