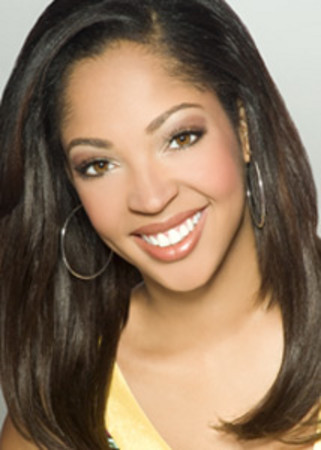 If they hand out points for commitment to cause, Miss Oregon CC Barber would score high marks in the Miss America pageant this week.
At a time when her counterparts were sharply focused on the Miss America talent competition, Barber was in Kenya teaching 700 children earlier this month.
Barber, 23, was practicing what she preaches. Her Miss America platform issue: "Friends of the Children — Revolutionary mentoring for high-risk youth."
Winners of Tuesday's opening competition, the first of three nights of preliminaries at Planet Hollywood Resort's Theater of Performing Arts, were Miss Virginia Caressa Cameron for talent and Miss Puerto Rico Mimi Pabon for fitness and lifestyle (swimsuit).
Puerto Rico is competing in the Miss America pageant for the first time since 1962.
The finals will be broadcast live Saturday on TLC.
Best introductions during the parade of states came from Miss South Carolina Kelly Annette Sloan, who noted she's from the state "where it's still illegal to keep a horse in a bathtub." Miss Minnesota Brooke Kelly Kilgarriff was ready with an updated Super Bowl quip: "Oh wait, the Saints stole my intro." And Cameron pointed out that while her state embraces lovers, "it's still illegal to tickle a woman."
JACKSON MANSION SOLD
The Las Vegas mansion that Michael Jackson reportedly leased for $1 million for six months has been sold to a couple from Orange County, Calif.
Jackson and his family lived in the seven-bedroom, 10-bath residence at 2785 S. Monte Cristo Way from late 2006 to 2007 after returning from self-exile overseas.
At 15,400 square feet, it is the largest house sold in Las Vegas in more than a year and the most expensive so far in 2010.
The buyers, a doctor-lawyer couple, paid about $3 million in cash on the spot, a source told Vegas Confidential. Vegas Fine Estates handled the transaction.
THE SCENE AND HEARD
Caesars Palace President Gary Selesner will introduce a new headliner at 11 a.m. Thursday during a news conference near the fountains. …
The "Viva Elvis" tweaks continue: An Elvis Presley impersonator on stilts, one of the featured scenes of an 18-minute media preview in December, is no longer part of the show. A Cirque du Soleil rep confirmed the cast cut Tuesday.
SIGHTINGS
Conservative talk-show host Rush Limbaugh has been in town since Sunday. Less than a month after his heart scare in Hawaii, Limbaugh is one of the judges in the Miss America pageant. The judges, minus comedian Paul Rodriguez, who dropped out, will be introduced at a news conference today. … Caesars headliner Bette Midler, dining at Vintner Grill on Monday night. … Miss America contestants, meeting the cast of "Phantom: The Las Vegas Spectacular" (Venetian) after Monday's performance. Anthony Crivello, who plays the phantom, took one look at the tall group of beauties and said it looked like a basketball team, "the Olympic basketball team." … Holly Madison, backstage at the "Jersey Boys" (Palazzo) on Monday.
THE PUNCH LINE
"During his acceptance speech Tuesday, newly elected Senator Scott Brown told the crowd that his daughters are both 'available.' Man, so many great American speeches. 'Four score and seven years ago,' 'Ask not what your country can do for you,' 'I have a dream,' and now, 'My daughters are both available.'" — Jimmy Fallon
Norm Clarke can be reached at (702) 383-0244 or norm@reviewjournal.com. Find additional sightings and more online at www.normclarke.com.