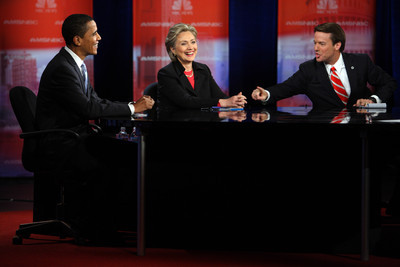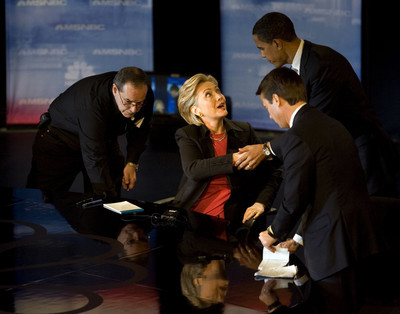 The three remaining contenders for the Democratic nomination hid their claws in kid gloves Tuesday night in Las Vegas in a debate that was mostly civil despite the tensions roiling the race.
Hillary Clinton, John Edwards and Barack Obama were taking no risks as they sought to make their closing arguments to Nevada voters with just days to go before Saturday's caucus here.
"We're the survivors of what has been a year-long campaign," Clinton pointed out as all three expressed their respect for one another.
The candidates sat around a table at Cashman Center in downtown Las Vegas only feet from one another, with NBC's Brian Williams and Tim Russert just across. The dining-table intimacy had a far different feel than the line of podiums of most past debates.
The debate kicked off with the issue of race. Held on Martin Luther King's birthday and sponsored by black and Hispanic organizations, the discussion had been designated to revolve around minority issues long before the campaigns waded into that land-mined territory in recent days.
All three scrambled for the high ground during the two-hour debate, the second in Las Vegas for candidates vying for the Democratic nomination.
"I think what's most important is that Senator Obama and I agree completely that neither race nor gender should be a part of this campaign," Clinton said.
She praised Edwards for his humble background, called Obama "inspirational" and concluded, "We're all family in the Democratic Party."
Obama said, "I know that John and Hillary have always been committed to racial equality." He said his campaign was about the idea "that we can't solve these challenges unless we can come together as a people, and we're not falling into the same traps of division that we have in the past."
Edwards said he'd seen the civil rights movement first-hand growing up in North Carolina, "and I feel an enormous personal responsibility to continue to move forward."
The candidates stuck to the messages they wanted to impart. Obama: I'm inspiring. Clinton: I'm seasoned. Edwards: I'm a fighter.
TALKING TO NEVADANS
Although they had a national audience, the candidates took pains to speak to the Nevada electorate they are fighting hard to win over in these final days before the caucuses.
Clinton illustrated a point about the need for leadership in America with a recent tour of a local neighborhood.
"I went door to door in Las Vegas last week and I met construction workers who've been laid off," she said. "I met a casino employee who's already been laid off."
Obama used the state to segue into a discussion of alternative energy: "You look at a state like Nevada, one thing I know is folks have got a lot of sun here," he said. "And yet we have not seen any serious effort, on the part of this administration, to spur on the use of alternative fuels."
Nevada's pet issue, the proposed nuclear waste repository at Yucca Mountain, got a deeper look than it has in the past and inspired some of the most pointed exchanges among the candidates.
"The people of Nevada have found it's easier to promise to end it than it is to end it," Williams said of the dump. He asked the candidates whether they would pledge to kill the project.
"I will end the notion of Yucca Mountain because it has not been based on the sort of sound science that can assure the people in Nevada that they're going to be safe," Obama said.
Clinton, who has made the most strenuous effort to out-Yucca her rivals, used the issue to take them on.
"I have been consistently against Yucca Mountain," she said, noting that a few months ago she presided over a committee hearing on the project in the Senate.
She suggested the other candidates didn't have her commitment: "Barack has one of his biggest supporters in terms of funding, the Exelon Corporation, which has spent millions of dollars trying to make Yucca Mountain the waste repository," she said, referring to a nuclear-power company based in Illinois whose employees are major givers to Obama's campaign. "John was in favor of it twice, when he voted to override President Clinton's veto and then voted for it again."
Obama said the fact that his state has more nuclear plants than any other made it all the more noble that he has stood against the project.
Edwards said that between the time he voted and today, new scientific evidence, such as an investigation into falsified research results, has changed his mind.
Edwards maintained that opposing Yucca ought to mean opposing nuclear power. He has taken a hard line against it, while Obama and Clinton say it should be left on the table as long as the waste issue is resolved first.
"I am against building more nuclear power plants because I do not think we have a safe way to dispose of the waste," he said. "I think they're dangerous, they're great terrorist targets and they're extraordinarily expensive."
Going further into the energy issue, Clinton strongly condemned a 2005 energy bill that Obama voted for and she voted against.
"I think it's well accepted that the 2005 energy bill was the Dick Cheney lobbyist energy bill," she said. "It had enormous giveaways to the oil and gas industries. It was the wrong policy for America. It was so heavily tilted toward the special interests."
In an implicit poke at Obama, she said of changing American energy policy: "It's not going to happen by hoping for it."
Obama said he voted for the bill "because it was the single largest investment in clean energy — solar, wind, biodiesel — that we had ever seen."
And Edwards snapped, "I believe, Senator Clinton, you've raised more money from those people than any candidate, Democrat or Republican. I think we have to be able to take those people on if we're going to actually change our policy."
Edwards again took a further environmental position than the other two, saying he would stop the building of coal-fired power plants in America.
STYLE AND LEADERSHIP
Obama had to answer for comments published in today's Reno Gazette-Journal in which he said he didn't think he was a CEO type.
"Being president is not making sure that schedules are being run properly or the paperwork is being shuffled effectively," he said. "It involves having a vision for where the country needs to go."
Clinton took aim: "I think that there is a difference here," she said. "I do think that being president is the chief executive officer." President Bush, she said, promised to set goals and let others follow them, and "we've seen the results of a president who, frankly, failed at that."
Obama said, "I think there's something, if we're going to evaluate George Bush and his failures as president, that I think are much more important. He was very efficient. He was on time all the time. … What he could not do is listen to perspectives that didn't agree with his ideological predispositions."
WAR AND SAFETY
The candidates tried to draw differences on the war in Iraq.
In a segment in which each candidate got to ask another a question, Clinton asked Obama whether he would co-sponsor a bill she has proposed that she said would prevent President Bush from dictating the next president's war policy without input from Congress.
"We can work on that, Hillary," Obama said, drawing laughs. He noted his opposition to the war from the outset and said it would be his "first job as commander in chief" to change course.
Edwards interjected, "I think I've actually, among the three of us, been the most aggressive and said that I will have all combat troops out in the first year that I'm president of the United States."
The moderators noted that in a previous debate, none of the three pledged to get all American troops out of Iraq by 2013. But Obama said that had been misinterpreted as meaning they would all continue the war.
"I will end the war as we understand it in terms of combat missions," he said. "But we are going to have to protect our embassy. We're going to have to protect our civilians."
Edwards said rather than having an anti-terrorism force in Iraq, he would put it in Kuwait, to end the perception of U.S. occupation of Iraq.
Later, Williams read a statement Clinton made recently that raised the specter of terrorism by noting that an attack was attempted on English soil shortly after Prime Minister Gordon Brown took office.
She said, "The fact is that we face a very dangerous adversary, and to forget that or to brush it aside I think is a mistake. So I do feel that the next president has to be prepared."
Obama said there was "no doubt that we've been dominated by a politics of fear since 9/11."
The risks are real, he said, but "when Senator Clinton uses the specter of a terrorist attack with a new prime minister during a campaign, I think that is part and parcel with what we've seen: the use of the fear of terrorism in scoring political points."
The mistaken decision to go in to Iraq comes from such manipulations, he suggested: "That's what happens when your judgment is clouded."
Clinton said, "I think there's a difference between what President Bush has done, which has, frankly, used fear as a political weapon, and a recognition, in a very calm and deliberative way, that, yes, we have real enemies and we'd better be prepared and we'd better be ready to meet them on Day One."
INSIDE THE HALL
Inside the theater, the audience of about 2,000 was well-behaved, with a couple of exceptions.
Early in the debate, a man seated in the balcony caused a brief delay when he stood to yell, "We do not want these race-based questions coming from you two" — apparently addressing Williams and Russert.
And just as the debate's first commercial break was announced, a woman near the front of the theater called out something about "black and brown."
Obama got the only applause of the debate following a question about whether black and Hispanic voters are divided.
"Not in Illinois," he answered to laughter and applause. "They all voted for me."
Following the debate, Clark County residents who were in the audience said they were impressed buy how civil and positive the three candidates remained throughout.
"I liked it because we really need to know who is the best candidate, not what is the worst thing they have done in their lives," said 47-year-old Mexican immigrant Irma Varela-Wynants.
But because the candidates were on their best behavior, there were few notable moments in the debate, they said.
"I did notice that one moment when the candidates were discussing their pros and cons, and Hillary totally avoided her cons," said Robert Rosales, 48. "But it's just politics, and she's good at it."
Rosales said he had come to the debate undecided about who to vote for, and the debate didn't change that.
"It's still early."
Also undecided was 81-year-old Mary Tapia.
"I still have to go home and process the whole thing," she said. "It's between her (Clinton) and Obama."
Tapia said she was still trying to decide whether she is ready for a female president.
Varela-Wynants, an Obama supporter who became a U.S. citizen several years ago, said she was disappointed that more debate time wasn't given to the topic of immigration.
"It's such a complex issue, and nobody really has an answer," she said. "Everybody talks about the bad, but nobody recognizes that brand new people bring energy and money to this country."
Review-Journal writer Lynnette Curtis contributed to this report. Contact reporter Molly Ball at mball@reviewjournal.com or (702) 387-2919.
Watch the slideshow