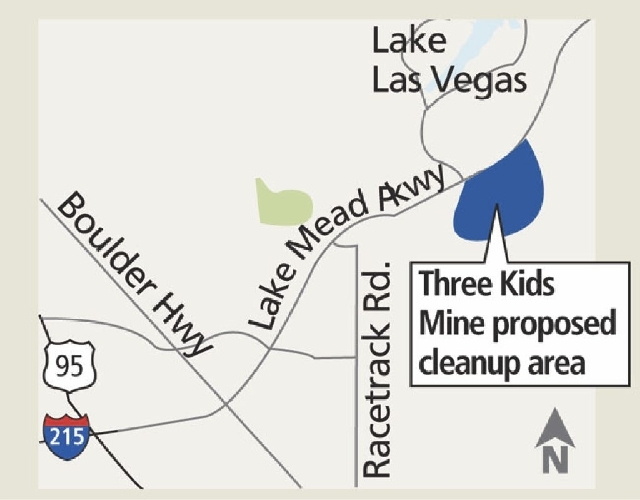 WASHINGTON — The House on Monday voted to turn over 948 acres of polluted federal land to the city of Henderson for cleanup and redevelopment into neighborhoods and businesses.
The bill to get work started on the site of the Three Kids Mine, a former manganese mining and millsite operation off Lake Mead Parkway, was approved by voice vote. A similar bill is pending in the Senate.
The Henderson Redevelopment Agency has signed an agreement with the private Lakemoor Development LLC to reclaim the federal land and 314 acres of adjoining private land that once was part of a mine that operated during the two world wars.
The site was used by the government up until a decade ago to store manganese ore, a mineral used to harden warships. Today the site is poisoned by arsenic, lead and petroleum compounds in mounds 10 stories high and ponds 60 feet deep.
"In all this is a win-win for everyone involved," Rep. Doc Hastings, R-Wash., the chairman of the Natural Resources Committee, said of the cleanup strategy.
"The environmental problems are addressed, the abandoned mine site is reclaimed, and the land is redeveloped for beneficial use, all at no cost to the taxpayer."
Rep. Joe Heck, R-Nev., the bill sponsor, said the cost of the land to Henderson will be offset by the cleanup costs.
Cleanup estimates have ranged from $300 million to more than $1 billion.
The expectation is that the property will end up costing the city nothing.
Contact Stephens Washington Bureau Chief Steve Tetreault at stetreault@stephensmedia.com or 202-783-1760. Follow him on Twitter @STetreaultDC.