Hundreds mourn air race victims at Reno memorial
September 25, 2011 - 8:34 pm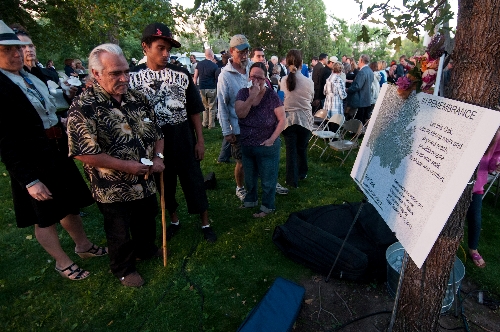 RENO — More than 400 people gathered Sunday night to pay their respects to the victims of a deadly crash at an air race and to dedicate a tree that the state's governor said would serve as a reminder of the "shared humanity" of the heroes who responded to the tragedy.
The 74-year-old pilot, Jimmy Leeward, of Ocala, Fla., was among the 11 people killed Sept. 16 in the crash during the National Championship Air Races at Reno-Stead Airport.
About 70 spectators also were seriously injured, including some who lost limbs but attended the sunset memorial at a park a few miles from the downtown casino district.
Mayor Bob Cashell said the memorial was important not only to show support for the families of the victims but also for "the community to begin the healing process."
Rabbi Teri Appleby, who was among the clergy that spoke at the interfaith memorial, agreed that the gathering was important for "all of us in Reno and Sparks who are still in shock after this tragedy."
It marked the third time in three months that the community found itself in mourning over a catastrophic event. Five people were killed and 30 were injured in an Amtrak train crash about 60 miles east of Reno in June. Five more died in a shooting at an IHOP restaurant on Sept. 6 in Carson City , including three members of the state National Guard.
Gov. Brian Sandoval said the oak tree would preserve the memory of one of the most important incidents in the "collective life of a community."
"The accident at the Reno Air Races will not only be remembered for its sense of loss and tragedy," he said. "It will be remembered because of the way this community responded," through people such as firefighters and doctors, volunteers, those who stood in line to give blood "and those who simply stood and prayed."
Mike Houghton, director of the Reno Air Races Association, said before the service that he was at a loss to describe the public support for the family and friends of the victims.
"I've seen an overwhelming level of emotional unity in this community," Houghton said.
Grief counselors who met with family and friends of the dead and seriously injured said it will take many of them a long time to recover.
"It is a life-changer," said Dr. Jay Jeffers, a psychologist from Sparks.
"It changes everything they know in their life up to that point … because suddenly that person is gone now," Jeffers said.
"I saw a lot of denial and anger," he added. "But there were a lot of people feeling just numb."