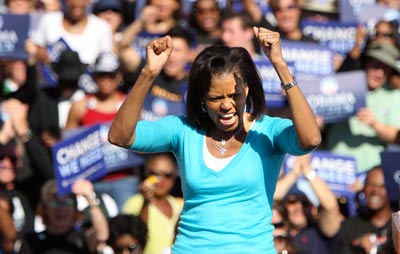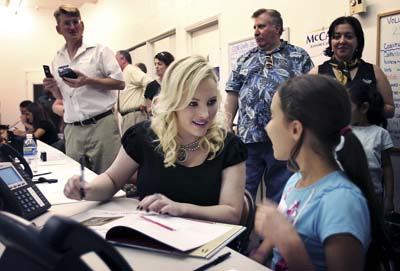 The chant went up unbidden from the West Las Vegas crowd gathered to see the would-be first lady: "Yes we can!"
"Oh yeah," Michelle Obama said. "Yes we can! Yes we can, and yes we will. We will do this."
The wife of Democratic presidential nominee Barack Obama spoke to about 3,000 people in Doolittle Park in the heart of Las Vegas' historically black neighborhood Monday night, making a personal appeal for votes for a man she said empathized with the tough times people are going through because he came from humble roots.
"The man that I'm married to, Barack Obama, he gets it," she said. "Barack Obama gets it. He doesn't get it in some theoretical, philosophical way. He gets it because he's lived it."
Raised by a single mother, who died at age 53 of ovarian cancer, he has a personal stake in the issues that affect regular people, she said.
Michelle Obama was not the only family member of a presidential candidate in town on Monday. Meghan McCain, Republican nominee John McCain's 24-year-old daughter, stopped in at campaign headquarters in Pahrump, Henderson and Las Vegas on Monday to cheer on the volunteers working to get her dad elected.
Also stopping by McCain's Henderson regional office was GOP vice presidential nominee Sarah Palin's big brother, Chuck Heath Jr.
The family members all implored their respective supporters to keep working in the final seven days of the campaign, saying the candidates will need every vote.
Michelle Obama, a lawyer and Chicago hospital executive, said her husband's campaign will finish as it started, as a people-powered movement.
"I'd like to give all the credit for what's been going on to my husband because he's very cute and very smart, that's for sure," she said. "But the truth is, Barack said this from the beginning: This race has never been about him and it never should be. It's about all of us, the millions coming together, deciding to take our destiny in our own hands."
The crowd was diverse but predominantly black, and many of those in attendance said it was as heartening as it was rare to see such an important person in their part of town.
"I live four blocks from here," said Gregory Harts, 45, a city bus driver. "Thank God she's here in this community. It needs some help, morally as well as structurally."
Harts, born and raised in Las Vegas, said he hasn't felt safe walking in his neighborhood since he was a teenager. "Just last week, we had a lockdown at the school because of a shooting," he said.
Harts said he appreciates the Obamas' talk about unity and responsibility because "the younger generation is out of control."
What is needed, he said, are leaders who talk about hope and unity and don't let up.
"Talk about it, keep it fixed in our minds," he said. "That is the goal we are trying to reach. Don't stop talking about it."
In her introduction, local Obama volunteer Carolyn Essex said, "I'm proud to help welcome Michelle Obama to Las Vegas — to WEST Las Vegas," and got a pro-neighborhood cheer.
Outside the event, a trailer from a local soul food place, M&M's Chicken & Waffles, was serving just that and selling T-shirts featured slogans like "Black Man Running, And It Ain't From the Police."
Vendor Briston Clayton, one of many selling shirts and hats off the hood of a van, said his biggest seller was a T-shirt featuring Martin Luther King Jr. and Obama, "The Next President," under the swirling cursive legend, "A Legacy of Hope."
"I'm African-American. I know our culture," the 52-year-old Clayton said. "Obama's going to keep it real, keep it honest. You watch. It's going to be so different, so beautiful, even the Republicans are going to be smiling."
Earlier in the day, Republicans were indeed smiling as they got the chance to meet their candidate's fashionable blond daughter.
"There's only eight more days left," she told the room of GOP stalwarts at Clark County Republican Party headquarters on Decatur Boulevard, in a strip mall next to Arizona Charlie's casino. "We really appreciate all your hard work."
Meghan McCain maintains a personal blog, "McCain Blogette," about life on the campaign trail and whatever else is on her mind.
The Columbia University grad, an aspiring fashion designer, signed copies of her children's book "My Dad, John McCain" and posed for photos in a black dress, opaque purple tights and chunky patent-leather high heels, accessorized with a necklace and ring that featured circular portraits of Abraham Lincoln surrounded by rhinestones.
Complimented on the jewelry, she cited the designer in practiced red-carpet fashion and said, "Lincoln is my second favorite president, after Ronald Reagan."
McCain was accompanied by Linda Ramone, widow of punk rocker Johnny Ramone, himself a noted conservative in an industry with few of them.
Linda Ramone wore a very short yellow dress, knee-high gold boots and big sunglasses she never removed. Living in Los Angeles, she said, she can count the number of McCain fans she knows on one hand.
What she saw in Nevada, Meghan McCain said, was this: "We have really quality supporters. You know, the economy is really tough, so to see people volunteering means a lot. And our supporters vote. I'm not sure whether Obama's supporters will vote."
She said she was feeling optimistic about an election in which many have counted out her father. "I have like a sixth sense about campaigns," she said. "If the pundits knew what they were talking about, Hillary (Clinton) and (Mitt) Romney would be the nominees right now."
Contact reporter Molly Ball at mball@reviewjournal.com or 702-387-2919.
Slideshow