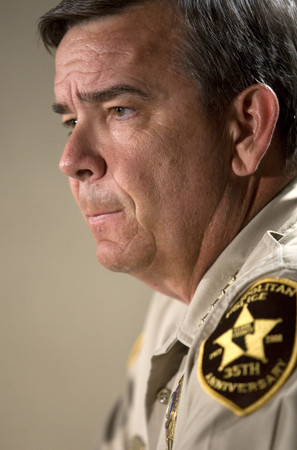 AFFAIR WITH 17-YEAR-OLD
Former coach gets probation in sex case
A former high school track coach who authorities said had sex with a student was given probation Friday by District Judge David Barker.
Kenneth Craig pleaded guilty in February to attempted sexual conduct between a school employee and a pupil, a felony, and open or gross lewdness, a gross misdemeanor. He must register as a sex offender.
Craig was a part-time coach at Las Vegas High School in 2008 when he had an affair with a 17-year-old student athlete, according to his arrest report.
Las Vegas police began an investigation after his ex-girlfriend told school officials about Craig's affair with the 17-year-old, the arrest report stated. The ex-girlfriend told police she paid for the girl to get an abortion, the report stated.
ADVOCATE OF THE YEAR
Children's group honors Clark County sheriff
A community group is honoring Las Vegas Sheriff Doug Gillespie as its child advocate of the year.
Las Vegas police say their top cop is being honored by Nevada Child Seekers, which works on behalf of missing and exploited children.
Gillespie said in a statement that child safety is important to him as a father and a law enforcement officer.
Police say Gillespie has long supported Nevada Child Seekers and other organizations for children.
DIED AT SCENE
Authorities identify man hit by vehicles
A man hit by a car Monday night while running across the Las Vegas Beltway has been identified as 42-year-old Michael Chester Schook.
Witnesses reported seeing Schook stumbling across the eastbound lanes of the beltway, just west of Rainbow Boulevard, about 8:20 p.m., according to the Nevada Highway Patrol.
He jumped over the center wall and got about three-quarters of the way across the westbound lanes before being hit by a vehicle.
Investigators believe he was hit by multiple vehicles. He died at the scene.
TRUCK DRIVER INJURED
Man killed in collision with tractor-trailer
A man driving on the wrong side of the road was killed Friday morning after crashing head-on into a tractor-trailer, the Nevada Highway Patrol said.
The unidentified driver was headed north on Las Vegas Boulevard about 9:10 a.m. when his Jeep Grand Cherokee slammed into an oncoming big rig just north of the Las Vegas Motor Speedway, Sgt. Kevin Honea said.
He died at the scene.
The truck driver was taken to University Medical Center with non-life threatening injuries.
LAKE MOHAVE
Drowned brothers were from Mexico
One of two brothers who drowned at Lake Mohave this week has been identified as 32-year-old Jose Zamora-Sanchez.
Zamora-Sanchez's body was found floating in Six Mile Cove about 8:45 p.m. Tuesday. The body of a second man, believed to be his brother, was found about two hours later, according to the National Park Service.
The men were last seen swimming from the shore the near the cove. They were from Mexico and weren't wearing life vests, according to the park service.