In one California town, a warning: Don't drink the water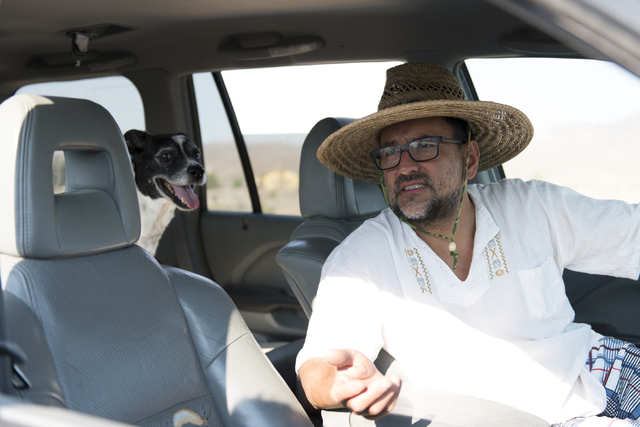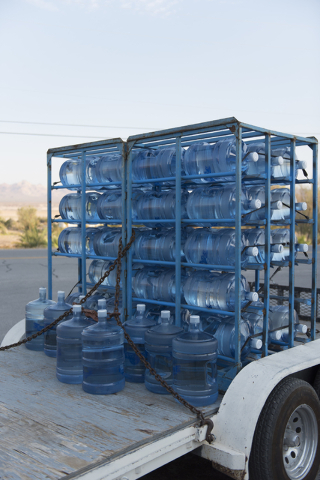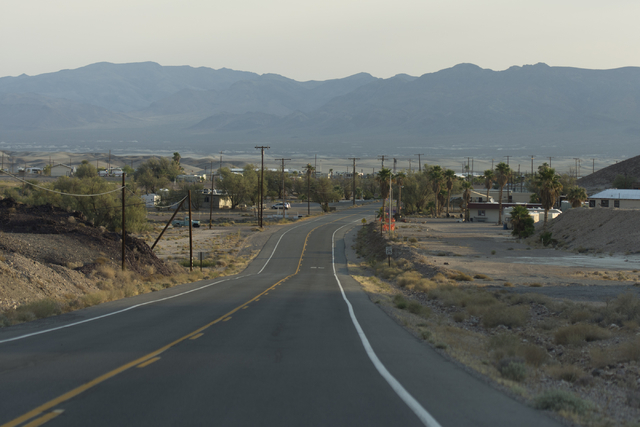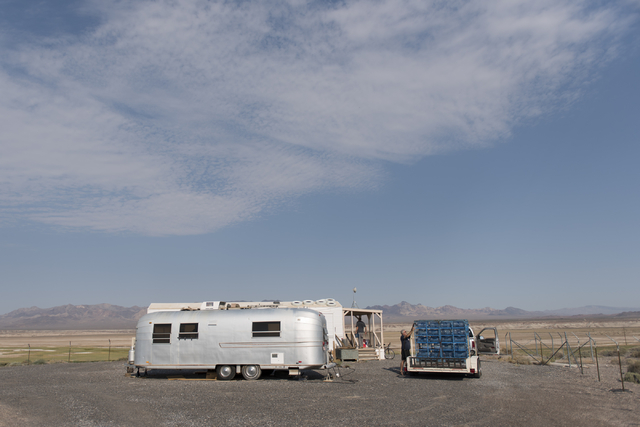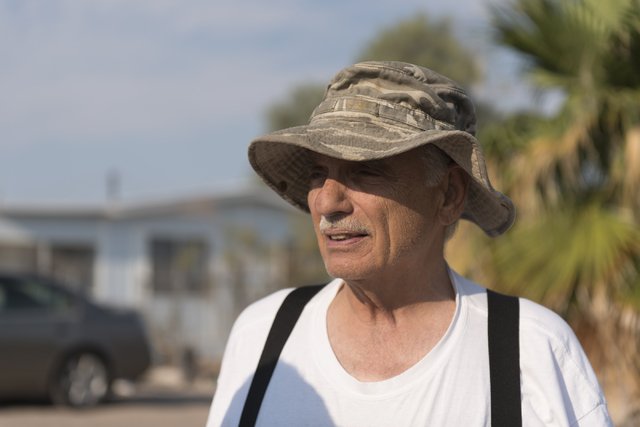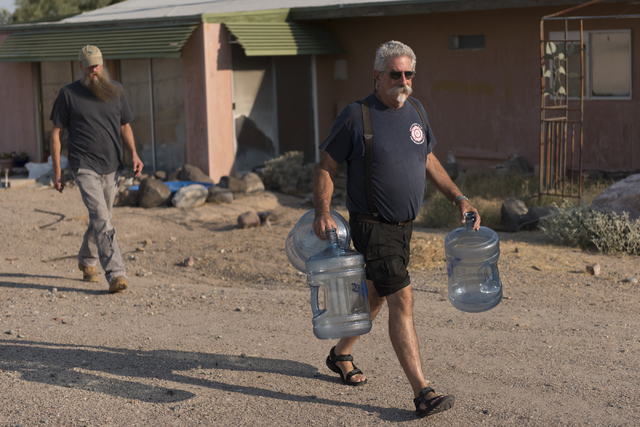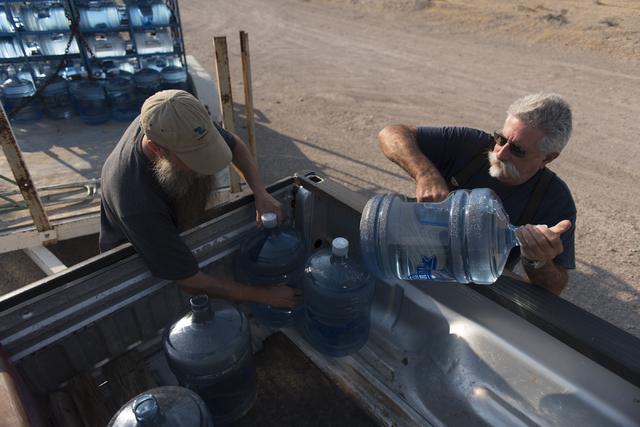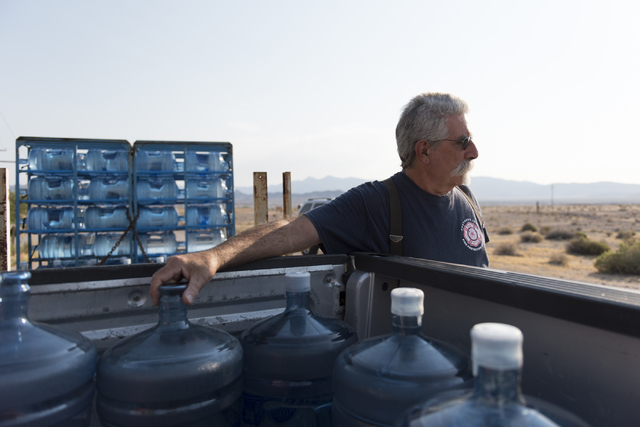 TECOPA, Calif. — On summer days, Larry Levy and Jim Furlough start their delivery route early to beat the withering heat in this Mojave Desert village one mountain range removed from Death Valley.
They meet near the Tecopa Hot Springs public mineral baths to load a flatbed trailer with 75 jugs of purified water trucked in from Las Vegas, 80 miles to the east. Then they hop in the cab of Levy's pickup and hit the road at around 7 a.m.
Their route each Tuesday takes them down nearly every road and past almost every house in town. The trip typically takes them "a couple three hours," Levy said. "It depends on how much conversation we get into."
For most of the community's roughly 150 full-time residents, these grant-funded deliveries are the only clean drinking water they get.
Tecopa doesn't have a central water system. What flows from local taps comes from scattered residential groundwater wells drilled down into an aquifer famous for its naturally heated, mineral-rich water, but not for its purity.
Some wells flow cleaner than others, but even the good ones contain levels of arsenic and fluoride at or above state and federal limits.
"It's bad for your teeth if you drink too much," said Levy, a 15-year resident who also serves as chief and chief mechanic for the Southern Inyo County Fire Protection District, the local volunteer fire and rescue service. "Kids that grew up here drinking the water have kind of brown, mottled teeth."
Water quality is especially bad within the 1 square mile surrounding Tecopa Hot Springs, where signs warn the many seasonal visitors not to drink what comes out of the tap.
The groundwater there contains 40 times more arsenic and four times more total dissolved solids than the maximum contaminant level allowed by the Environmental Protection Agency.
"People definitely do drink it, but it's pretty gross," said Patrick Donnelly, who lives in nearby Shoshone, California, and works for an environmental nonprofit, the Amargosa Conservancy, that is trying to help Tecopa with its water problems. "It has a distinctive odor and taste, approaching sewer quality."
MILES TO GO BEFORE THEY DRINK
A few people in town have installed their own filtration systems, but most residents import their drinking water from Nevada. Once a week or so, they make the 80-mile round trip to Pahrump, the closest town with a grocery store, to fill jugs or buy the bottled stuff by the case.
Work is underway on a far more convenient alternative: a well and treatment system connected to a vending machine at the edge of town so residents can get clean water on demand without having to leave the state.
A crew contracted by Inyo County installed the 12-foot-by-12-foot concrete building and began testing water treatment equipment there about six weeks ago.
Inyo water director Bob Harrington said county officials hoped to get by with a less-expensive filtration process, but recently decided they needed to install a reverse-osmosis system at more than triple the price.
The extra $35,000 for the costlier system will come from the county. Just over $200,000 in grant money from California's State Water Resources Control Board has paid for the rest of the project.
The county now hopes to get the vending machine online in late July or early August, roughly a year later than originally planned.
The delay has frustrated some Tecopa residents.
Amy Noel is an artist and co-owner of Tecopa Hot Springs Resort, where the water emerges from its artesian source at about 120 degrees. Instead of a hot water heater, Noel has a cooling tank.
She said the vending machine project seems to be dragging under the county's supervision.
"We are a tiny community that pays big (tourism) and sales taxes for our region to get so few services," the 15-year resident said.
Harrington is sympathetic. He never expected the project to take this long either.
"There have been a lot of obstacles to doing this kind of project in such a remote place. We're frustrated too," he said.
Levy said this sort of thing just comes with the territory. It can be hard for their town to get noticed — let alone get help — at the very edge of California.
"Whenever I talk to someone in Sacramento, I tell them to get a map. You need to get out a map so you know what we're talking about," he said.
Tecopa is even isolated within its own county. The Inyo County seat is in Independence, on the opposite side of Death Valley, almost 200 miles away.
"I always bring greetings from the frontier when I go," Levy said.
DELIVERING FOR THE COMMUNITY
When the delivery service began in August 2014, it was expected to last no more than a year, just long enough to get the water vending machine built.
But last August, with little sign of progress on the vending station, Inyo County spent the last of the state water board's grant money for the deliveries. If the Amargosa Conservancy and others hadn't swooped in at the last minute to secure another $90,000 from the state, the service would have stopped.
During Tuesday's three-hour run, as the biting horseflies buzzed and the temperature crept toward a high of 114, Levy and Furlough distributed about 70 five-gallon jugs, each weighing 40 pounds.
"This week we're a little light," said Furlough, who moved to the desert from Baltimore about three years ago. "People are running for the hills because of the heat."
In the winter, when the area swells with seasonal residents, the two men will distribute about 90 jugs a week.
One of their biggest customers is Carlo Roncancio, a fashion photographer who has called Tecopa home for the past 20 years.
He said he likes the way his well water tastes, but he doesn't trust it. "You just don't know what kind of toxins are in there," he said.
So he gets the maximum five bottles a week from the delivery truck instead.
"If it wasn't for Larry and Jim, this wouldn't be happening," Roncancio said. "They're going far and beyond their responsibility. It makes me feel like we're in a giving community."
Noel predicts the vending machine will have a similar impact on people's lives, just as soon as it's finished. "It's huge to be able to have purified water and not have to drive 80 miles round trip," she said.
TAKING WATER FOR GRANTED
The delivery route includes Levy's own home, not far from the hot springs. He said he and his wife use two or three of the jugs a week just for drinking and cooking. The rest of their water flows from an artesian well on their property and comes out of the tap at about 112 degrees.
"It's hard to get a cold shower around here," said Karin Pine, who lives down the street from Levy.
The 16-year Tecopa resident runs what she calls a spa and "body-work retreat" for people seeking "relief from the stresses and stimulations of the city."
She and some of her neighbors used to get their drinking water from a hose outside the elementary school in Tecopa, but she stopped because the high mineral content was giving her kidney stones.
The hose eventually was shut off, Pine said, after regulators forced the tiny school to install a filtration system for its students and staff and stop distributing water to the public.
She said she is grateful the community will be getting a water vending machine, but she's really going to miss the delivery service. After years of lugging her water home from Pahrump, she loves having it brought right to her doorstep.
"I'll be back to hauling water bottles. It will just be a shorter trip in the truck," Pine said. "It's OK. It's why we all moved out here. We're all pioneers. You have to put up with some inconveniences."
The last stop on Tuesday's route is Cynthia's, a hostel and bed and breakfast at the edge of Tecopa.
Its namesake proprietor, Cynthia Kienitz, said the water from her well is among the cleanest in town, but "you wouldn't want to drink it every day."
She hopes Tecopa's struggle to get safe drinking water will give "whiny city people" in places like Las Vegas a new appreciation for what they have.
"Everybody takes water for granted," she said. "It's like food. Nobody really knows where it comes from. Nobody cares."
But after 20 years in Tecopa, she has come to expect a little hardship with her tranquility.
"I guess when you live out here, you live out here because you love it. And you accept all the things that come with it, all the inconveniences," Kienitz said..
"You do what you need to do to live here."
Contact Henry Brean at hbrean@reviewjournal.com or 702-383-0350. Find @RefriedBrean on Twitter.