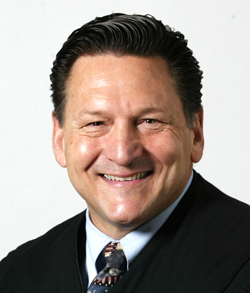 Four races for Family Court judgeships saw two incumbent judges retain their seats and two attorneys selected to fill newly created seats.
Incumbent Family Court Judge Steve Jones, 52, defeated opponent Maria Maskall, 47, for the Department C judgeship.
With 100 percent of precincts reporting, Jones collected 53 percent of the vote. Maskall garnered 47 percent of the vote.
Jones was able to overcome several controversies in recent years involving his personal relationships.
In 2006, he was acquitted of a domestic battery charge involving his girlfriend after she recanted previous statements in the case. Jones has said that he is still in a relationship with the woman, who is battling alcoholism and mental health issues.
In 1996, Jones called police during a fight that ended with his then-wife being sent to jail. Deborah Jones, five months pregnant, is alleged to have hit him with a flower arrangement and a shower curtain rod.
Maskall, who has run for two Family Court seats before, is a practicing attorney.
Family Court Judge Bill Gonzalez, who was appointed to his seat in March 2009 by Gov. Jim Gibbons, pulled in 55 percent of the vote.
Gonzalez, 48, edged out challenger John Eccles, 44, a practicing attorney in family law, who garnered 45 percent of the vote in the race for the Department F seat.
Two newly created Family Court seats featured four attorneys vying for the open judgeships.
In the Department S race, practicing attorneys Vincent Ochoa, 58, and Rebecca Wallace, 55, squared off, with Ochoa collecting 53 percent of the vote. Wallace received 47 percent of the vote.
The Department T race saw frequent judicial candidate Gayle Nathan, 56, garner 57 percent of the vote, while her opponent, practicing attorney, Carl Piazza, 65, received 43 percent of the vote.
Contact reporter Francis McCabe at fmccabe@reviewjournal.com or 702-380-1039.