December 1, 2007 - 10:00 pm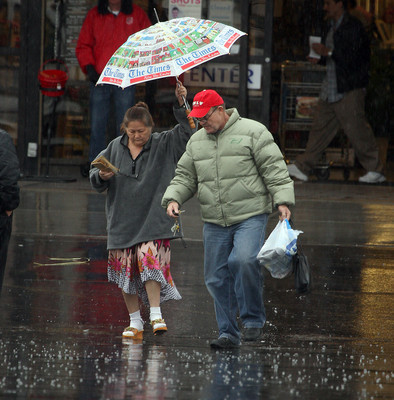 As soon as the rain began to fall in Henderson late Friday morning, Leah Westerlund grabbed her cell phone and started sending text messages to her friends.
In no time at all, the 21-year-old had convinced Miles Anderson, 18, Jared Creazzo, 20, and Jason Lattin, 20, to drop what they were doing and drive up to Mount Charleston to see the snow.
By midafternoon, they stood in the forest just off state Route 158 as the sky blew tiny, wet flakes in their faces. It was cold and windy and the snow wasn't deep enough yet to sled down the hill on a rubber trash can lid, but anyone could see it was much better than being at work.
"I quit my job last week, so this worked out for me," Creazzo said.
Even so, they weren't sure how long they would stay. Not everyone brought gloves, and it was almost too cold to hold a can of beer.
"I'm actually kind of miserable," Lattin said with a smile.
Higher up the mountain, the scene turned downright alpine, as fat flakes swirled in the wind and collected in the bows of pine trees.
In a meadow alongside state Route 156, about a mile short of Las Vegas Ski & Snowboard Resort, three Siberian huskies named Hanai, Makamae and Roxy ran wild through 5 inches of gathering power.
Marcus Robinson and Treasure Watanabe, who moved to Las Vegas from Hawaii to go to college, said they try to bring the dogs up to Lee Canyon at least a few times a month whenever there is snow on the ground. The dogs can't get enough of it, Watanabe said.
As if on cue, Roxy trotted over, planted her front legs on a log and snatched a mouthful of snow from the low-hanging branch of a tree.
"They go forever up here," Watanabe said.
"They could go forever," Robinson added. "We get cold."
Friday's storm dumped as much as 10 inches of snow on Mount Charleston's higher elevations, triggering a heavy snow warning from the National Weather Service.
The rapid accumulation still caught a few people off guard.
State Route 157 was briefly closed in the upper reaches of Kyle Canyon on Friday afternoon, after a motorist lost control on the slippery road and rolled his truck onto its side. According to the Nevada Highway Patrol, no one was seriously hurt in the crash.
Over in Lee Canyon, three men from St. Joseph Husband of Mary Catholic Church in Las Vegas got their car, truck and trailer stuck in the snow on their way to a campground to set up for a church retreat.
As the men waited for help in near-whiteout conditions, youth pastor Jason Mendoza questioned whether the bus full of 30 teenagers they were expecting would be able to make it up the mountain.
"We didn't think it would be this bad," he said.
At lower elevations in and around the Las Vegas Valley, the weather system took the form of steady rain and fog.
In the Las Vegas Valley, 0.58 inches of rain fell by the late evening. It was the wettest Nov. 30 since 1938, said Andrew Gorelow, a National Weather Service meteorologist.
"Precipitation levels are definitely above normal for the month of November," he said.
Some 0.62 inches of rain fell in the valley in November compared to the average rainfall for November of 0.31 inches. Friday marked only the second time since October 2005 that at least a half an inch of rain fell on the valley in one day.
According to the weather service, the rain and fog were expected to linger over the Las Vegas Valley until early this morning before giving way to partly sunny skies and wind.
There is a 20 percent chance of soggy St. Nicks during today's Great Las Vegas Santa Run downtown, but forecasters expect the wet weather to clear away in time for Sunday's Las Vegas Marathon.
Contact reporter Henry Brean at hbrean@reviewjournal.com or (702) 383-0350. Review-Journal writer Beth Walton contributed to this report.