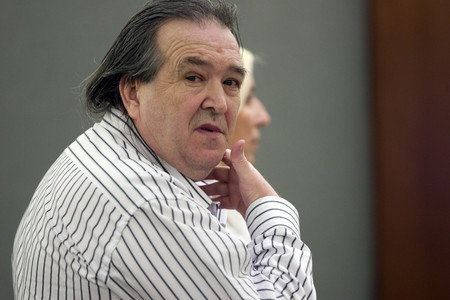 A psychologist who interviewed the man on trial for shooting up New York-New York testified Friday that the defendant didn't intend to kill anyone during the chaotic shooting.
Dr. Thomas Kinsora, who testified on behalf of defendant Steven Zegrean, said Zegrean was suffering from severe depression and was suicidal when he opened fire inside the casino on July. 6, 2007.
But he said Zegrean, 53, didn't want to kill anyone during the shooting. Instead, he believed Zegrean fired randomly in order to draw fire from police to commit "suicide by cop."
"He did not intend to kill," said Kinsora, who interviewed Zegrean for about eight hours over two days.
Kinsora said he came to his conclusion after reviewing witness statements, police reports, medical reports and video surveillance of the shooting, in which four people were wounded. He also interviewed Zegrean's daughters.
Kinsora showed jurors a different side of Zegrean than that portrayed so far. He said Zegrean was a devoted father who was soft-hearted and who easily became emotional. Zegrean also called himself a "loser" and "stupid" and felt remorse after learning he hurt people during the shooting.
Prosecutor David Schubert called Kinsora's assessment biased, noting he left out of the report more damning aspects of the evidence.
Zegrean faces 52 felony charges in connection with the 2007 shooting, including 17 counts of attempted murder with a deadly weapon.
Prosecutors said he meant to kill people when he fired a 9 mm semi-automatic handgun from a second-floor balcony into the casino. Four people were wounded during the shooting but no one sustained life-threatening injuries.
Zegrean had about 250 rounds of ammunition on him at the time of the shooting.
A bystander tackled Zegrean moments after the shooting.
But his public defenders said Zegrean didn't intend to kill anyone and instead fired randomly inside the resort.
Zegrean, originally from Hungary, moved to the United States when he was 26. He worked as a house painter in California before moving to Las Vegas about six years ago. He continued working as a painter for a short time.
He became distraught, however, after his wife divorced him and he became separated from his two adult daughters and son, Kinsora said. Zegrean then dated a woman who essentially tricked him out of money. He also lost his house after he was scammed by a rental company, he said. Zegrean was also suffering from chronic pain and couldn't work.
On the night of the shooting, Zegrean's daughter, who worked at the MGM Grand, went looking for her father because she thought he was in distress, Kinsora said. At the same time, Zegrean was wandering around, near the MGM Grand.
Kinsora said one of the great tragedies in the case is that they didn't meet.
"As fate would have it, their paths never crossed," he said. "It makes you wonder what would have happened."
Contact reporter David Kihara at dkihara@reviewjournal.com or 702-380-1039.