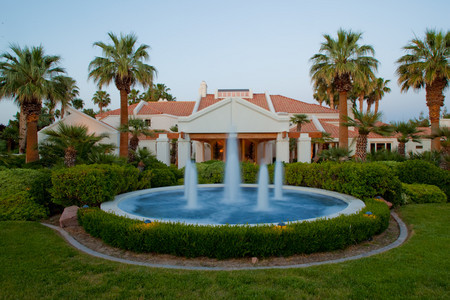 Michael Jackson fell in love with a local mega-mansion in 2007 that he wanted to be "his Las Vegas Neverland," according to his real estate agent.
In a neighborhood where Wayne Newton, Prince Jefri of Brunei and Mike Tyson had homes, the residence, still owned by former casino developer Gary Primm, was listed at $25 million.
"At the time, it was the most expensive home in Las Vegas," said Zar Zanganeh, whose company, VegasFineEstates.com, caters to celebrity clientele, from an Academy Award winner to a race car driver and other professional athletes.
Primm wasn't interested in leasing his 10-bedroom, 16-bath residence at 7000 Tomiyasu Lane, "but Michael said he would make an offer as soon as money released for his new album (the re-release of 'Thriller' on the 25th anniversary)," Zanganeh said.
Instead, Jackson decided to lease a home in Section 10 near Summerlin that's currently being listed at $3.95 million. Primm, founder of the community of Primm, 40 miles south of Las Vegas, agreed to list his compound for $16.5 million, Zanganeh said.
Primm's home appealed to Jackson for a number of reasons. Built on a 10-acre estate, "it was huge," Zanganeh said. "He had room for animals. He loved the grand level. And he felt very comfortable that everyone around him was all up to par, a royal family member, Wayne Newton and one of the owners of the Riviera."
The mansion also has a theater, beauty salon, gym, billiards room, climate-controlled wine cellar, outside pool with water slide and waterfalls, tunnel to a showcase garage with separate auto washing and repair stations, a kennel, stable and equestrian training facility, and an underground shooting range.
Jackson indicated he wanted to convert the shooting range into a recording studio, I'm told. Jackson, who moved to Beverly Hills earlier this year, died June 25.
Primm's home is among just nine Las Vegas-area properties listed over $12 million, with most of them owned by gaming executives.
THE SCENE AND HEARD
It resembled a scene from "Paul Blart: Mall Cop." An Oompa Loompa character from Jeff Beacher's touring Madhouse was apprehended, handcuffed and detained by mall security in Florida earlier this week. Donnie Davis was among four Oompa Loompas who were promoting Beacher's show in a Miami-area casino. They scattered when security tried to nab them at Westfield Broward Mall. Beacher said shoppers hollered protests as Davis was escorted off to detainment. He was freed after three hours. …
Tryst nightclub at Wynn Las Vegas is offering front-row tickets to Beyonce's "I am … yours" July 30-Aug 2 concerts to the winners of a "Single Ladies" dance contest. Groups of three dancers are invited to compete in the qualifying round July 25. The final round will be on July 30. Contestants must be 21. Pre-register by calling (702) 770-7115. …
That Media Update item on Thursday should have mentioned former KLAS-TV, Channel 8 weekend anchor Colleen May by her maiden name, which she kept when she married Steve Budin. She's started a media training company at www.thinkmedianow.com.
SIGHTINGS
At Lavo (Palazzo) on Thursday: Mark Ballas of "Dancing with the Stars." … Actor Corey Feldman, partying at ghostbar (Palms) on Thursday, with friends.
THE PUNCH LINE
"Emmy nominations are out. I was nominated in an unusual category — Best Apology." – David Letterman
Norm Clarke can be reached at (702) 383-0244 or norm@reviewjournal.com. Find additional sightings and more online at www.normclarke.com.