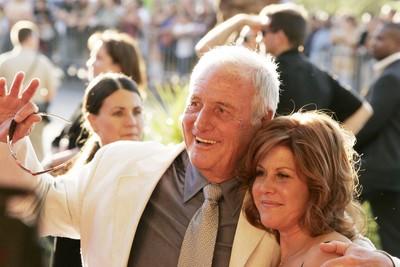 The opening of CineVegas on Wednesday wasn't Jerry Weintraub's first big night on the red carpet.
The first one was in downtown Las Vegas, when the Strip was still a gleam in somebody's eye.
Weintraub was all of 22, and the year was 1960, when the original "Ocean's Eleven" premiered.
Also on the red carpet were Frank Sinatra, Dean Martin, Sammy Davis Jr. and Joey Bishop, who had just picked up the nickname The Rat Pack.
Weintraub was on a roll. He was a rising music impresario. He had signed Sinatra and was in Las Vegas when "Ocean's Eleven" was being filmed.
"I remember all the guys who ran the Sands," Weintraub said. "I remember that everyone stayed up all night and shot from 6 p.m. to 11 p.m., and then they would go to work" in the showrooms.
Little did Weintraub know that he would wind up as the producer of the remake and sequels, a franchise that has been one of the most successful in movie history.
JACKSON VIEWS 'BODIES'
Michael Jackson and his three children, all unveiled, got the VIP tour of "Bodies … The Exhibition" on Wednesday and went home with a miniature skeleton.
Jackson stopped at one point to lecture his children on the evils of smoking after they viewed a smoker's lung. Later, he stressed the importance of healthy eating.
After taking a tour of "Titanic: The Artifact Exhibition," they stopped in the gift shop and purchased everything from a 33-inch skeleton to anatomy and pathology books to T-shirts featuring bones, brains and "a thinker."
THE SCENE AND HEARD
Word on the street has Rosie O'Donnell, fresh from her swan song at "The View," opening Cindy Lauper's True Colors tour Friday at the MGM Grand. Look out Donald Trump and Elizabeth Hasselbeck. …
White House press secretary Tony Snow has canceled an immigration speech today to the Las Vegas Chamber of Commerce because of an intestinal blockage, a White House spokesman confirmed Wednesday. White House spokesman Trey Bohn took issue with a U.S. News & World Report that reported Snow had a recurrence of colon cancer and underwent chemo. "Tony had an intestinal blockage unrelated to the cancer, needed to get it taken care of and went to the doctor. We expect him to be back to work (Thursday)." …
Illusionist Criss Angel, the first headliner to team up with Cirque du Soleil, has signed a 10-year contract at the Luxor, with a five-year option that could extend it to 15, it was announced Tuesday. Angel's 4,600-show run with Cirque begins in summer 2008.
SIGHTINGS
Wayne Newton, on the "Ocean's Thirteen" red carpet Wednesday. Among his 31 movies were two produced by Weintraub: "Vegas Vacation," starring Chevy Chase, and the "Ocean's Eleven" remake. … Prop comic Joe Trammel, a regular at the V Theatre (Planet Hollywood Resort), is spending the next three weeks spoofing Paris Hilton's plight with a nightly show on the Fremont Street Experience. He's hamming it up in a pink jail, decked out in prison garb, a Paris Hilton wig and big sunglasses, while holding a Chihuahua. He's hanging out near Fitzgerald's. … Singer Chris Cornell, performing several songs at his solo album release party Monday at Jet nightclub at The Mirage. … Cleto Escobedo and the Cletones, performing live during ABC's "Jimmy Kimmel Live" Monday at The Beatles' Revolution Lounge during a free concert. They sang "Happy Birthday" to Siegfried & Roy's manager, Bernie Yuman, who showed up to catch the performance and listen to Paul McCartney's 21st solo album.
THE PUNCH LINE
"Jail could be good for Paris. When you think back, so many people throughout history emerged from their imprisonment to become great leaders: Mahatma Gandhi, Nelson Mandela, Dr. Martin Luther King … Lil' Kim." — Kimmel
Norm Clarke can be reached at 383-0244 or norm@reviewjournal.com. Find additional sightings and more online at www.normclarke.com.
NORM CLARKEMORE COLUMNS