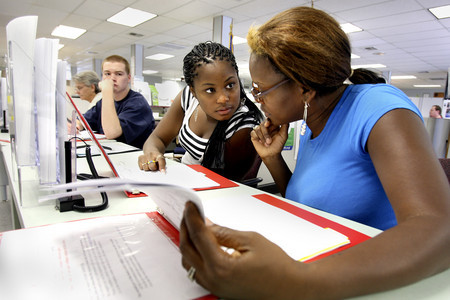 State and local unemployment soared year-over-year in June, as all but two of the Silver State's key economic sectors shed jobs even as the labor force grew.
Joblessness across Nevada hit a record 12 percent in June, up from 6.4 percent a year earlier, according to a Friday report from the state's Department of Employment, Training and Rehabilitation. Unemployment jumped even faster in Las Vegas, surging to a record 12.3 percent in June. That's up from 6.3 percent in June 2008.
The previous records were in May, when state joblessness was 11.2 percent and citywide unemployment was 11.1 percent. Before that, the state record was 10.7 percent, in December 1982.
Throw in discouraged workers who've quit job-hunting and underemployed people working fewer hours than they want, and job loss grows considerably. That "modified" rate could exceed 18 percent in Nevada, according to the employment department's most-recent Economy in Brief report, from April.
Economists blamed the big May-to-June jobless boost partly on a seasonal drop in education employment, as the school year ended and teachers entered the temporary work force.
But summertime job loss is just part of the story.
In the first six months of 2009, unemployment in Nevada averaged 10.6 percent, nearly double the 5.7 percent the state averaged in the same period of 2008. And Nevada's hardly alone in its surging joblessness: Fifteen states, plus the District of Columbia, claim unemployment above 10 percent. Michigan, in particular, faces serious woes, becoming the first state since 1984 to post unemployment of 15 percent. Other states with double-digit joblessness include Florida, Illinois, Ohio, Oregon and North Carolina.
"I think what we're seeing is that the national recession is proving to be much deeper than we anticipated," said Bill Anderson, chief economist of the Department of Employment, Training and Rehabilitation.
Nationally, the unemployment rate was 9.5 percent in June.
Nevada is suffering more than most states because of its reliance on housing and discretionary spending — two of the national economy's hardest-hit segments.
Construction employment fell year-over-year by 23.6 percent, or 28,600 jobs, statewide and 18.9 percent, or 19,800 jobs, locally. Positions in leisure and hospitality were off 7.1 percent, or 24,200 posts, across the state, and 6.6 percent, or 18,200 jobs, in Las Vegas.
Manufacturing, information services, the financial sector, government, professional services and the combined category of trade, transportation and utilities all lost jobs from June to June.
The only fields to add positions year-over-year were mining, which stayed steady locally but added 0.3 percent, or 12,300 jobs, to its work force statewide, and the combined category of education and health services, which saw its job counts jump 2.6 percent, or 2,500 positions, statewide, and 4.5 percent, or 3,000 jobs, locally.
In all, Nevada's employers have pared 83,700 jobs in the last year, with 60,000 of those jobs coming from Las Vegas. The city has shed 6.5 percent of its jobs base since June 2008.
About 15,600 Nevadans lost their positions in June, bringing the number of unemployed in the Silver State to 169,800.
Those job cuts came as the state's labor force continued to expand.
Nevada added 32,200 jobseekers to its work force, a 2.3 percent increase to 1.4 million people. In Las Vegas, 24,900 more people entered the labor force, pushing the total up 2.5 percent to 1 million.
The recession has affected men disproportionately, the employment department's statistics show. A 12-month average shows that 9.2 percent of men were jobless for the year ending in June; for women, the share was 7.6 percent. Men also made up 64 percent of unemployment-insurance claimants in June. The employment department credited the divergence to substantial cuts in the male-dominated construction sector and job growth in the female-dominated health-care field.
National figures from the Bureau of Labor Statistics show some demographic segments continue to struggle more than others with job loss.
Black teens ages 16 to 19 had by far the nation's highest unemployment rate in June, with 37.9 percent of young blacks out of work and looking for a situation. That rate was almost as high a year ago, when joblessness among black teens was 35.4 percent.
White teens posted the second-highest unemployment level in June, with 21.4 percent of them jobless. That's up from 19.7 percent in June 2008.
Unemployment among all black demographic groups was 14.7 percent nationwide in June, up from 9.8 percent a year earlier. Among blacks 20 years and older, men experienced 16.4 percent unemployment, compared with 9.4 percent in June 2008, and women faced 11.3 percent joblessness, up from 7.6 percent.
The bureau didn't offer data on joblessness among Asians or Hispanics.
Stephen Miller, a professor and chairman of the economics department at the University of Nevada, Las Vegas, said the jobs outlook won't improve until the housing and commercial real estate markets improve.
And Jeremy Aguero, a principal in local research firm Applied Analysis, noted that half of the city's 76,700 remaining construction jobs could disappear when major projects such as CityCenter and Cosmopolitan conclude by mid-2010. What's more, Las Vegas claims a five-year inventory of commercial buildings, so that submarket won't likely create new jobs in coming months.
A few factors could rein in joblessness, Aguero said.
If the unemployed leave Nevada en masse, or if businesses continue to migrate to the Silver State from worse-off states such as California, jobless numbers could moderate. Nevada also relies on improvement in the national economy. And the state's fortunes could improve with the success not just of megaresorts such as CityCenter, but smaller projects such as the Hard Rock Cafe under construction on the Strip, Aguero said.
Still, he said, Nevada likely faces sustained hard times in the near term.
"Irrespective of whether the unemployment rate ticks up or stays where it is, this recovery is likely to be measured in years, not months," Aguero said.
Contact reporter Jennifer Robison at jrobison@reviewjournal.com or 702-380-4512.