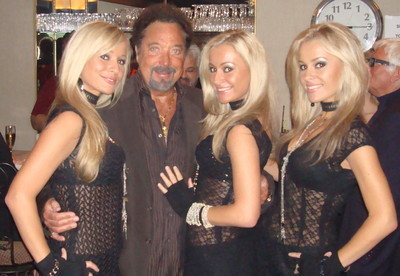 Superstar Tom Jones has incorporated a recent bogus Internet report about his death into his act.
He opens his show these days with "I'm Alive," which is on his upcoming first U.S. album in 15 years.
Jones, playing the MGM Grand's Hollywood Theatre, learned about the Internet report earlier this month when a friend asked him how he was feeling.
Then the friend showed him the Internet story.
"I read my own obituary," he told the audience during Monday's first show.
Backstage, he told me one of the first calls he received came from Las Vegas lounge legend Cook E. Jarr, his longtime late-night running mate.
When Jones checked his voicemail, a distressed Jarr had left a tell-me-it's-not-true message. The stress in Jarr's voice was the opposite of his usual high-energy, dog-barking persona.
"He said, 'I don't want to stay on this planet if something's happened to you,' " said Jones, who was touched.
Jones co-wrote much of the new album, "24 Hours," because "I wasn't getting any good material coming my way," he said.
His 2000 album, "Reload," featuring the club hit "Sex Bomb," wasn't released in the United States.
The new album comes out Nov. 25 on S-Curve Records, and he has high hopes after a strong start in Europe. It features two covers, Bruce Springsteen's "The Hitter" and "I'm Alive" by Tommy James and the Shondells. Bono and Edge of U2 join him for the song "Sugar Daddy."
GLUSMAN: 'NOT SELLING'
The rumors aren't true, longtime restaurateur Fred Glusman says.
The story out there has Glusman selling Piero's Italian Cuisine and putting The Ritz, his Orange County eatery, up for sale.
"Untrue," he said Tuesday. "Who in their right mind would buy in this economy? There is no deal on Piero's. Business is good, and I'm not selling anything."
Meanwhile, Glusman attorney Joe Smith said the former Ritz cocktail server who had Glusman jailed after an altercation has not followed up with charges, "nor do I expect charges to be filed."
Jennifer Kenney, 30, told the Orange County Register that Glusman beat her on June 25 at his Newport Beach home after he invited her to a party. Both claim they suffered a broken tooth in the scuffle. Glusman was arrested and booked for battery with serious bodily injury.
THE SCENE AND HEARD
Richard Chen, executive chef of Wing Lei at Wynn Las Vegas, is in New York City where he has joined seven other leading Chinese chefs in Thursday's James Beard Foundation holiday gala dinner and auction. Chen, the only Chinese chef in the United States to receive a Michelin star, steamed glutinous rice, sautéed Matsutake mushroom, and braised abalone and King Crab with soya glaze.
SIGHTINGS
Jones, pausing during his 7:30 p.m. performance Monday to acknowledge "Hollywood royalty," 83-year-old Tony Curtis, who was with a group that included the violin-playing Alizma triplets. A roar of approval went up for Curtis, who arrived in a white cowboy hat and was mobbed on his way backstage. … Martin Sheen, holding the door at the Bellagio for a 30-something Colorado couple who did a double take when they recognized the "West Wing" star. … Toni Braxton, shooting what appeared to be a reality show pilot at Whole Foods in The District over the weekend. She was spotted sniffing produce as cameras followed her through the store. … Patrick Dempsey, making multiple stops at The Coffee Bean & Tea Leaf at the Palazzo over the weekend for intensely flavored black coffee and pastries. … Lindsay Lohan, hosting a Madonna concert after-party Saturday in the penthouse in the Palms Fantasy Tower. Earlier, she dined at Simon at Palms Place with friends.
THE PUNCH LINE
"Actually, sir, I do mind if you call me 'Barack-odile Dundee.' " – From David Letterman's "Top Ten Things Overheard During The Bush/Obama Meeting"
Norm Clarke can be reached at (702) 383-0244 or norm@reviewjournal.com. Find additional sightings and more online at www.normclarke.com.