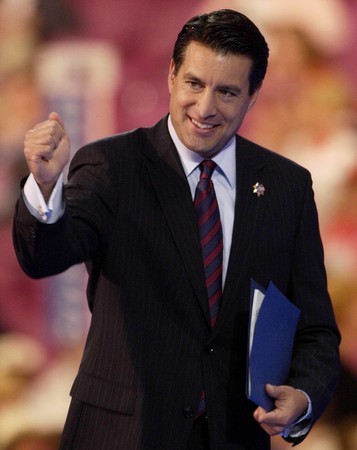 RENO — Even a longtime state historian who isn't surprised by much finds it odd that U.S. District Judge Brian Sandoval is resigning from the bench, opening the possibility that he will return to Nevada politics.
"This is very unusual," retired state archivist Guy Rocha said.
"When people go into the federal judiciary, that's where they either die or retire," he told the Reno Gazette-Journal.
Rocha said no other federal judge in Nevada has given up the lifetime appointment for politics, with the closest comparison being a federal judge who campaigned for the U.S. Senate in 1902 without resigning his judgeship.
Sandoval, a former assemblyman and state attorney general who assumed the bench in 2005, announced his resignation on Friday but hasn't disclosed his future plans.
In his political career, he was a seen as a rising star in the Republican Party and is viewed as a potentially strong challenger to Gov. Jim Gibbons in next year's GOP primary.
"He's one of the few bright spots that Nevada Republicans have had in the last two years," said Eric Herzik, a political scientist with the University of Nevada, Reno and a Republican.
A poll conducted in May for the Las Vegas Review-Journal said only 11 percent of voters surveyed statewide would re-elect Gibbons, a former congressman from Reno in his first term as governor.
Gibbons, who is going through a bitter public divorce, has said he will seek re-election.
Other Republicans who have announced intentions to run are former state Sen. Joe Heck and former North Las Vegas Mayor Mike Montandon.
Democrats eyeing a possible gubernatorial bid are Rory Reid, chairman of the Clark County Commission and U.S. Sen. Harry Reid's son; and Assembly Speaker Barbara Buckley of Las Vegas.
Washoe County District Judge Jerry Polaha said Sandoval would make "one stellar candidate."
"He brings an excellent reputation to the party," he said. "The tide is there for him to ride."
Washoe County District Judge Patrick Flanagan said he was surprised but said he understood Sandoval's reasoning.
"I've known Brian Sandoval for many years, and I've known him to be a great public servant, and I've known him to be a good lawyer in private practice. I was pleased to see him get on the bench. But being a judge limits your ability to engage in the public dialogue, and I always thought his heart was in the public arena," he said.