Klingons embrace the dark side
October 14, 2009 - 9:00 pm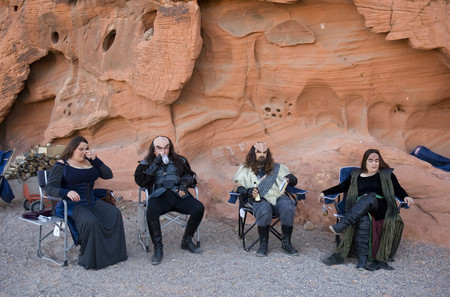 VALLEY OF FIRE STATE PARK
It was a good day to die, but the Klingons at camp site three decided to eat spaghetti instead.
Clad in black with latex ridges glued to their foreheads, they sat at picnic tables and slurped down noodles as part of a feast called The Gathering, or "Qot baVol" in Klingon.
This year's event drew about 30 hard-core "Star Trek" fans, though only about half of them dressed up as the franchise's best-known clan of villains.
Some of the Klingons were local. Some came from Los Angeles and San Diego. One group piled into an RV and drove 12 hours from Denver.
Before dinner, the costumed club members stood in a loose circle, sipping beer and smoking cigarettes like movie extras on break.
"There's something about Klingons people just love. You go into a restaurant, and people want to have their picture taken with you," said Larry Septrick, who has been dressing up this way for the past 20 years. "We're the motorcycle gangs of the galaxy. And, in fact, motorcycle gangs love us."
"One of the reasons I became a Klingon was for the women," said Bruce Kesler, or Ka'Vij to his Denver shipmates. "Women love a bad guy."
Ka'Vij might be on to something.
Roughly half of the costumed characters at this year's Gathering were women, and several of them met their mates at fan club events.
Siobhan Cole said she and her husband, Josh, had a Klingon wedding about a month before their "real" ceremony, "which was pirate-themed, and we did it at a renaissance festival."
"We're definitely in the geek category," said Arilyn Starling, who uses science fiction and fantasy as an escape from her all-too-real job as a hospice nurse.
"Typically we're people who like to dress up more than just on Halloween," said fellow Denver club member Christine Childs.
"Halloween's my night off," added Cole, who speaks almost fluent Klingon. "I buy a pre-boxed costume, and don't worry about it."
As he stood with the other Colorado Klingons, Kesler plucked long black hairs from his uniform.
He was shedding.
"This head's got to make it one more convention and then it's dead," he said.
Their uniforms are largely homemade, decorated with emblems and insignia collected over the years and lovingly added to the ensemble.
The more elaborate costumes — leather and fur reinforced with bones and steel — can cost hundreds of dollars to make, especially when you figure in the fabrication of weapons and other accessories.
Las Vegas club member Wayne Bailey couldn't dress up on Saturday night because he was in charge of the food. Klingon clothes are too hot and "too flammable" to cook in, he said.
His wife, Machel, wasn't in costume either, and not just because of the heat from the cook stoves.
She said she likes "Star Trek" well enough, but she's not quite ready to take that next step.
"I'm just support right now," she said, glancing at the characters collecting in the picnic area.
"I'm working on her," Wayne said with a grin.
Along with spaghetti, the menu for the feast included pork tenderloin dressed up to look like something called a "blood worm."
Some of the Klingons ate with their hands, washing down their food with steins of beer or something called "blood wine." Others sipped root beer or Gatorade and ate with plastic forks.
Amid grunts and belches and the occasional space chantey, the costumed club members chatted about their jobs, their kids and their preferred rental car companies.
The feast and three-day camp-out was hosted by the Las Vegas Klingon club, which has about a dozen members and a new, family friendly mission.
"We used to have a larger crew," said club "commander" Kent Scow. "Some of the events were more (about) drinking and more of a free-for-all."
Back when The Gathering used to be held on a dry lake bed near Las Vegas, the booze often would flow until the costumes came off.
There was even a tent where some members indulged in a more adult form of role playing, Scow said.
"People got bored, and there was too much drinking, so it got messy," Denver club "commander" Septrick acknowledged.
This year, a few Klingons brought their kids to The Gathering, though only the grown-ups played dress-up on Saturday.
With its rock formations and dark night skies, Valley of Fire provides a dramatic backdrop for the proceedings. As an added bonus, the group camping area is just a few miles away from the spot where parts of the seventh "Star Trek" movie were filmed, including a pivotal scene in which — spoiler alert! — the captain of the Enterprise is finally killed.
"Kirk died here!" said Kesler, drawing a cheer from the club members around him.
After the feast, a few of the Klingons "raided" a nearby campsite filled with wide-eyed Boy Scouts.
Then they all gathered around the fire pit to drink and beat on drums and swap stories about made-up interstellar battles.
The group also attended to some fan club business, including awards, announcements and a "death howl" for a member from the San Diego chapter who died recently.
Septrick said the people in clubs such as these have a lot more in common than a love of costumes and science fiction.
"It's not just to dress up. We share a lot," he said. "We share the same sense of humor — warped."
Contact reporter Henry Brean at hbrean@ reviewjournal.com or 702-383-0350.