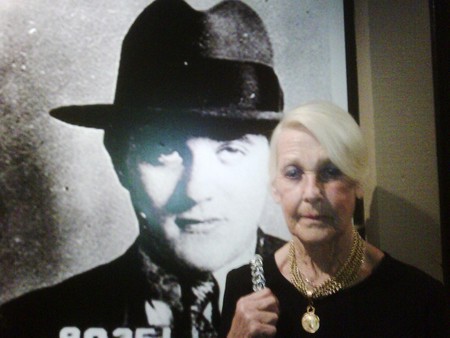 After a spirited bidding war, investigative reporter George Knapp is staying at KLAS-TV, Channel 8.
Knapp, an award-winning fixture at KLAS for 28 years, was aggressively pursued by rival station KVBC-TV, Channel 3, which recently hired Knapp's longtime boss Bob Stoldal as executive vice president.
KVBC's monetary offer was significantly greater, but in the end Knapp remained at KLAS because "the other stuff in the package is more important to me," he said in an e-mail.
"I have the best news job in this town, with considerable freedom to pursue stories that interest me. KLAS has been my home and I have a strong sense of loyalty to the folks here."
He added, "Bob Stoldal didn't make it easy for me though. He has some great ideas for turning Channel 3 around. More competition is good for our profession and good for the community, so I wish them well. Okay, not TOO well."
A key factor in his decision, said Knapp, was a noncompete agreement that would have kept him off the air for a year.
Landing Knapp, a Peabody Award-winning investigative reporter, was at the top of KVBC's wish list under Stoldal, who was lured out of retirement earlier this year to steer KVBC through some rough times. The NBC affiliate, along with other news organizations in the market, has been hard hit by the recession.
By staying, one of the projects Knapp can continue to pursue is a TV show called "True Vegas." A pilot is being shopped. Knapp is teaming up on the venture with local writer Jack Sheehan and former Sheriff Bill Young.
TAKING A BREAK
There are a million juicy stories in the naked city but I'm taking a timeout.
Goodbye, Blackberry. Hola, Barcelona and all that Spain offers over the next two weeks.
I'm celebrating my 10th anniversary of this column by taking a sentimental journey to the country where I hit rock bottom 37 years ago.
I had left a good job as sports editor of the Billings (Mont.) Gazette job to see the world on $5 a day.
My meager life savings ran out in a room in a pension for $1.50-a-night-per-person in Marbella, the St. Tropez of Spain.
All I had left was two Eurail passes and a girlfriend who hadn't signed on for the bread-and-water diet that followed while waiting for a bank loan that took more than a week to arrive, an eternity when you're broke.
More on that after we get there.
For the next fortnight, our only certain address will be our Web site addresses.
So far, all we know is that we are landing in Barcelona on Saturday. After that it's Spain by the seat of our pants. After Barcelona, nothing is booked, but the plan is to head south, to Madrid, Seville, Granada and Marbella. Maybe even North Africa.
Friends have provided us with a boatload of travel recommendations, from best beaches, tapas and museums. Feel free to add to that list at caraandnorm@mac.com. We'll be posting a daily travel blog featuring a lot of Las Vegas residents — from chefs with ties to Spain to experienced travelers.
See you back here on Oct. 4.
MAY I RECOMMEND
All you need to know about "Sgt. Pepper Live" featuring Cheap Trick is that Las Vegas Review-Journal entertainment critic Mike Weatherford gave it an A-minus. See today's Neon for his review. At the Hilton, the show starts at 8 p.m. today, Saturday, Monday, Tuesday and Wednesday. Tickets: $76.51-$109.51. Call 732-5755.
SIGHTINGS
Millicent Rosen, daughter of the late Las Vegas mobster Ben "Bugsy" Siegel, and Antoinette Giancana, daughter of slain Chicago Mafia boss Sam Giancana, at Capo's Italian Steakhouse on West Sahara Wednesday. Siegel, who fell out of favor with the Mafia while building the Flamingo, and Sam Giancana were reportedly victims of mob hits. Their daughters were part of a dinner meeting to discuss the mob museum that is competing with the downtown project being led by Mayor Oscar Goodman…Comedians Jon Lovitz, Bobby Slayton and Anthony Cools, racing at Pole Position Raceway on Thursday afternoon.
THE PUNCH LINE
"Joe Wilson is now the only United States congressman to be formally rebuked for speaking out while the president was giving an address. That could explain his Secret Service code name: 'Kanye.' " — Jimmy Fallon
Norm Clarke can be reached at (702) 383-0244 or norm@reviewjournal.com. Find additional sightings and more online at www.normclarke.com.