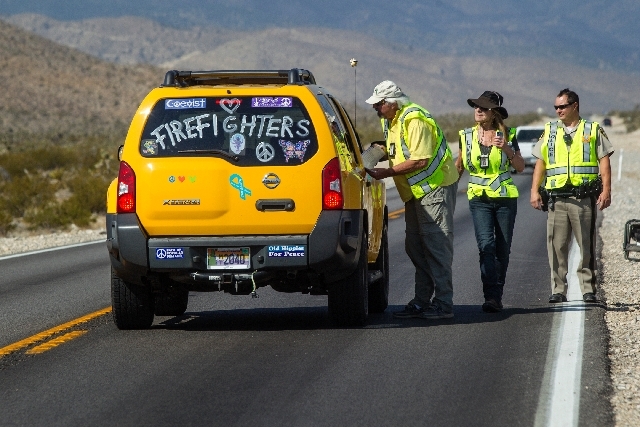 Kyle Canyon residents were thrilled to return to their homes Wednesday morning after being evacuated from the area for two weeks.
Written on a few cars were the words, "Thank you," and many residents shook hands with police and fire officials at the Kyle Canyon Road checkpoint.
Inside the cars were suitcases, pets and happy drivers, many of whom had to stay with friends or in motels nearby.
"It's scary when you don't know when you're going to get back to your home," said Patty Westfall. "Especially when we first left, when we were evacuated, and we were told maybe three or five days and then two weeks."
One resident described the ordeal of being away from his home as "murder."
"I've got plants in my cabin that I've had for 50 years, and I haven't been able to water them," said Bob Ruis, who has lived in Kyle Canyon since 1978. "But I'm just real happy that I have a place to go back to."
Jim Dunn, a resident of 24 years, said it was a relief to know the neighborhood was still there.
"It's going to be interesting to see what it looks like, but a little damaged mountain is better than no mountain," Dunn said.
He said though the Carpenter 1 Fire was the worst he's experienced, longtime residents were used to dealing with wildfires.
"We're survivors," he said.
Rosemary Rodman purchased in April a second home in the Rainbow subdivision and was dismayed she and her family couldn't enjoy the property for the Fourth of July.
She was eager to return but unsure what to expect.
"I'm wondering if there's ash over everything, if everything will smell funny," she said. "I'm wondering what the terrain will look like up behind the subdivisions."
Smoke was expected to remain an issue but the danger of fire was gone, said fire officials. Much of the smoky haze hovering over the mountains came from a Southern California wildfire that began Monday in the Palm Springs area.
Incident commander Rich Harvey advised residents to not be alarmed if they still saw smoke rising in the distance.
"We're in this constant battle between what makes sense for the firefighters to do safely and what the public sees … You will see smoke, but they are not a threat. They are a nuisance, and eventually we'll get them," he said.
He said it was unlikely residents would be asked to evacuate again.
"Safe is a relative term. Nothing's ever perfect, and it's not the same 'safe' when they left," Harvey said. "We wouldn't put people back if we thought that was a likely event. Obviously there's still fire. There's still fuel. But we think from the Carpenter 1 Fire, the threat is very, very minimal."
The Clark County Department of Air Quality issued an advisory Wednesday, telling residents smoke from the California wildfire as well as from the Carpenter 1 Fire would continue to affect the Clark County area. But unhealthy levels of air pollution were not occurring.
The Resort on Mount Charleston sustained exterior smoke damage, and the resort's ducts and chimney were full of soot, said Michael Crandall, senior vice president of The Siegel Group. The resort will open Friday.
"But the very good news which we're excited to report is that all of our koi fish and ducks survived," he said.
Crandall said the American Red Cross would be using the banquet room at the resort on Thursday and Friday, from 10 a.m. to 8 p.m., to help residents transition home. The Red Cross would provide water, cleaning supplies and other assistance.
Only residents, employees and service cars were allowed to pass the checkpoint, located six miles west from the intersection of State Route 157 and U.S. Highway 95.
Las Vegas Metropolitan police officer Jim Pendleton said he expected operations to run smoothly through Friday morning, when Kyle Canyon would open to the public.
Clark County's Parks and Recreation Department's teenage On the Edge camp will open Sunday at Camp Lee Canyon. The camp for younger kids was cancelled.
"Our goal is just to get everything back to normal as quickly as we can," Pendleton said
As of Wednesday morning, the Carpenter 1 Fire was 85 percent contained, covering 27,881 acres.
Contact Melissah Yang at myang@reviewjournal.com or 702-383-0491. Follow her on Twitter @MelissahYang.