Las Vegas children win court skirmish over garnished savings
November 10, 2013 - 11:41 pm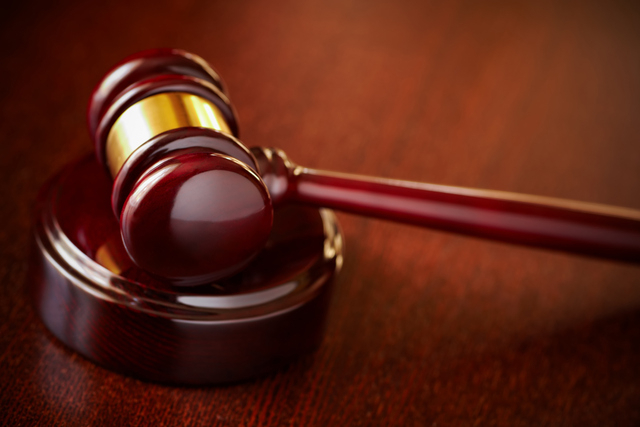 CARSON CITY — Three Las Vegas siblings who saw their summer job, birthday and scholarship money taken by a bank after their parents defaulted on a loan are getting a chance to get their money back.
A three-justice panel of the Nevada Supreme Court on Thursday ruled that a Clark County District Court judge erred when she did not hold a hearing on whether the $11,910 garnished by Nevada State Bank from accounts held by Haley, Tyson and Trey Brooksby was proper.
The money was taken to satisfy a $4.1 million judgment against the siblings' parents, Craig and Sonja Brooksby, who defaulted on a loan when the real estate market crashed and ruined their property development business.
"Because the Brooksby children appear to have made proper and timely claims asserting ownership of the garnished funds, they should have an opportunity to demonstrate, in an evidentiary hearing, that the funds are owned by them, not (their parents) and thus are not subject to garnishment by Nevada State Bank," Justice Ron Parraguirre wrote in the unanimous decision.
Craig Brooksby, who spoke by phone from North Carolina where his family now lives, said the ruling means his children may now finally get their college money back.
"This is a great ruling not only for us, but for every kid and family out there in the future that has a big bad bank trying to take their money," he said.
Brooksby said he was wiped out in the real estate collapse, and has not been able to pay anything toward the judgment.
"But it wasn't enough for them to sue us," he said. "They had to go after the money my kids earned working during the summer."
Brooksby said he will now be able to tell his daughter Haley, who is on a mission for the Church of Jesus Christ of Latter-day Saints in South Korea, that she may soon have her hard-earned college money back.
The other two siblings named in the case, Tyson and Trey, are also on missions to Portugal and Japan, respectively. A fourth sibling not named in the case, Sierra, also had her savings account garnished. The Brooksbys have 10 children.
Steven Shaw, the attorney representing the Brooksby children, said he is pleased with the ruling and is "cautiously optimistic" that the matter will now be resolved without further litigation.
If a court hearing is held, Shaw said he would expect a favorable outcome because he has submitted evidence that the amount of money in the siblings' bank accounts directly corresponds to the money they earned at their jobs or received for birthdays or from other sources.
In its legal filing, the bank said that since the judgment was entered, Craig and Sonja Brooksby "have made no attempt to satisfy the judgment, leaving (the bank) no choice but to avail itself to its statutory rights to execute on the judgment."
The attorney representing Nevada State Bank could not immediately be reached for comment.
The case raises the question of whether parents should include their names on the bank accounts of their children.
George Burns, commissioner of the Nevada Institutions Division, said there is no absolute answer, although the Nevada Legislature made it legal for minors to open bank accounts on their own in 1971 as a way to encourage children to open savings accounts.
Younger children may require more guidance, with less supervision needed when they gain experience managing their own finances, he said.
If there are potential legal obligations facing a parent, then that would be a separate issue for parents to consider, Burns said.
Brooksby said the case is a lesson to protect family member assets.
The only sure way to do that is to set up legally binding entities such as irrevocable trusts that are not in the names of family members, he said.
"The time to plan is not when everything is falling down on you but when nothing is wrong," Brooksby said.
The savings accounts of the siblings, established at Wells Fargo Bank, were garnished after Nevada State Bank obtained the $4.1 million judgment in late 2009.
The siblings, who were ages 19, 17 and 15 at the time, had their accounts in their names as "primary joint owner." Sonja Brooksby was listed as "secondary joint owner." The children were listed as the "tax responsible" customers and used their Social Security numbers.
Once the accounts were garnished, the three tried to get the money returned, eventually taking the dispute to Clark County District Court.
District Judge Jessie Walsh denied the claims in July 2010 without holding an evidentiary hearing.
Nevada State Bank argued to the Supreme Court that the lower court ruling was proper because the claims made by the three children were not filed in a timely manner.
But the Supreme Court said the claims were proper and timely and noted that a creditor may not garnish funds owned solely by a non-debtor.
Brooksby called it a classic David-versus-Goliath story, and noted that it isn't over yet. Nevada State Bank might continue to fight the return of the money, he said, but at least now his children have a fighting chance.
"Thank God the court made a good decision," Brooksby said.
Contact Capital Bureau reporter Sean Whaley at swhaley@reviewjournal.com or 775-687-3900. Follow him on Twitter @seanw801.