Las Vegas Emily's List panel: Americans ready to elect first woman president
January 30, 2014 - 4:41 pm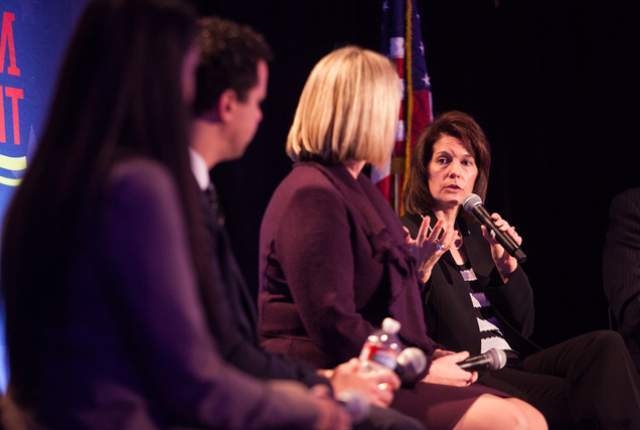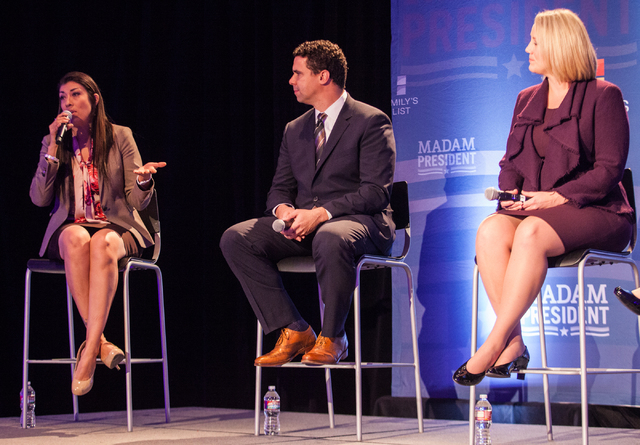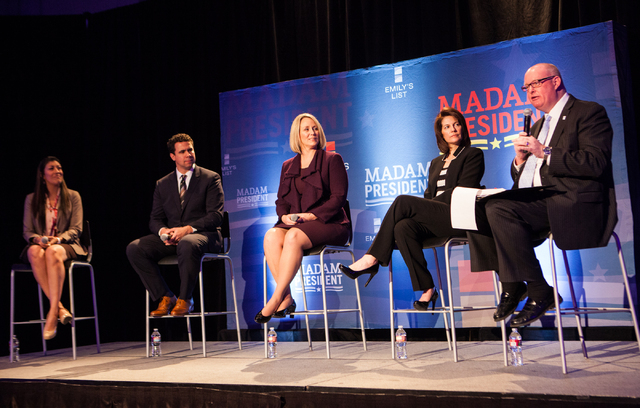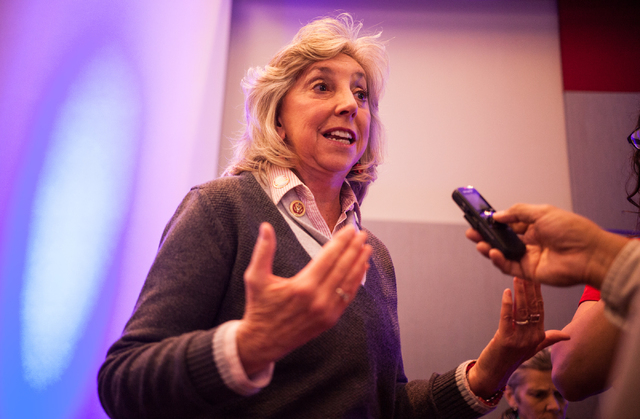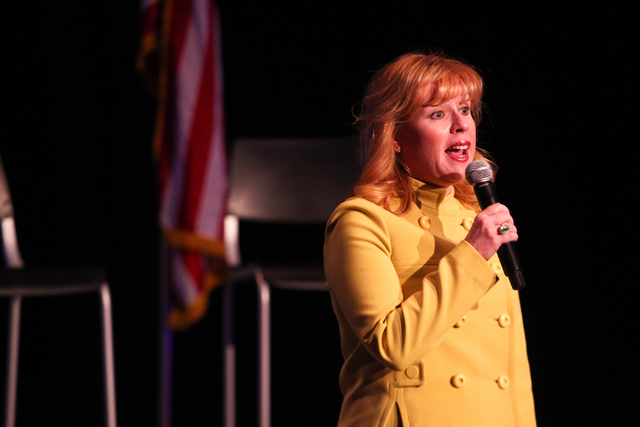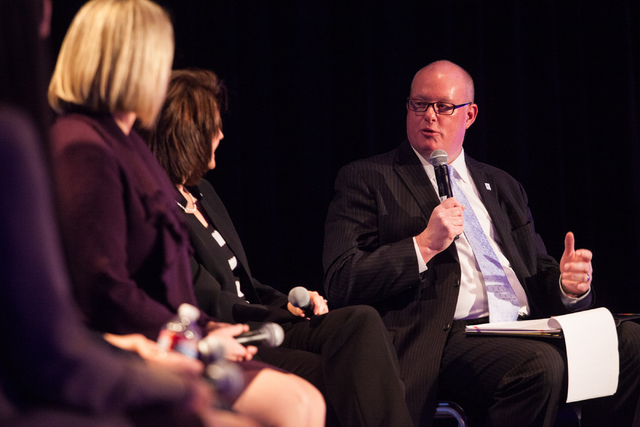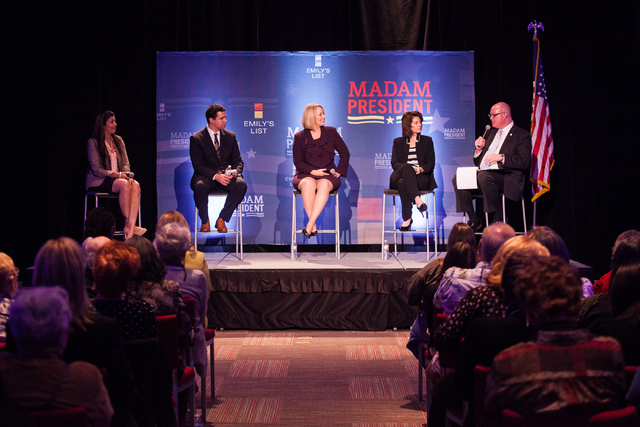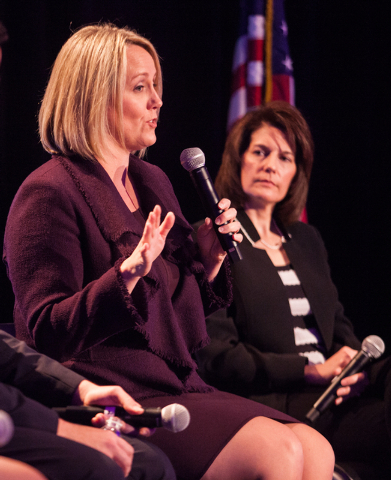 If the presidential election were held today, Hillary Clinton would likely win the White House, according to a new national poll that shows the former secretary of state trouncing Democratic foes and beating a potential top GOP prospect.
Whether it's Clinton or another female candidate who emerges by 2016, panelists at an Emily's List "Madam President" forum in Las Vegas said Thursday they believe American voters are ready to elect the nation's first woman president.
Although there's still limited female representation in Congress, in governor's mansions across the nation and in top law enforcement jobs, Nevada Attorney General Catherine Cortez Masto said "there is no glass ceiling" for women in the minds of many voters, especially a new generation who are gaining more clout with each election.
"What we're seeing is an understanding that women can do the job," said Masto, who disappointed Democratic Party officials by deciding not to run for governor in 2014 against GOP Gov. Brian Sandoval.
Asked if she thought Clinton could win Nevada, Masto responded, "There's a good chance, yes."
The 90-minute "Madam President" event was held at the University of Nevada, Las Vegas Student Union, with an audience of more than 100 people, including prominent Democratic female politicians such as Assembly Speaker Marilyn Kirkpatrick, D-North Las Vegas, and state Senate Finance Committee Chairwoman Debbie Smith, D-Sparks
Emily's List is a political action committee that supports pro-choice Democratic female candidates.
The panel of speakers included Masto, Assemblywoman Lucy Flores, D-Las Vegas, Emily's List President Stephanie Schriock and Bill Burton, a political strategist who worked on President Barack Obama's 2008 campaign, which beat Clinton in the Democratic primary. Las Vegas Review-Journal columnist Steve Sebelius moderated the discussion.
Congressional candidate Erin Bilbray introduced the panel, saying the time is "long overdue" for a female president. Bilbray, a Democrat, is running to replace U.S. Rep. Joe Heck, R-Nev., in the 3rd Congressional District.
U.S. Rep. Dina Titus, D-Nev., gave closing remarks and endorsed Clinton for president at the same time.
"I think this is the year to get ready and 2016 is the year to have a madam president," Titus said to applause.
Time will tell. A new Washington Post-ABC News poll shows Clinton far ahead of any competitor, beating her possible opponents with 73 percent of Democrats and Democratic-leaning independents backing her. Vice President Joe Biden was second with 12 percent followed by U.S. Sen. Elizabeth Warren, D-Mass., with 8 percent.
In the general election, when given a choice between Clinton and GOP New Jersey Gov. Chris Christie for president, 53 percent of registered voters picked the former secretary of state while 41 percent chose Christie. Clinton led Christie among female voters 59 percent to 34 percent. Christie narrowly led Clinton among men, 49-46 percent.
The poll was conducted Jan. 20-23 of 1,003 adults. The margin of error was plus or minus 3.5 percentage points.
Voters were torn among a long list of potential GOP hopefuls. Christie came in third, according to the survey, with 13 percent support. The leader was U.S. Rep. Paul Ryan, R-Wis., with 20 percent, followed by former Florida Gov. Jeb Bush at 18 percent. U.S. Sen. Ted Cruz, R-Texas, was fourth with 12 percent support, followed by U.S. Sen. Rand Paul, R-Ky., at 11 percent and U.S. Sen. Marco Rubio, R-Fla., at 10 percent.
Despite the early strong support for Clinton, the Obama campaign veteran Burton said she would face a difficult campaign if she decides to run, mostly because Republicans will be hungry to regain control of the White House and all of the GOP contenders are likely to focus most of their fire against her to gain traction. He said an "extraordinary amount of money" will be spent by third parties as well to defeat Clinton if she's the Democratic nominee.
"I don't think it's a slam dunk for Hillary Clinton anywhere," Burton said. "The Republicans have been out of power for eight years. They will do anything to change that. We can't take anything for granted in Nevada or anywhere else."
Partisan politics aside, the nation seems ready to accept a female president — just as Americans accepted the first African-American president in 2008 when there was a big question whether a black man could win, the panelists said.
Last year, Schriock said Emily's List surveyed voters to ask them if they "would be open to voting for a woman president" and more than 90 percent said "this would not be a problem."
"There's an openness to seeing it nationally," Schriock said, adding that attitudes are changing day by day. "It is moving, but there's still a lot of change that needs to happen."
Schriock said not just any woman could win the White House. She suggested a Republican woman could not get enough voter support because the party's values don't align with most women's views, including on abortion and equal pay.
"Women aren't going to vote for women because they're women," Schriock said. "The Republican Party has a problem with women voters," she added, saying sensitivity training isn't the answer. "You have to fix this by changing their policies."
Assemblywoman Flores said there's evidence that women are more effective lawmakers, including the ability to get more of their bills passed than men. She said women also have personal experience that they bring to issues such as domestic violence. She herself was a victim, Flores said, which prompted her to get a bill passed during the past legislative session to allow domestic violence victims to break leases so they can move to get away from their abusers.
Flores said a national cultural shift is making people more tolerant and able to accept women in leadership roles.
"If a woman becomes president of the United States it's OK," Flores said people now think. "In fact, it might be better."
Contact reporter Laura Myers at lmyers@reviewjournal.com or 702-387-2919. Follow her on Twitter @lmyerslvrj.