Las Vegas police pursue sexual assault suspect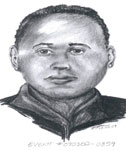 Police are looking for a man who kidnapped and sexually assaulted a 75-year-old woman Monday while she walked near Sahara Avenue and Valley View Boulevard.
The woman told Las Vegas police the man approached her from behind while she took her daily walk and forced her behind a trash bin. He then sexually assaulted her and fled.
The suspect is described as black, 5 feet 7 inches tall, clean-shaven, having short curly brown hair and pierced ears with gold colored studs.
Las Vegas police Lt. John Bradshaw said the department's sexual assault section is trying to gather surveillance footage from nearby businesses to help locate the assailant.
"This person, (who is) more or less a predator, chose to commit a crime," he said. "We believe his sole intent was to complete this act."
Bradshaw said there haven't been other sexual assaults reported in the area.
If caught, the man could face charges of kidnapping and first-degree sexual assault of a victim over the age of 65. The offenses are punishable by up to life in prison.
Anyone with information on the crime is asked to call the sexual assault section at 828-3421 or Crime Stoppers at 385-5555.