Las Vegas police settle lawsuit involving fatal dog shooting for $199K
Updated March 27, 2017 - 5:11 pm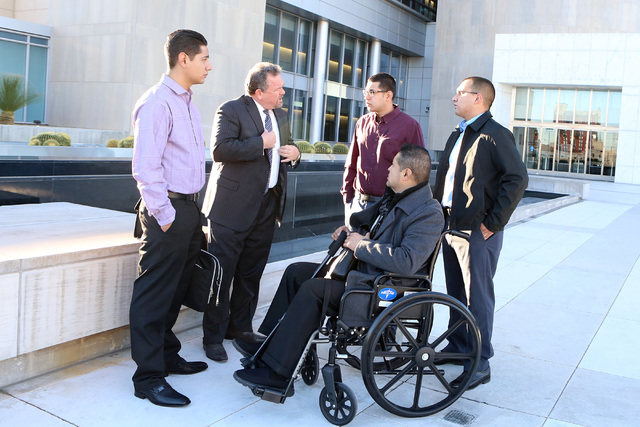 The Metropolitan Police Committee on Fiscal Affairs approved a settlement of $199,000 Monday in an excessive force lawsuit stemming from a 2009 incident in which five officers burst into a home and killed the family dog.
Las Vegas police have maintained that the officers — Jay Roberts, Michael Dunn, Christopher Kohntopp, Justin Byers and Troy Givens — had probable cause to believe a burglary was being committed when they entered the house.
The officers mistook Henry Rodriguez, Jordhy Leal and David Madueno for potential burglars of the house where Rodriguez lived with his family. The pet, a pit bull named Hazel, was shot in the face by an officer during the incident.
Rodriguez, Leal, Madueno and Rodriguez's father, Jesus Sandoval — all of whom were handcuffed that day — sued the Metropolitan Police Department in 2010, seeking $5 million in damages.
A federal judge declared a mistrial in the case in January after Metro lawyers argued that emotional testimony about the dog's death made it impossible for jurors to be impartial. A new trial was set to begin earlier this month, but the parties settled.
Las Vegas City Councilman Stavros Anthony, who sits on the fiscal affairs committee, asked whether the settlement meant the department admitted the officers handled the situation incorrectly.
Liesl Freedman, general counsel for the department, said the settlement did not include any such admission.
The fiscal affairs committee also approved a $35,000 settlement connected to a car crash involving a crime scene analyst and a $30,000 settlement in a discrimination case.
Officer Truong Thai filed the discrimination charge with the Equal Employment Opportunity Commission in 2011 and said he was subjected to different employment conditions because of his race.
Contact Wesley Juhl at wjuhl@reviewjournal.com and 702-383-0391. Follow @WesJuhl on Twitter.
RELATED
Judge declares mistrial in excessive force case against Las Vegas police