Las Vegas sex museum seeks donation from Trump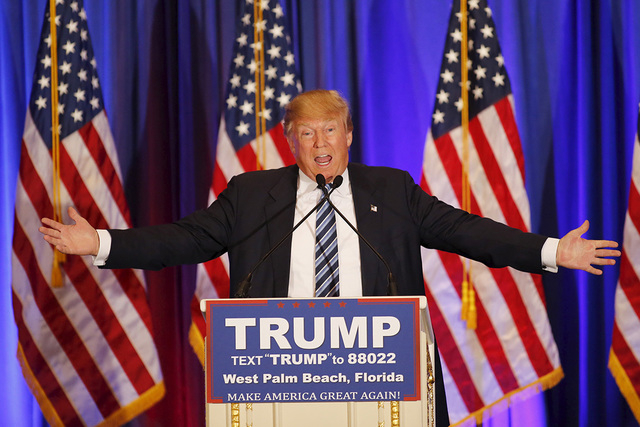 A Las Vegas sex museum wants to display Republican presidential candidate Donald Trump's, um, likeness.
Trump's response to remarks made by U.S. Sen. Marco Rubio of Florida about the size of Trump's hands — and implications about the size of other parts of his anatomy — during Thursday's Republican debate on Fox News was a major point of discussion in the days that followed.
"Look at those hands, are they small hands?" Trump said, gesturing, during the debate. "And he referred to my hands: 'if they're small, something else must be small.' I guarantee you there's no problem. I guarantee."
A CNN headline on Friday began "Donald Trump defends size" — and it wasn't just the mainstream media. Blogs across the Internet ran with it.
Late last week, Hustler founder Larry Flynt was said to have issued an open letter to Trump offering "a team of doctors ready today to conduct the examination required to confirm your boast," according to the Erotic Heritage Museum in Las Vegas.
Then adult toy and novelty maker Pipedream Products chimed in, inviting the Republican front-runner to have his member molded.
On Monday, the Erotic Heritage Museum, a five-minute walk from Trump International in Las Vegas, said it wants to display that cast.
"No candidate for president has ever made such a claim, but instead have used euphemistic, albeit vague, statements to that fact in the past and in modern times through the use of power words such as "aggressive", "bold", "strong" and any other words associated with maintaining the patriarchy," said Victoria Hartmann, executive director of the museum. "In keeping with the offers made by Larry Flynt and Pipe Dream, should Mr. Trump be willing to back up his claim with verifiable evidence, the Erotic Heritage Museum is best suited to preserve such an important artifact."
The Erotic Heritage Museum exhibits sex-related artifacts from across the world. It also has expanded exhibits on political sex scandals, including ones on President Bill Clinton, the "raunchy Royals," and one called "Sex and the Third Reich."
Contact Wesley Juhl at wjuhl@reviewjournal.com and 702-383-0391. Find him on Twitter: @WesJuhl