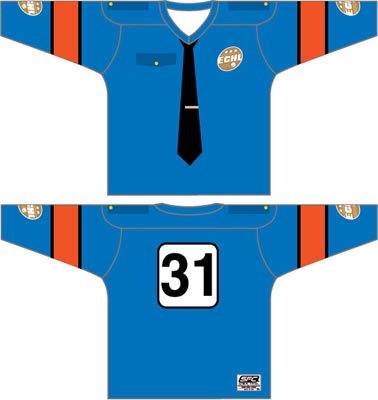 The Las Vegas Wranglers revealed today the prison uniforms they will wear on Rob Blagojevich Prison Uniform Night on Friday, January 30. The team also announced that the Bakersfield Condors, the visiting team, will wear jerseys fashioned after orange jumpsuits typical of Department of Corrections issue. The on-ice referee and linesmen will wear blue jerseys that resemble prison guard uniforms. The team will also auction the seat between the benches to the highest bidder.
The event comes after Illinois Gov. Rob Blagojevich became the target of a federal corruption investigation which included his alleged attempt to leverage President-elect Barack Obama's vacated senate seat for personal gain. "We envision goal judges in powdered wigs and black robes and bars on the penalty boxes," said Billy Johnson, Wranglers President and COO. "I'm hopeful the winner of the seat auction will be seated without incident. Some existing fans may not want to let them in."
The home Wranglers uniform features broad, horizontal black and white stripes and an identification number that begins "ILLGOV-" followed by each player's actual uniform number. Bakersfield jerseys are bright orange with black block lettering. On-ice officials for the game will wear blue jerseys designed buttons, pockets, ECHL badges, and a black neck tie with gold tie clip.
The uniforms will be auctioned to benefit the team's charitable efforts. The seat between the benches will be auctioned via the internet. The team said auction details are forthcoming.
Since the original December announcement of the event the team says they have received calls and emails from those beyond Las Vegas who want to bid on a jersey or come for the game. "People from Illinois are planning to make the trip," Johnson said.
The Las Vegas Wranglers have a history of oddball promotions. Dick Cheney Hunting Vest followed a shooting mishap in February of 2006 with Cheney's hunting partner Harry Whittington. The team also plays one game each year that begins at midnight, as well as one game each year restricted to fans over the age of 18.
The Wranglers are the ECHL affiliate of the NHL's Calgary Flames and play home games at the Orleans Arena just off the famed Las Vegas Strip.