Lawsuit threat gets no support
September 18, 2009 - 9:00 pm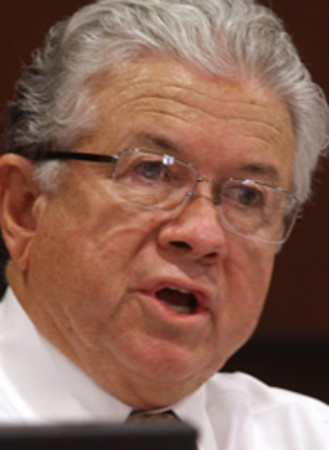 CARSON CITY — Tempers flared once again Wednesday between legislators and the governor's administration staff members over who controls federal stimulus dollars.
Sen. Bob Coffin, D-Las Vegas, urged legislators to sue Gov. Jim Gibbons and let the Supreme Court decide whether the Legislature's Interim Finance Committee, not the governor, authorizes stimulus spending.
"There is only one place to go with this, and that is the Supreme Court of Nevada," Coffin said.
He accused Gibbons of breaching state law by approving the spending of American Recovery and Reinvestment Act dollars without securing the consent of the Interim Finance Committee.
The committee is a group of 21 legislators, currently mostly Democrats, that handles financial business for the Legislature when the entire 63-member Legislature is not in session.
Since an Aug. 3 hearing, Democratic legislators and Gibbons have been fighting over control of the state's $2.2 billion appropriation in federal stimulus dollars. The matter is contentious, because the authority of the Interim Finance Committee to make any changes in state spending has never has been contested. Democrats want to maintain that authority.
Lynn Hettrick, Gibbons' new deputy chief of staff, bristled at Coffin's comments and warned that administration staff would not attend any meeting at which the governor is accused of being a lawbreaker.
"If you think this rises to the level of the Supreme Court, then take it there," said Hettrick, a former Assembly co-speaker who was the Republican leader in the Assembly for more than a decade.
But Coffin found no backers for his lawsuit proposal, and Assemblyman Morse Arberry, D-Las Vegas, tried to stop the fighting.
Arberry pledged that from now on legislators with try to work with Gibbons "to get Nevadans back to work."
At an Aug. 3 committee meeting, the Democratic majority, on a party-line vote, rejected Republican Gibbons' request to hire a stimulus funds director who would work in his office. Instead they voted to hire a director who would work in the office of Democratic Controller Kim Wallin, who oversees state spending.
Gibbons then issued an executive order to hire his own stimulus director and advised state agency heads not to work with Wallin on reporting how they spend stimulus funds. Former deputy Clark County Recorder Charles Harvey took the job on Sept. 3.
In the meantime, Gibbons secured an opinion from Attorney General Catherine Cortez Masto, a Democrat, that he did not need to secure advance approval from the Interim Finance Committee before spending stimulus funds.
Under the opinion, the governor could secure funding immediately under the law if he declared an emergency exists and the funds must be released "for protection of property."
During the Thursday meeting, Assembly Speaker Barbara Buckley, D-Las Vegas, questioned whether sufficient emergencies existed for Gibbons to invoke the law as defined by Masto's opinion.
The committee reviewed 14 instances in which Gibbons invoked the emergency provision so that he could spend stimulus funds.
Twice Gibbons declared an emergency existed so he could spend money on computer system improvements. In another instance, he invoked the provision to hire three parole and probation counselors. He also said an emergency existed so he could make a half-time position in the Department of Public Safety full-time.
Buckley questioned why in some of this cases the administration did not just wait a couple of weeks before the Interim Finance Committee reviewed and approved the spending.
She noted that hiring the new employees will cause problems for the Legislature in 2011, since the stimulus funds will run out and there may be no money to continue their jobs.
Contact Las Vegas Review-Journal Capital Bureau Chief Ed Vogel at evogel@reviewjournal.com or 775-687-3901.