Lawyers link felon, Rizzolo's legal effort
October 9, 2009 - 9:00 pm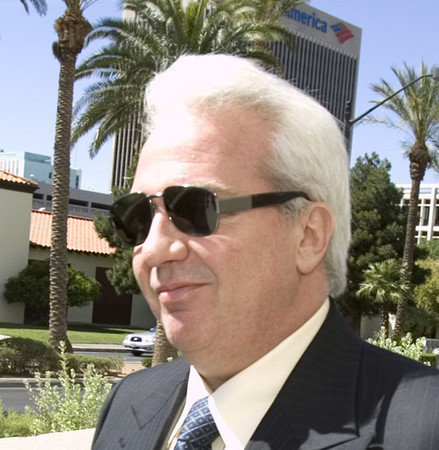 A felon has been ghostwriting legal documents for former strip club owner Rick Rizzolo, who says his probation officer has approved the relationship.
"In an act both stunning and extraordinarily brazen, Rick has apparently agreed to the formation of the wholly prohibited partnership with the serially convicted felon, James Kimsey," according to a motion that seeks to have the ghostwriter held in contempt of court.
Lawyers involved in a civil case against Rizzolo, who went to prison in 2007 after pleading guilty to conspiring to evade taxes, allege he has been perpetrating a fraud upon the court by signing documents he did not prepare.
The lawyers said they have racked up $260,000 in fees while responding to frivolous motions from Rizzolo and Kimsey. They suggested that the relationship between the two felons violates the conditions of Rizzolo's release from prison.
Attorney Stan Hunterton told a federal judge this week that Kimsey, whose prior convictions include perjury and the unlawful practice of law, should be jailed for contempt of court and ordered to pay monetary sanctions.
"We are asking for serious consequences," Hunterton told U.S. Magistrate Judge George Foley. The judge said he would issue a written decision.
Hunterton also asked Foley to refer a transcript of the hearing to U.S. Probation for possible revocation of Rizzolo's supervised release. Rizzolo, 51, was released from prison in April 2008 and is to be supervised until April 2011.
A standard condition of supervision bars defendants from associating with felons unless they receive permission to do so from their probation officer.
Rizzolo attended the court hearing with his new lawyer, Kenneth Frizzell III, who said Rizzolo's probation officer, Eric Christiansen, allowed him to have the relationship with Kimsey.
Pat Foy, deputy chief U.S. probation officer for Nevada, declined to comment on the matter when contacted by the Review-Journal.
According to the motion that requests contempt sanctions for Rizzolo's ghostwriter, "It is inconceivable that any probation officer would permit Rick to consort with a felon whose very crimes involve the corrupt manipulation of our system of justice."
Kimsey, 50, is not licensed to practice law in Nevada. When contacted by telephone Thursday, he described himself as a paralegal and said he has worked for most of the "high-powered lawyers" in Las Vegas.
"Many times attorneys get very busy, and they hire people like me to do the research and writing," Kimsey said. He said the lawyers then edit his work.
Kimsey declined to comment on his relationship with Rizzolo or on Hunterton's request to have him held in contempt of court.
Hunterton is one of the lawyers representing Kirk and Amy Henry in their lawsuit against Rizzolo and his ex-wife, Lisa.
Kirk Henry, a Kansas City tourist, was paralyzed from the chest down in September 2001 after he disputed an $80 bill at Rizzolo's Crazy Horse Too Gentlemen's Club.
In 2006, Rizzolo agreed to pay Kirk Henry $10 million using proceeds from the sale of his strip club. The club's insurance company paid $1 million. The economy then tanked, and the club lost its liquor license, causing the value of the business to plummet.
The Henrys sued the Rizzolos in 2008 and have accused them of taking actions, such as engaging in a sham divorce, to hide their assets. In court this week, Frizzell acknowledged that Kimsey had prepared several motions for Rizzolo while Rizzolo was representing himself in the case.
Judges typically give more leeway to litigants who represent themselves, but Hunterton argued that Rizzolo should not receive that latitude if a "jailhouse lawyer" is helping him.
"We want to all play by the same rules," Hunterton said.
He also accused Kimsey of engaging in the unauthorized practice of law and committing a fraud upon the court.
Frizzell said busy lawyers commonly rely on research assistants to help them prepare pleadings, and paralegals often draft documents for prisoners.
"If Mr. Rizzolo were still on the inside, I don't think we'd be here today."
Also, Frizzell said, several businesses in town have nonlawyers on staff who draft court documents for litigants who are representing themselves.
According to a document filed last month by Rizzolo, his "purported" ghostwriter "has for several years performed the same tasks for opposing counsel that opposing counsel now allege is somehow illegal or taint the proceedings."
Hunterton and his co-counsel, Don Campbell, both denied that Kimsey has ever worked for them.
The Rizzolo document describes Kimsey as "very highly controversial."
"You love him or you hate him, depending on whether or not your firm is the employer," according to the document.
Washoe County District Court records show that Kimsey was convicted in 1987 of forgery, perjury, conspiracy to commit perjury, offering a false instrument for filing and uttering a forged instrument.
He was convicted in 1990 of forgery, offering a false instrument for filing, perjury, attempting to obtain money by false pretenses, swindling, the unlawful practice of law and embezzlement.
"Since his release from incarceration, Mr. Kimsey has apparently moved his act south to Clark County, Nevada," the Henrys' lawyers wrote in their motion for contempt sanctions.
"He has a continuous pattern of attacking lawyers and judges in this State. His filings with the Courts of Clark County, Nevada, are littered with 'Motions to Disqualify' both judges and attorneys, wholly unsupported and otherwise based on ridiculous accusations."
According to the Rizzolo document, Kimsey was released in 1996 and "received a full restoration of his rights" in 2003.
Assistant Bar Counsel David Clark said the term "paralegal" is not regulated in Nevada, meaning anyone can use the title. Some national groups do offer certification for paralegals, he said.
Clark said the State Bar of Nevada has the authority to seek an injunction against a nonlawyer who is engaging in the unauthorized practice of law.
He said bar complaints are pending against Kimsey in connection with his conduct in the Rizzolo matter and in connection with his conduct in eviction proceedings in North Las Vegas Justice Court.
Contact reporter Carri Geer Thevenot at cgeer@reviewjournal.com or 702-384-8710.