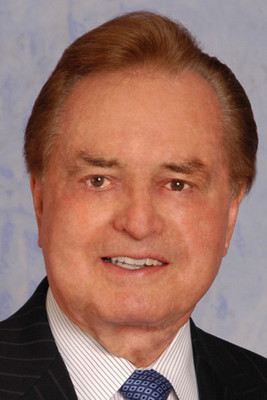 State Sen. Bill Raggio has had a storied career: statesman, prosecutor, Frank Sinatra's lawyer. Now the Reno Republican is finally getting the biographical treatment.
Author and legislative secretary Michael Archer has been doing research for a book about Raggio for more than a year and now is shopping a partial manuscript to publishers, he said last week.
"I'm not looking for negative angles, but I cannot find a person who, even if they don't agree with his politics, doesn't absolutely admire him as a person," Archer said of Raggio, who at 82 is the longest-serving lawmaker in state history. "It's deserved. He has earned everything he's gotten in life."
To tell Raggio's story, Archer has reached all the way back to his maternal great-grandmother, who came to Nevada from Italy during the Civil War.
A portrait emerges, he said, of a "tough guy" who, while Washoe County district attorney, had a white coat stained with blood from "wading into a riot."
At the same time, Raggio is an Eagle Scout and former Boy Scout leader who, to raise money, once took his troop to the Truckee River to retrieve the wedding rings divorcées ceremonially tossed into the water.
A former federal government worker, Archer is the author of "A Patch of Ground: Khe Sanh Remembered." Part Vietnam War story, part coming-of-age tale, the memoir was published in 2005. Archer, who works as attache to the state Senate Finance Committee that Raggio chaired until recently, gave the senator a copy, and he liked it.
"He said back then, 'I'd like you to write my life story one of these days,' and I said, 'Sure,'" Archer said. Over the course of the research process, Raggio, he reported, has been modest — "He doesn't think he has an interesting life" — but open and generous with his time, and has not tried to meddle in the contents.
MAKING UP GROUND
One of the telltale signs that Republicans were going to get killed in the 2008 election in Nevada was the voter registration statistics that showed more and more Democrats, and fewer and fewer Republicans, on the state's voter rolls with every passing month.
Tactically, Democrats did a lot of things right along the way to winning the state for Barack Obama by 12 percentage points, but perhaps none was more important than their voter registration effort. By the time registration closed for the November election, there were more than 100,000 more Democrats than Republicans among Nevada's 1.2 million active registered voters; at the 2004 election, they'd been even.
Republicans countered only feebly. If they're going to start winning elections in Nevada again, the GOP is going to have to do better, said Chris Carr, a Las Vegas-based consultant who's started a state political action committee aimed at reversing the trend.
"Before this last election cycle, the party and the activists had done a relatively good job," Carr said. "This past cycle, Democrats just did a better job. This is going to be one vehicle for Republicans to help hopefully close the gap."
The Republican Renewal Project has a Web site and is meeting with supporters and donors to "hit the ground running." It's seen as part of Sen. John Ensign's vow to help rejuvenate a disorganized, demoralized state Republican Party; Ensign and Rep. Dean Heller are on board with the group's program, Carr said.
The well-liked Carr, an easygoing Louisiana native, is a former state party staffer who worked on Ensign's and Heller's campaigns as part of the local firm November Inc. In 2007 he served as regional political director for the Republican National Committee; in 2008 he worked for the National Republican Senatorial Committee, then chaired by Ensign.
The Democrats' voter registration operation is ongoing and year-round, party spokeswoman Phoebe Sweet said.
"We're not taking anything for granted," she said. "We're proud of what we accomplished last year, and we're going to continue to build on that momentum through 2010 and beyond."
TO HECK WITH IT
Joe Heck, the Republican former state senator from Henderson, is laying the groundwork to run for governor in 2010, according to multiple Republican insiders.
He's not ready to announce anything publicly, but Heck has been talking to potential campaign consultants and donors about the prospect, and he recently spoke at Lincoln Day dinners in several rural counties.
Touring the annual GOP gatherings is de rigueur for Republicans planning on running statewide. Heck also contributed to rural county parties with leftover campaign funds.
"Joe Heck is running for governor," said one Republican consultant who spoke on condition of anonymity.
In an interview, Heck said he has been talking to plenty of people about plenty of things, but "we haven't decided about anything."
The purpose of the Lincoln Day circuit was to support the Republican Party in the rural counties and help it get back on its feet, he said.
"I think we need to make up our voter registration deficit, I think we need to heal the rifts that exist within our own party, and I think we need to get our message out to like-minded conservative Democrats and independents," he said. "I'm confident that we'll be able to accomplish those three things, and that's why I went out on the Lincoln Day circuit, to spread that message."
An emergency physician and Army reservist, Heck is no stranger to tough Republican primaries. In 2004, he ousted former state Sen. Ann O'Connell in a bruising GOP contest. He served one term in the state Senate before being ousted narrowly by Democrat Shirley Breeden last year.
Gov. Jim Gibbons has said he plans to run for re-election in 2010. North Las Vegas Mayor Mike Montandon also has said he plans to get into the race on the Republican side, whether or not Gibbons runs.
GOODBYE TO ALL THAT
Zac Moyle, the executive director of the Nevada Republican Party for more than two years, is leaving politics for a career in business.
Moyle announced his resignation in an e-mail last week, saying, "I have been offered a great job, a good salary, and one with tremendous potential. I look forward to tackling it head on and being able to spend more time with the girl of my dreams, starting a family, and concentrating on my ministry."
A devout Christian, major indie rock fan and Marine Corps veteran, Moyle served as both the head administrator of the state party and its public face, answering queries from the media. Detractors said he lacked chops as a strategist, but he is a hard worker and widely well-liked.
Moyle said he'll be working as a regional manager for a major national retailer. For now, he's staying on to help the party transition.
"It's unfortunate what happened in the last election, but we built a strong grass roots, and more importantly I think we learned a lot of lessons to take forward," he said.
Résumés are pouring in for the position. As one GOP consultant pointed out, "There are a lot of talented Republicans out of work, given the last two (election) cycles."
Contact reporter Molly Ball at mball @reviewjournal.com or 702-387-2919.
THE POLITICAL EYE BLOG: Congressman admits error on 'Red Light Express'
Republican Renewal Project