December 3, 2008 - 10:00 pm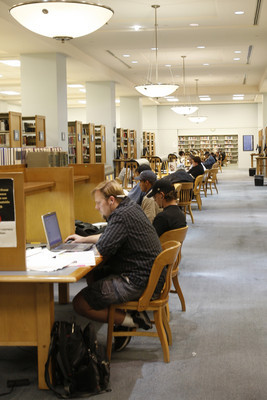 Christina Lang's visits to the library are teaching her patience.
The 28-year-old Las Vegas resident considers herself an avid reader and, more and more, finds herself on several waiting lists to fuel her passion.
"There are so many more people here," said Lang, who has frequented the Clark County Library on East Flamingo Road weekly for the past nine years.
As a College of Southern Nevada student, she exclusively uses the library's computers for homework.
Lang planned her library visit Tuesday to beat the afternoon rush of patrons and retrieve the Laurell K. Hamilton book she ordered weeks ago.
"Her stuff is usually gone," Lang said. "It's OK because more people are coming and learning, but it gets irritating sometimes."
Library officials across the Las Vegas Valley say they can read between the lines of stories like Lang's. As the economy worsens, more people are flocking to libraries to snatch up books, CDs and DVDs and get the most out of the free programs and computer services.
The Las Vegas-Clark County Library District counted about 200,000 more visits by patrons to its 23 branches this year, up 8 percent from 2007.
"That is a big increase, but it's OK," said Robb Morss, district deputy director. "We want to be the one-stop shopping place for these people, especially during these hard times when they can't buy what they may want."
Morss and officials at the North Las Vegas and Henderson libraries have been working to get more items into circulation, make available more computers, and implement technologies such as self-checkout to handle the increase in patrons.
Kathy Pennell, director of the North Las Vegas Library District, noticed a trend.
"We have more people using computers for the first time, and I see a lot of employers will only accept applications online," Pennell said, adding that more unemployed people are using the free service to search for jobs.
Self-employed software developer Sammy Alonge said he stopped paying for Internet access at home and uses the library's free wireless access.
Las Vegas resident Michael Johnson joked that the library is "free Netflix," while leaving the library on Flamingo Road with a "Lost Boys II" DVD.
Melba Ford brought a list of items she needed to print off the Internet at the library, saying she doesn't want to buy her own printer.
Henderson District Public Libraries Director Tom Fay said visitor and circulation numbers are up, but revenue and funding are not. The district closed library doors on Sundays, implemented a hiring freeze and halted some programs offered to patrons.
"We are in a people business; it's hard not to have enough," Fay said. "We've been a very conservative library system, and there are not many places to cut."
Morss and Pennell said their districts have yet to face a difficult financial burden, but they don't expect all times to be rosy.
"So far, just like anyone during these economic times, we are watching our pennies," Morss said.
Despite his district's difficulties, Fay said he welcomes visitors seeking escape and pegged the library atmosphere as "comfortable … like mom and apple pie."
"A lot of people go back to basics when times are tough. The library is part of the core group of basics, and those fundamental things, we know, are good for us."
Contact reporter Maggie Lillis at mlillis@ reviewjournal.com or 702-383-0279.