Ling top choice as medical board's new chief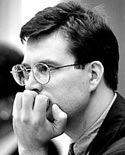 Louis Ling has been selected to take over the reins as executive director of the Nevada State Board of Medical Examiners.
Medical board officials announced Tuesday afternoon their choice of Ling, 46, who currently is legal counsel for the Nevada State Board of Pharmacy.
Dr. Don Havins, a Las Vegas ophthalmologist and chief executive officer of the Clark County Medical Society, and Douglas Cooper, chief investigator for the medical board, were the other two candidates.
Tony Clark, the medical board's current executive director, is retiring later this year.
Should he accept the job, Ling will become part of a medical board that has been under scrutiny in recent weeks for its handling of physicians involved in the hepatitis C crisis.
To date, the medical board has filed complaints against two doctors for their possible involvement in unsafe medical practices that caused six people to contract hepatitis C at the Endoscopy Center of Southern Nevada, 700 Shadow Lane.
More complaints could be brought against these same doctors, or others, in upcoming months as the investigations continue.
So far, eight hepatitis C cases have been linked to the Shadow Lane facility and one to Desert Shadow Endoscopy Center on Burnham Avenue. Both facilities are closed.
Since late February, health officials have urged more than 60,000 former patients of the two clinics to get tested for hepatitis and HIV.
So far, about 400 former patients have tested positive for hepatitis C, but health officials are unable to say with certainty they acquired the liver destroying disease at the Shadow Lane facility. There's a possibility that 77 of them may have contracted it at the clinic, health officials have said.