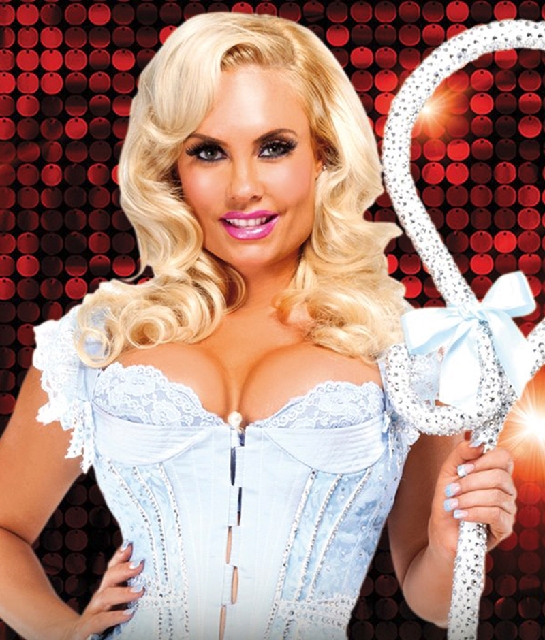 The Las Vegas Convention & Visitors Authority is planning a Prince Harry campaign and needs some paupers to play a prince.
Look-alikes don't need to talk like Prince Harry, or, heaven forbid, behave like the randy royal. Just look like him.
Ginger hair is a must.
Word has it the LVCVA may be scouring the United States for several Harry models — fully clothed, we presume — for promotional events, appearances and "paparazzi-like" photos.
Prince Harry generated an estimated $23 million in publicity last August with his pool partying and naked billiards photos.
The LVCVA quickly jumped on the scandal with faux outrage, calling out those who exploited the prince for breaking the "What happens in Vegas, stays in Vegas" code.
BLAST FROM THE PAST
Everyone's got a story about meeting someone who went on to be somebody.
Former NBA star Toni Kukoc met an adoring fan whose goal is to blow up the world.
While playing in the Michael Jordan Celebrity Invitational on Thursday at Shadow Creek, Kukoc told his group that he was participating in a good will tournament in Europe in 1997 when a young Korean requested a photo with him.
The fan, Kukoc said, turned out the be Kim Jong Un, now the leader of North Korea.
The Washington Post, in a report about North Korea's leader-in-waiting, said he attended school in Switzerland and worshipped NBA players.
He spent hours on pencil drawings of superstar Jordan and had photographs of Kukoc and Kobe Bryant.
According to the Post article, a video of a school music class showed Kim Jong Un wearing Nike Air Jordan shoes. In another photo he was shown joining the international group of students flashing V's with fingers, the universal sign for victory, or peace.
A teammate described his playmaking style as "explosive."
Some irony there.
THE SCENE AND HEARD
"Frontline," the investigative documentary series, was in Clark County District Court last week working on a profile about Las Vegas Sands chairman Sheldon Adelson. The retrial of a lawsuit involving the billionaire casino magnate resumes this week. A former consultant is suing Adelson's company, claiming he's owed $353 million for helping LVS secure a gaming license in Macau a decade ago. …
If he isn't summoned to avoid World War III, Kim Jong Un's pal Dennis Rodman will be on hand for the Cinco de Mayo weekend grand opening of Sapphire pool and dayclub. Also lined up: Pamela Anderson and "Peepshow" star Coco Austin. …
Thank you, dear readers, for your support in The Best of Las Vegas voting. I would have been pleased as punch with the award for Best Gossip by a Pirate.
SIGHTINGS
Attending Penn & Teller's Hollywood Walk of Fame ceremony on Friday: speakers David Copperfield and Trey Parker, co-creator of "South Park" and "The Book of Mormon," Harry Hamlin and his wife Lisa Rinna, and Lainie Kazan. … Retired New York Yankees star Paul O'Neill, with some friends Friday at the Top of the World restaurant at the Stratosphere. Will Smith, Don Cheadle, Bruce and Brody Jenner, Chevy Chase, Michael Phelps, Julius Erving, Jerry Rice and Wayne Gretzky, at Michael Jordan's celebrity invitational gala at Aria (CityCenter) on Friday. … Hall of Fame quarterback Joe Montana and former teammate Dwight Clark, at N9ne Steakhouse (Palms) on Friday. … "Glee" star Dot-Marie Jones, also known as Coach Beiste, at Madame Tussauds Las Vegas (The Venetian) Friday posing with a wax figure of castmate "Glee" coach Sue Sylvester.
THE PUNCH LINE
"A man in New Jersey was arrested for stealing $100,000 worth of perfume. Not good. I mean, if there's one thing you don't want in jail, it's to smell pretty." — Jimmy Fallon
Norm Clarke's column appears Sunday, Wednesday and Friday. He can be reached at 702-383-0244 or email him at norm@reviewjournal.com. Find more online at www.normclarke.com. Follow Norm on Twitter @Norm_Clarke. "Norm Clarke's Vegas," airs Thursdays on the "Morning Blend" on KTNV-TV, Channel 13.