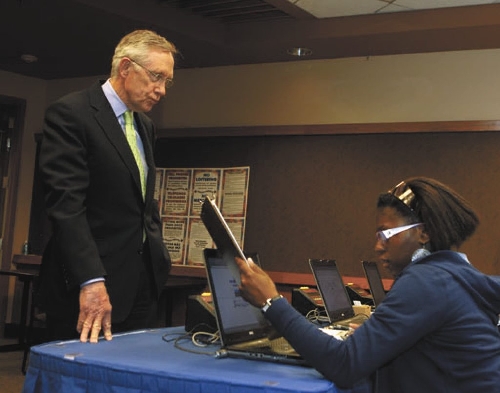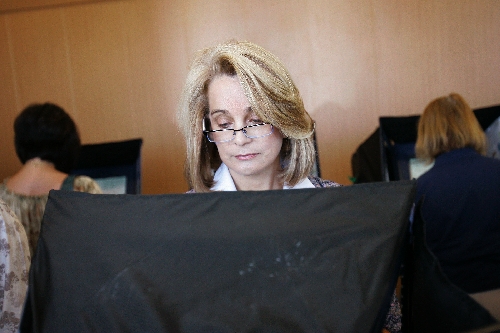 U.S. Senate candidate Sue Lowden lashed out Wednesday at the "liberal allies" of Democratic incumbent Harry Reid who are running attack ads against her, charging that they want her to lose the Republican primary to Tea Party pick Sharron Angle.
Angle took to the conservative radio talk show airwaves to promote her anti-tax message but refused to reveal where she is campaigning, seemingly avoiding the hot spotlight after enduring several weeks of unflattering national media attention.
With five days before Tuesday's primary election, Lowden is turning up her offensive game while Angle adopts a defensive crouch as the two compete in what has become a hard-fought head-to-head primary with Danny Tarkanian lagging behind them in the GOP contest.
Lowden must make up much lost ground, while Angle can't afford to make any mistakes that could stall the astonishing rise she began with the Tea Party Express endorsement in April, said Eric Herzik, political science professor at the University of Nevada, Reno.
"Lowden is doing what she needs to regain momentum, but she needed to do it two weeks ago," Herzik said. "She went from the front-runner to being neck and neck. And Angle may be ducking because the only person who can hurt Sharron Angle right now is Sharron Angle."
Reid, who voted Wednesday, faces weak opposition in the Democratic primary, so his campaign, the Democratic Party and surrogates have spent much of the past few months targeting Lowden.
In a new TV ad by the Patriotic Majority, a political action committee run by former Reid staffer Craig Varoga, Lowden is slammed for raising taxes and fees and sponsoring a bill as a state senator in 1995 to charge $100 for noncombat veterans to be buried in veterans cemeteries in Nevada.
"Sue's record on taxes is out of touch and outrageous," says the 30-second spot.
The Patriotic Majority's first anti-Lowden ad in May was devastating, making fun of her for saying people could barter for health care and for noting people gave doctors chickens as payment in the old days.
The gaffe partly cost the former state GOP chief her front-runner position.
This time, Lowden fired back immediately after the ad went up. She accused Reid of trying to take her out of the GOP running because he's afraid she'll be a stronger general election opponent than Angle, a staunch conservative who fought taxes and excess spending as a Reno assemblywoman.
"I find it desperate and pathetic that Harry Reid and his liberal allies have attacked me," Lowden said Wednesday in a conference call with reporters as she was campaigning in rural Nevada.
Lowden said she backed the proposed $100 fee for noncombat veterans because she thought the money was needed to give the burial places "the care they deserved." She withdrew the bill after it was condemned by veterans groups and it appeared federal funding would be made available for the cemeteries.
In defending herself, Lowden also took aim at Reid for once saying the Iraq war "was lost," remarks that the GOP has vilified in the past and that Reid opponents bring up to bruise his pro-military record.
"Harry Reid has become a homegrown enemy of our troops and our families," Lowden said. "Harry Reid has turned his back on U.S. soldiers just as he turned his back on Nevada."
Reid dismissed Lowden's latest line of attack and noted he can't coordinate with outside groups.
"I, of course, have no relationship with any PAC that's running ads, period," Reid said of the Patriotic Majority commercials. "So I don't know about that spot at all."
As for his record on veterans issues, Reid cited several of his accomplishments, including bringing home $100 million in funding for various military facilities in Nevada this year alone.
"So my record with the military is one that I'm very proud of," Reid said.
Lowden also has been striking out against Angle in the past few weeks over everything from sloppy campaign finance reporting to voting to raise legislators' salaries. Lowden also is running an ad that suggests Angle wants to give prisoners massages and saunas because, as a lawmaker, Angle once promoted an anti-drug program that used such methods, which were based on a Scientology program.
The Angle campaign has dismissed the Scientology link and defended some of her other hot-button proposals such as privatizing Medicare and Social Security.
On Wednesday, Angle campaign spokesman Jerry Stacy denied she's avoiding the spotlight and said he's turning down interview requests because there are too many, and "I cannot schedule them all."
As for the secrecy surrounding Angle's whereabouts, Stacy said he didn't want to give the other Republican campaigns inside information that could help them in the primary.
"The campaign is canvassing votes needed to win an important race, and our opponents are attempting to come in behind us and try to undo our efforts, so for this reason I am remaining tight-lipped about the campaign's ground game and whereabouts," Stacy said.
Angle hasn't gone completely underground but is reaching out to her core constituency. She's been spending hours talking up her anti-tax message on conservative radio, including the Heidi Harris show in Las Vegas and, nationally, the Lars Larson, Roger Hedgecock and Rusty Humphries programs.
"You're the best person to go up against Harry Reid," Larson told Angle during a friendly interview on Wednesday, adding, "You've got my endorsement."
With early voting set to end Friday, about one-third of the expected Republican primary voters have cast ballots statewide so far and about half in Clark County, according to election officials.
More traditional voters, particularly conservatives, often wait until the day of the primary to vote, including Tarkanian and likely Angle, as well, their campaigns said. Lowden voted earlier this week. In most years in Nevada, about half of voters cast ballots early or by mail.
Clark County Registrar of Voters Larry Lomax said early voting started off slow. He said he expects the Democratic Party turnout to remain low, perhaps finishing at less than 20 percent by Tuesday, but he predicted Republican turnout could be more than 30 percent in the end.
"People will come out because the stakes are high. It's going to be close," said Lomax, who is anticipating a long election night of tabulating returns in the GOP Senate race. "We jokingly say we don't care who wins as long as they win by a lot, but I don't think that's going to be the case this time."
Clark County, where locals Lowden and potential GOP spoiler Tarkanian need to do well to win, accounts for 58.7 percent of the state's 392,404 active registered Republicans. Washoe County, where Angle is better known, has 21.5 percent of the GOP electorate.
A 30 percent-plus GOP turnout means the total vote statewide could be about 120,000 and it could take as few as 40,000 votes for the Republican to win the nomination because there's no run-off in Nevada.
Contact Laura Myers at lmyers@reviewjournal.com or 702-387-2919.