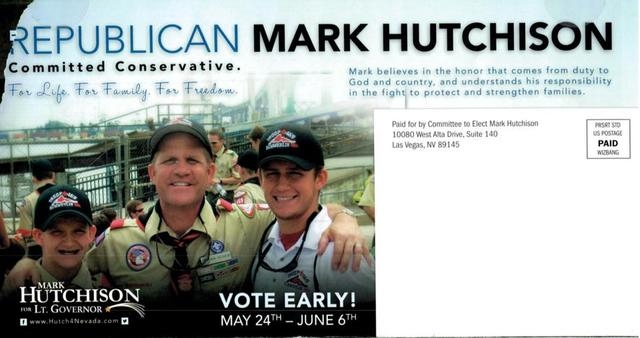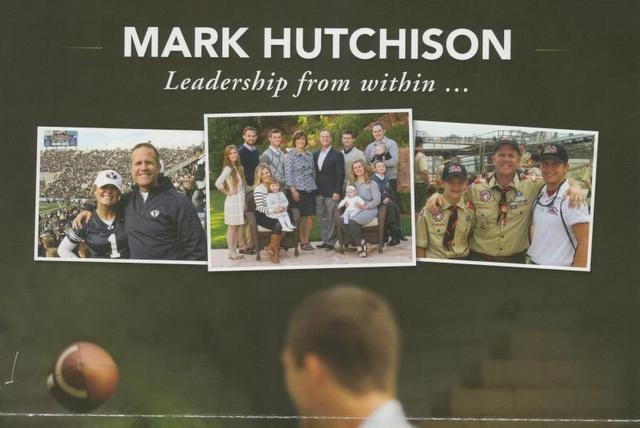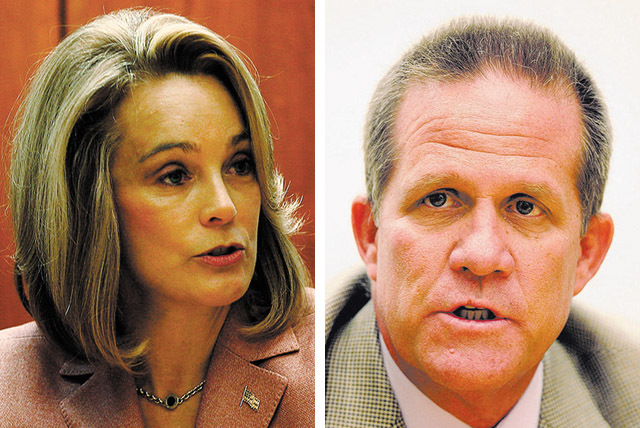 The Republican primary contest between lieutenant governor candidates Sue Lowden and Mark Hutchison is so competitive that even something as innocuous as a Boy Scout uniform has become fodder for a political attack.
In a mailer sent to Nevada Republican households, Hutchison is shown, all smiles, wearing a Boy Scout leader uniform, surrounded by young Scouts, including two of his sons.
Such wholesome photos of candidates are usually standard fare for political ads.
The problem is, wearing the uniform for political purposes is a violation of the Scoutmaster's handbook and Boy Scout policy, Lowden charged this week.
And the grandson of the founder of the Boy Scouts of America is backing her up.
"I find it particularly distasteful that your opponent improperly insinuates BSA endorsement of his political aspirations," Lee W. Mueller of Las Vegas said in an email to Lowden's campaign.
Mueller's grandfather, Chicago newspaper publisher William D. Boyce, founded of the American branch of the organization that encourages young men to "obey the Scout Law" and keep "morally straight."
With early voting underway and Election Day around the corner on June 10, Lowden, Hutchison and their supporters have been looking for anything to sway Nevadans in the race to become GOP Gov. Brian Sandoval's No. 2. Sandoval has endorsed Hutchison, but Lowden is more widely known because of her failed 2010 U.S. Senate campaign.
Last week, it was a GOP operative who uncovered Southern Nevada Health District reports that showed Lowden's Pioneer Hotel and Gambling Hall in Laughlin had a bed bug problem — not that unusual in the hotel business — which made for a pest-fueled political attack on Lowden's management abilities.
Now, it's Boy Scout uniforms.
Lowden, in an email to her supporters, wrote: "Hutchison shreds Boy Scout law to aid dishonest campaign."
"The first characteristic of a good Boy Scout is 'Trustworthy,'" Lowden wrote. "Unfortunately, as we've come to learn in the course of this Republican primary campaign for lieutenant governor, you'd be hard-pressed to trust anything that Mark Hutchison says … including his on-camera whopper about not being a personal injury attorney and employing personal injury attorneys at his law firm."
During their last debate, Hutchison said his firm didn't employ personal injury attorneys, although his campaign later acknowledged it's a small part of the practice. Hutchison himself doesn't appear to handle personal injury cases.
The Hutchison campaign got in its own dig at Lowden in responding to her latest attack.
"The image used in the mail piece was a family picture of Mark and two of his children," the campaign said in a statement. "Mark is proud to be an Eagle Scout and considers it a central part of his background. The mailer was clearly not indicating an endorsement.
"Sue Lowden attacking Mark Hutchison's character is the height of hypocrisy considering she refuses to pay over $600,000 to the small businesses she hired to work on her 2010 campaign," the campaign added. "If Lowden is truly concerned about integrity, she would pay the struggling businesses the money she owes them rather than infusing hundreds of thousands of dollars into her campaign to fuel her own political ambitions."
In her email to supporters, Lowden quotes from the Scoutmaster's Handbook about "when not to wear the uniform."
"Do not wear the uniform in situations that might mistakenly imply an endorsement by the BSA of a product, service, political candidate or philosophy," the handbook reads. "Scouts and Scouters are encouraged to take part in political matters as private individuals but not while wearing the uniform."
She said the National Council of the Boy Scouts of America also sent out an advisory, saying "Photos of candidates or Scouts in uniform or BSA marks and logos are not allowed in political campaign materials of any kind."
"Mark Hutchison is darned lucky he doesn't have to campaign with one hand on a Bible!" Lowden wrote in her email.
Hutchison, who has been a Boy Scout and a Scout leader, is not only an Eagle Scout but also won a Silver Beaver Award for distinguished service, given to those "who have made an impact on the lives of youth through service."
In an interview Wednesday, Mueller, the grandson of the founder of the Boy Scouts, said he is a Lowden supporter and was so before receiving the Hutchison mailer. He said Hutchison "should have known better" than to wear the uniform in a political mailer.
"And he should correct his mistake," he added.
"There are people who wrap themselves in the cloak of what the Boy Scouts stand for and they're anything but representative of those principles," Mueller said. "Just like a pedophile Catholic priest who says he's a messenger of God and he's not."
In his email to Lowden, Mueller noted that his grandfather "dealt with the notorious politicians of that city in an era when unscrupulous behavior was standard practice."
"In response to this exposure to the unsavory nature of Chicago politics, he founded the Boy Scouts in 1910 believing that a national organization which inculcated good citizenship, and personal integrity in young boys would serve the country well and help build a durable Civilization," he wrote. "Unfortunately, as with other institutions that seek to promote ethical standards, Scouting can only provide an example for developing moral conduct and good character. It cannot guarantee that its participants will not become imposters who disingenuously pretend to embrace the principles of Scouting. Your opponent's political conduct demonstrates the very reason why Scouting's mission is so necessary."
Contact Laura Myers at lmyers@reviewjournal.com or 702-387-2919. Find her on Twitter: @lmyerslvrj.