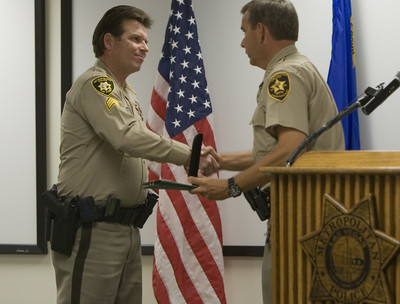 Las Vegas police officer Dave Corbin was on his way home from work in the wee hours of March 5, 2006, when he saw the black smoke billowing from a house.
Corbin stopped his patrol motorcycle and ran up to the front door. As he banged on it, he saw a mother with a child who had been able to escape. The woman told Corbin her son was still inside.
On Wednesday, Corbin recalled kicking in the door. "It was like a furnace," he said.
He was met by a wall of black smoke, so he ducked and started yelling to see whether anyone was still inside.
"Through the smoke, I could see a pair of legs," Corbin said.
He was able to grab the teenage boy and led him to safety.
After talking with firefighters and making sure everyone who needed medical attention got it, Corbin continued home.
He had considered it just another day's work until recently when he found out he was being awarded the Metropolitan Police Department's Medal of Honor for his actions.
Corbin, who is in his fourth year with the department, was one of 20 police officers honored Wednesday for their actions in 2006. Overseeing his first commendation ceremony since being elected, Sheriff Doug Gillespie lauded the officers for going above and beyond the call of duty and for risking their lives to keep the community safe.
The ceremony got emotional when Sgt. Robert Schulz was given the department's highest honor, the Medal of Valor, for his role in helping capture an armed robbery suspect after a shootout that was captured on surveillance video.
Schulz was ambushed by Raul Eduardo Gonzalez on Aug. 9, 2006, outside the Marshalls store near the Boulevard Mall along Maryland Parkway near Desert Inn.
The front windshield of his patrol car was struck by several bullets, one of which went through the driver's seat headrest.
Schulz was able to return fire, striking Gonzalez in the leg. That slowed Gonzalez down enough to allow police to capture him as he tried to take a woman hostage nearby.
Schulz was struck by bullet fragments and shrapnel and has not fully recovered. He has had two shoulder operations and bullet fragments remain in his face. He also has trouble hearing.
Schulz said he never had time to think during the shootout. He just reacted. "I relied on the training I received for the same exact scenario 29 years ago," the veteran said.
"I tell everyone, cops do this stuff everyday. Mine just happened to be caught on video," he said with a smile.
Schulz's mother, Dorothy Schulz, attended the ceremony. "I am so very proud of him. I don't want to go through another night like that," she said.
It was the second time in his career that he was involved in a shooting. In February 2005, then-Sheriff Bill Young gave Schulz the department's Meritorious Service Award for shooting a pit bull that had been terrorizing a neighborhood near Jaycee Park.
On Wednesday, Gillespie gave Medals of Honor to 18 officers.
Sgt. Dennis Burgress and officers Carlos Hank, Michael Seed, and Joseph Sobrio were honored for their response to the Berkley Square shootings on May 28, 2006, when a group of youths fired indiscriminately into a crowd of hundreds, killing three people and wounding five others.
Sgt. Raymond Reyes and officers Jeffery Arrigo, Maynard Bagang, Matthew Bigam, James Bonkavich, Lance Hardman, Joey Hernandez, Allen Hogan, Norman Jahn, Peter Jahn, Noel Lefebvre, Luis Payan, Evan Rosenthal, and John Swales were honored for their response to a shooting at Harrah's Las Vegas on Feb. 21, 2006.
The officers went to the Strip resort after learning a guest had been shot.
The shooting suspect, Curtis Bonilla, was holed up in a room and had already fired at security officers.
The police officers formed a shield and were able to get the victim, Philip Anthony McElreath of Reno, out of a hallway where he had remained in harm's way. Though they were able to get the bleeding man to an ambulance, he died from his wounds later at a hospital.
Bonilla was arrested by the SWAT team at the hotel.