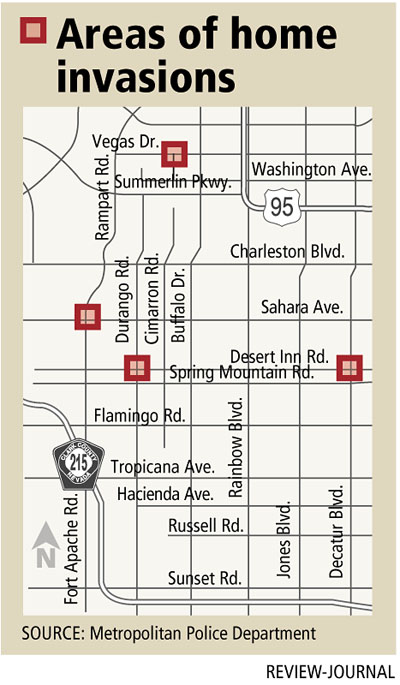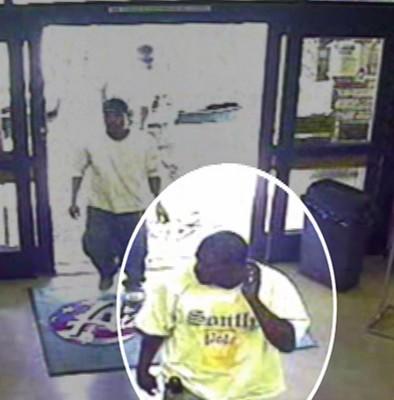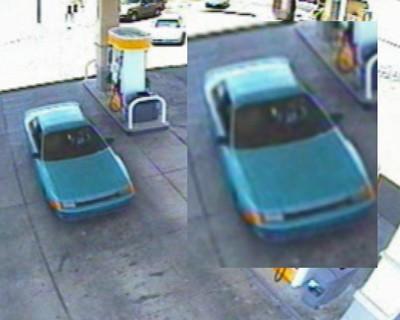 Las Vegas police are searching for three men armed with pistols and a stun gun who have committed brazen kidnappings and home invasions in the southwest valley.
Although the suspects never seriously hurt the victims, they shocked many of them with the stun gun and kept them bound for hours, police said.
While victims were bound with duct tape, the robbers took cash, jewelry, credit cards and electronics. In two cases, the suspects also stole the victims' vehicles.
Police later recovered the vehicles.
"Our biggest concern so far isn't the dollar amount but the fact that we have citizens terrorized in their homes," said Sgt. Chris Tomaino of the Metropolitan Police Department's robbery unit.
Police are looking for a white man between 25 and 30 years old and two black men in the same age range.
The suspects are responsible for at least four home invasion robberies during the past 30 days.
Tomaino said the men targeted apartment complexes and condominiums and often struck around 5 a.m or 6 a.m. The suspects approached the victims as they were leaving their homes and ordered them back inside at gunpoint even after the victims offered to hand over their wallets or purses.
Once inside, the suspects shocked them in their legs with the stun gun to get them to comply with their demands. The men then bound their victims and spent several hours ransacking the residences.
The suspects allowed their victims to get up to go to the bathroom, and they loosened the duct tape if the victims complained that it was too tight, Tomaino said.
But those allowances do not make the robbers any less of a threat to the public, Tomaino said.
"Most burglars want to be there when no one is home. When you have someone who is committing robberies by kidnapping and tying them up, it comes within a few steps of ultimate violence," Tomaino said.
Residents at the Sky Court Harbors apartments, on Desert Inn Road near Durango Drive, close to the site of one of one of the home invasions, were unaware of the crime spree.
But one man, John Cangeloni, knew what he would do if confronted by armed men outside his apartment.
"I guess I'd do what they wanted me to do. My life is more important (than material possessions)," he said.
Police are looking to question two additional people in connection with the home invasions.
One of them is a black man in his mid-20s who was captured on surveillance video driving a dark green 2007 Pontiac Grand Prix when he used one of the stolen credit cards.
The other person police want to talk to is a black woman in her late teens or early 20s who was seen driving a bright aquamarine 1980s two-door Toyota Celica. Police think she might have some information that would be useful to the investigation.
News of the home invasions comes on the heels of another string of high-profile robberies in the southwest valley. Last week, Las Vegas police arrested three teens who were part of a roving group of youths who had been terrorizing the area.
Police said the group of 20 or 30 youths snatched purses, robbed people at gunpoint and pistol-whipped a 76-year-old man.
Police arrested 19-year-old Keshone Maurice Owens and two boys, ages 17 and 14, for the robberies.
Authorities had arrested Owens in September 2005 after he exchanged gunfire with a man whose vehicle he was trying to steal on Russell Road near Rainbow Boulevard, according to a police report. Owens fired at the man but did not hit him.
Owens pleaded guilty to assault with a deadly weapon and attempted auto burglary. He served 11 months in prison and was paroled six weeks ago.