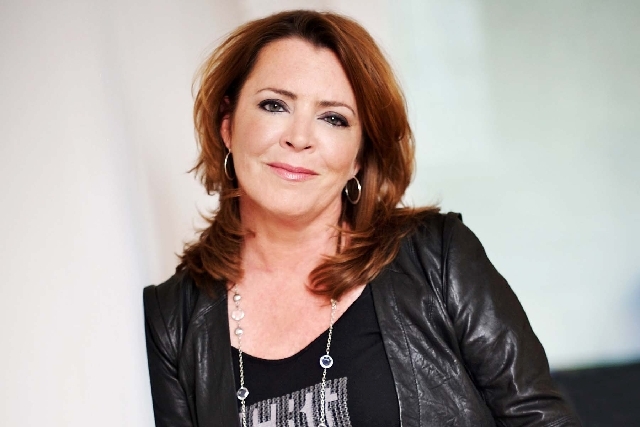 Comedian Kathleen Madigan has been paying for her mother's Sprint phone service for so long, the following story actually happened when her mom tried to buy a new phone at Best Buy.
"They said, 'Who's your provider?' And my mom said, 'My daughter.'
"And they go, 'No, no, what's your company?' She goes, 'My daughter. She's my provider.'"
Madigan — who headlines at The Mirage tonight — recently visited her mom and dad in the Ozarks of Missouri.
They are not the world's most technically proficient parents.
"They got a flat screen (TV). It was supposed to go above the fireplace. But they were, like, 'That hurts our neck, and it makes everybody look fat.'
"So they shoved the flat screen where the old TV was — but it doesn't fit there.
"My dad goes, 'Well, what are our options? We can't have our necks broken over a movie!'"
While Madigan was in the Ozarks, she signed her parents up for Netflix so they can watch her next standup video, "Madigan Again," when it premieres on Netflix this fall. Fans told her that's where they watch her videos.
"I polled everybody on Twitter and Facebook, and I said, 'Where did you guys see "Gone Madigan," my last special?' And I'd say 80 percent of them said Netflix, 20 percent said Showtime, and maybe 5 percent said CMT. Which is 105 percent, which is why I'm a comedian and not an accountant."
Madigan has some trouble with technology. She had a "love affair" with her Blackberry, but she gave it up, and she has been in minor mourning ever since.
At least she didn't buy an Apple phone, she says.
"Anybody who's on an iPhone, I can tell they're on an iPhone, because they sound like they're underwater," she says. "With the media, I can't be on a phone that sounds like I'm underwater the entire time."
Amen, I say.
But she hasn't figured out how to use call-waiting on her new Samsung phone, yet.
"I was on the phone with Bob from 'The Tonight Show' when you called, and I said, 'I have to hang up on you, Bob, because I don't know how to tell Doug to give me five minutes, because I don't know how to do call-waiting!'"
It's that big button right in the middle of the screen, Kathleen.
bumping into TOMMY LEE
Today, "Real Housewives of Orange County's" Gretchen Rossi hosts "The World's Largest Bachelorette Party" at Tao Beach pool at the Venetian, along with some Chippendales, stripper pole classes and chair massages.
I asked Rossi for her best Vegas story.
"It was for my first bachelorette party, when I was getting married the first time," Rossi said. "Me and my girlfriends were out till 7 in the morning and having a ball.
"I was doing somersaults in the middle of the casino, and I somersaulted into Tommy Lee. Everyone was, like, 'Uh, Gretchen?' And I didn't even know it was him until I popped up and said, 'Hey, Tommy, let's take a picture.'"
I joked to Rossi, "You're lucky, because usually when women summersault into Tommy Lee, they end up at the OB-GYN the next day."
"Exactly," she said. "Thank God that didn't happen for me."
(It's just a joke, Tommy, no offense, big guy.)
Doug Elfman's column appears Mondays, Tuesdays, Thursdays and Saturdays. He also writes for Neon on Fridays. Email him at delfman@reviewjournal.com. He blogs at reviewjournal.com/elfman.