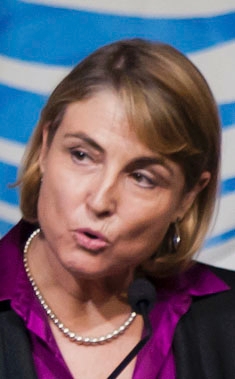 CARSON CITY — State Treasurer Kate Marshall, six days after losing a congressional election, said Monday she would not rule out the possibility of seeking a higher office.
However, the Reno Democrat declined to talk about what office that might be.
"It's too early to talk about my future (as a candidate). I think I need to do my job as treasurer," said Marshall, speaking in her first full interview since she suffered a 22 percentage point loss to Republican Mark Amodei.
Before that loss in the Republican-dominated and rural 2nd Congressional District, Marshall twice had won the statewide treasurer's seat. Her second and final term as treasurer ends in 2014, when she could run for attorney general, secretary of state or another office.
"I always want to serve the people. I would never say no to the future," she said.
Bad defeat notwithstanding, Marshall said she enjoyed campaigning.
"It was not an ordeal but an honor to be the Democratic candidate. I thank the people who supported me and those who contributed financially and volunteered to help my campaign," she said.
One political expert, though, sees Marshall as "damaged goods" who would have a difficult time drawing financial support in a bid for another office.
"I think she will struggle to get Democratic Party and financial support," said Fred Lokken, a political science professor at Truckee Meadows Community College in Reno. "It was so damaging for her that it will be an uphill battle for her to be a candidate in any race. People who know her say she is intelligent and a capable treasurer, but her campaign was the worst I have seen in 20 years in Nevada."
On the other hand, state Democratic spokesman Zach Hudson called Marshall a "fantastic state treasurer" who will continue to serve Nevadans well in that position.
"While it is too early to speculate on elections years away from now, Kate has a very bright future in Nevada politics," he said.
Back in her Capitol office, Marshall spent part of Monday meeting with staff and preparing to implement Senate Bill 75, which goes into effect Oct. 1. The law sets up a board that will oversee giving $50 million in loans to companies that want to expand or locate in Nevada.
The board, a funds manager and Marshall will oversee the awarding of loans. Regulations to operate the program have been adopted and most board members appointed. Their names will be announced when the full board is appointed, she said.
During the campaign, Marshall frequently touted her jobs bill, while noting that Amodei did not have a record of creating jobs. She said he killed jobs by voting for a payroll tax on business as a state senator in 2003.
Since her election loss, Marshall has been spending time with her two daughters and resting.
She said she regularly visited her Carson City office and kept in touch with staff members during the two-month campaign to fill a vacancy in the 2nd District.
Gov. Brian Sandoval appointed Rep. Dean Heller, R-Nev., to the Senate after John Ensign announced his resignation. Amodei, Marshall and two others then competed in the election to replace Heller.
Amodei will serve the last 15 months of Heller's term. He has announced he will be a candidate for a full two-year term in the November 2012 election.
Contact Capital Bureau Ed Vogel at evogel@reviewjournal.com or 775-687-3901.