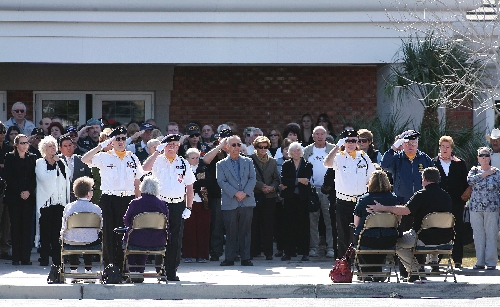 MESQUITE — After years as a Denver homicide detective, Bill Fairchild seemed to relish the new role and new uniform he wore in retirement.
He and his wife, Donna, moved to Mesquite in 1999, and Bill quickly took a part-time job at the community's recreation center, where he would show up to work three days a week wearing a Hawaiian shirt, khaki shorts and a grin.
"Any time you asked him how he was doing or how his day was going, he would always give the same answer: 'Just another day in paradise,' " said Jeremiah Garcia, his rec center co-worker for 10 years.
Garcia and about 300 others turned out Friday to remember Bill and Donna Fairchild during a 90-minute memorial service at the LDS church in this small city 80 miles northeast of Las Vegas.
On Jan. 25, the Mesquite City councilwoman shot her husband of 21 years and then turned the gun on herself. She left behind two notes but no real explanation for why she decided to end their seemingly happy lives.
Though Donna was in hot water with council colleagues for submitting a false travel reimbursement and had offered to resign from office hours before her death, those who knew her best don't see it as a cause.
City Recreation Supervisor Nicholas Montoya said Bill talked about paradise without a hint of sarcasm in his voice. The 62-year-old was always smiling, always hugging people, never seemed to have a bad day. He used to encourage his co-workers to stop and listen to the laughter of children at play.
"He'd be the first to tell you he was ready to retire and enjoy life, and he did," said Montoya, Bill's friend and co-worker for almost 12 years. "He was genuine. What you saw was what you got."
Bill Fairchild was born in Iowa and grew up in Denver. After graduating from high school, he enlisted in the Army. In Vietnam he saw combat as a tank commander and received a Purple Heart.
He joined the Denver Police Department in 1971 and spent the early part of his career as a motorcycle patrolman.
Montoya said Bill used to tell him stories about riding his motorcycle during the frigid Colorado winters because the department didn't have enough squad cars in those days.
"He would have to write tickets with a pencil because the ink in the pens would freeze. He said he had a little pencil sharpener built into his Harley," Montoya said.
Bill and Donna met on the job.
She was a military brat born in Germany who joined the police force in 1983 after working as a radio news reporter and a paramedic. They married in 1989 and retired together in January 1999, her as a sergeant, he as a detective.
Montoya said Bill never told him the story of how they met, but he did talk about what attracted him to her back then. "He said she was a fiery little redhead who didn't take any guff from anyone."
Friday's memorial service began outside the church. The Fairchilds weren't members, but it was one of the few spaces big enough to hold all their friends. Mourners were greeted by a line of gray-haired military veterans dressed in white shirts and black berets.
The Virgin Valley Veterans Honor Guard is a group of about 25 seniors who take part in funerals, parades and other observances in the Mesquite area. Coordinator Tony Hardway said he had to talk Bill into joining the honor guard in 2005, but he quickly became one of its most reliable members.
During the memorial service, the group presented folded U.S. flags to Donna's mother and one of Bill's two grown daughters from a previous marriage.
Then seven riflemen fired three shots each as Taps was played.
Hardway said Bill and Donna were regular volunteers at Mesquite's senior center and helped make care packages for servicemen and women in Iraq and Afghanistan.
Hardway and his wife would meet the Fairchilds for dinner a few times a month. They always seemed happy and affectionate.
"You'd think they were newlyweds," he said.
Then he used a word you hear a lot to describe Bill and Donna: inseparable.
"It's been days, and I still don't know why it happened," Hardway said of their deaths. "I thought I knew them pretty well."
Montoya saw Bill and Donna together the day before they died. He said he passed them as they were walking out of the rec center after their usual morning workout. They were holding hands and teasing each other the way married people do.
When Bill returned to the center later that day for his Monday shift, he was his usual happy self, Montoya said.
"I remember it like it was yesterday," he said. "I remember it like it was 20 minutes ago, to be honest."
Montoya said had planned to speak during the memorial but just couldn't do it.
Even people who knew Bill only as a smiling face at the front desk of the rec center seem to be struggling with his death.
Montoya said one regular told him she debated whether to keep going the center after she heard the news. When she finally did come in, she couldn't keep from crying.
"She said, 'I was just hoping and hoping and praying that Bill would be there,' " Montoya said. "It wasn't as good as one of Bill's, but I gave her a hug."
Contact reporter Henry Brean at hbrean@reviewjournal.com or 702-383-0350.