Air Force captain keeps aging fighter jets flying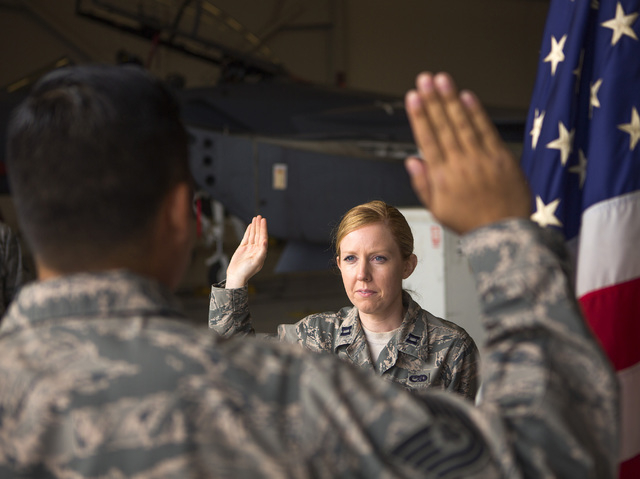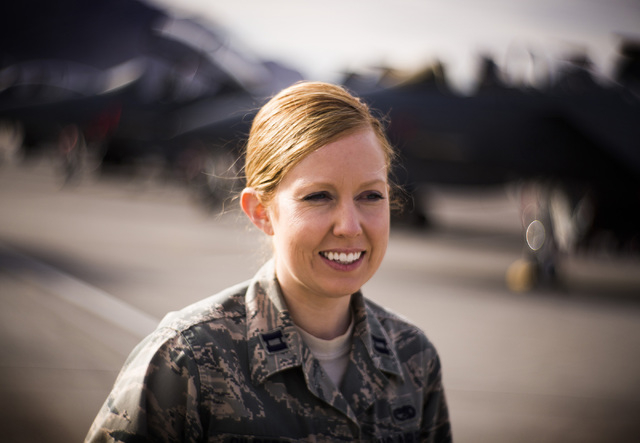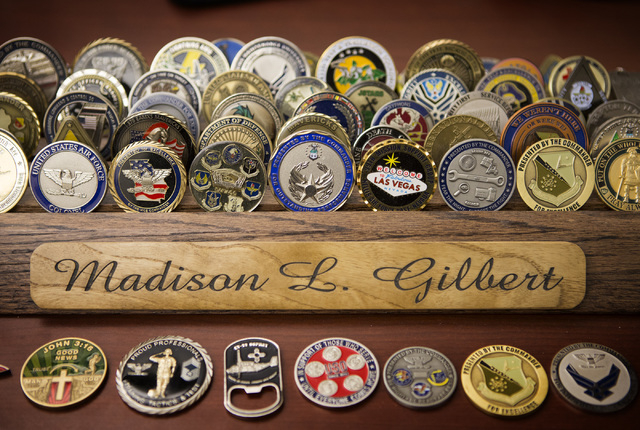 The F-15E Strike Eagle has been flying for the Air Force since 1988, two years after Capt. Madison Gilbert was born.
Little did she realize while growing up in Palm Springs, California, that more than one-quarter of century later she would be the officer in charge of making sure these aging warbirds can still work for training pilots at Nellis Air Force Base.
"My job, I think, is critical in the Air Force and in the aircraft maintenance unit because I can take issues that the airmen are having and I can solve them at a higher level," said Gilbert, 30.
She is a 2009 Air Force Academy management graduate who's been at Nellis for four years following a stint with maintaining heavy, jetliner-size aircraft at Robins Air Force Base, Georgia.
Inside Nellis' 757th Strike Maintenance Unit hangar, her solution for keeping F-15E Strike Eagles flying is to find enough parts to go around when the jets return with ones that are worn out.
"We have challenges with getting parts," she said Wednesday before her 7:30 a.m. meeting with her maintenance team.
"We have to utilize a cannibalization bird. The 'can bird,' as we call it, is kind of a donor for all of our other aircraft," said Gilbert, an energetic woman with strawberry blond hair whose laugh gave her the handle, "Cackle."
"The 'can bird' "sits down for about 30 to 45 days while the other aircraft go and fly. And when they come back and they need a part that we cannot get from the supply system, we take it off the 'can' aircraft and put it on all the other aircraft that need parts," she said. "And so that aircraft might have 10 parts that are gone from it that we're waiting for supply to fill."
Another issue she deals with is manning the maintenance team.
"We don't get the type of manning that perhaps the other newer units would get. So it's a struggle trying to provide what the pilots and the weapons system officers want while still trying to make sure that our guys aren't overworked," Gilbert said.
She said her faith and her morning routine help her solve problems that surface.
"I do believe in God, so I pray just for our unit and for everything that's going on for the day," she said.
After breakfast she reviews notes and charts on aircraft in the hangar so she "can ask the right questions."
Then, she meets with her staff at 7:30 a.m., which is usually followed by meetings with group and wing leaders.
"And there I present any concerns that we may have had at our meeting that maybe the generals or colonels can fix that I might not be able to at my level," she said.
"Then, once I'm done with that, I come back and work on whatever needs to be done. It's never the same. Every day I have a lot to do but it's very reactionary and I'm trying to put out fires and do what's best for the people."
The "fires" range from trying to find funding for equipment after contracts have expired to finding outside ramp access for huge toolboxes from the back of the hangar so they don't have to be toted around the front of it.
"It's really inconvenient," she said.
Gilbert also charts the flying program for the upcoming year.
"We have two different units that are basically our customers. We have test operators and then we have weapons school operators," she said. "They all want to fly as much as possible, so we have to make sure that we can meet their requirements."
Contact Keith Rogers at krogers@reviewjournal.com or 702-383-0308. Find him on Twitter: @KeithRogers2