Air Force's 1st female fighter pilot achieves another 1st at Nellis
January 27, 2016 - 8:20 am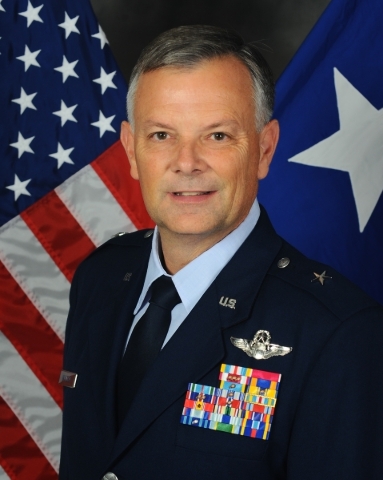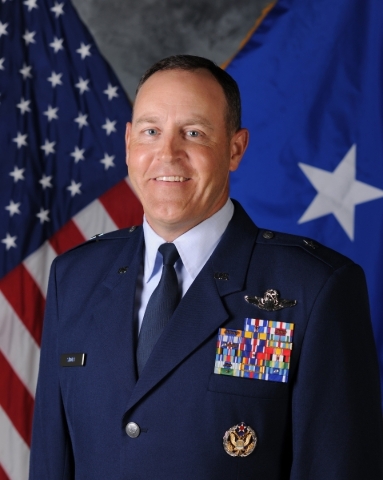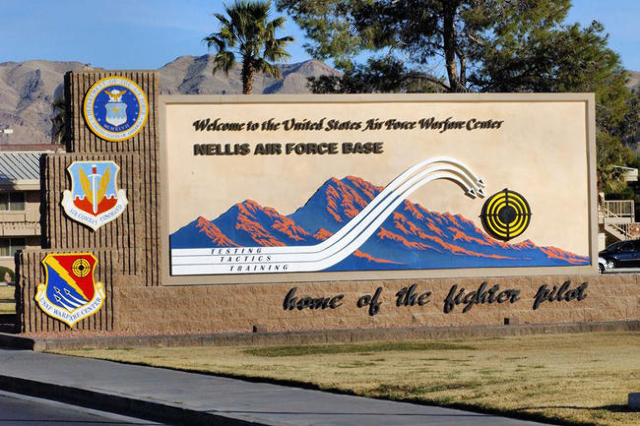 Keeping in lockstep with the Pentagon's direction to open all positions, including combat roles, to women, Nellis Air Force Base will also break the gender barrier this year in its command leadership.
Base officials confirmed Tuesday that Col. Jeannie M. Leavitt will join the ranks of the base's top brass by taking the reins of the 57th Wing, becoming the highest-ranking female officer to command at Nellis.
"We look forward to her leadership here," Nellis public affairs officer Maj. Teresa Sullivan said.
She noted that command leadership positions at Nellis have always been open to women, but this is the first time that a woman will command the 57th Wing. She was selected because she was the most qualified for the position, Sullivan said.
Selected for the rank of brigadier general, she will command the wing, which manages all flying operations at the base, including Red Flag and Green Flag air combat training exercises. The 57th Wing also runs the graduate-level U.S. Air Force Weapons School, oversees the world-renowned Thunderbirds air demonstration team and supports the Air Force Warfare Center's test-and-evaluation activities.
Leavitt, who became the Air Force's first female fighter pilot in 1993, currently serves as Secretary of Defense Ashton Carter's principal military assistant at the Pentagon. Attempts to reach her Tuesday through a duty officer at the Office of the Secretary of Defense were unsuccessful because of closures in Washington, D.C., due to this week's heavy snowfall.
She is an F-15 pilot whose flight hours include 300 in combat, mostly over Afghanistan and Iraq but also in Operation Southern Watch in the Middle East, where she helped thwart an Iraqi surface-to-air threat against a United Kingdom aircraft in 1996.
Her selection for brigadier general was announced Jan. 21 by the Pentagon along with promotions that affect the two-year rotation in leadership at Nellis.
Brig. Gen. Glen VanHerck, a bomber general who directs operations for the Global Strike Command at Barksdale Air Force Base, La., was selected for promotion to major general and will be next commander of the Air Force Warfare Center at Nellis, replacing Maj. Gen. Jay Silveria.
Attempts to reach VanHerck through the Air Force press desk at the Pentagon were also unsuccessful because of snow closures.
After a change-of-command ceremony at Nellis in the coming months, Silveria will play a command role in the global war on terrorism. He will become deputy commander at U.S. Air Forces Central Command, and deputy, Combined Forces Air Component commander for U.S. Central Command, Southwest Asia.
"The courageous Airmen of the warfare center make victory possible and has prepared me for my next assignment," Silveria said in statement, adding that he is "humbled and proud to have served as the Warfare Center commander."
"I've been fortunate to be a part of this team where Nellis and Creech couldn't do what they do without the exceptional support from the greater Las Vegas community," Silveria said.
Nellis and Creech Air Force Base, a hub for remotely piloted aircraft operations at Indian Springs, 45 miles northwest of Las Vegas, have a combined economic impact of more than $5 billion annually on the local economy. They account for more than 38,700 personnel and dependents including active duty, reserves, Air National Guard and civilian employees.
In mid-April, Leavitt will replace Brig. Gen. Christopher M. Short as commander of the 57th Wing. Short will be a senior defense official and attache to the United Kingdom for the Defense Intelligence Agency at the U.S. Embassy in London.
"It is always bittersweet to leave command, and leaving the 57th Wing will be especially tough," Short said. "The impact the 57th Wing has across our Air Force is unmatched and the advances we've made in training at the highest levels, integrating capabilities across air, space and cyber are leading … our joint force."
Nellis' 99th Air Base Wing commander Col. Richard Boutwell will also leave this summer for an assignment that hasn't been announced. His replacement is Col. Paul Murray, who is serving at the National War College in Washington, D.C.
Contact Keith Rogers at krogers@reviewjournal.com or 702-383-0308. Find him on Twitter: @KeithRogers2