Area 51 mystery: Nighthawks seen over Nevada
October 31, 2014 - 2:11 pm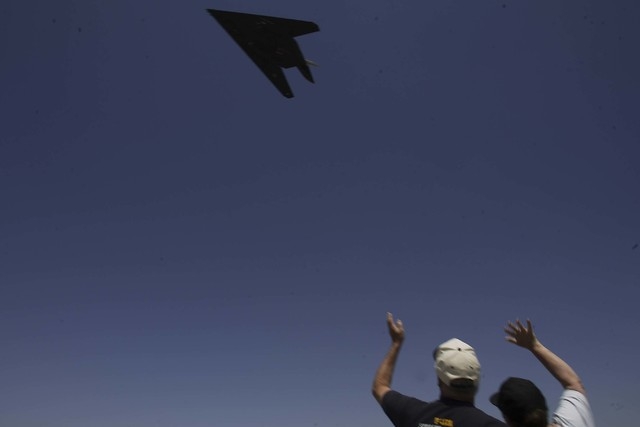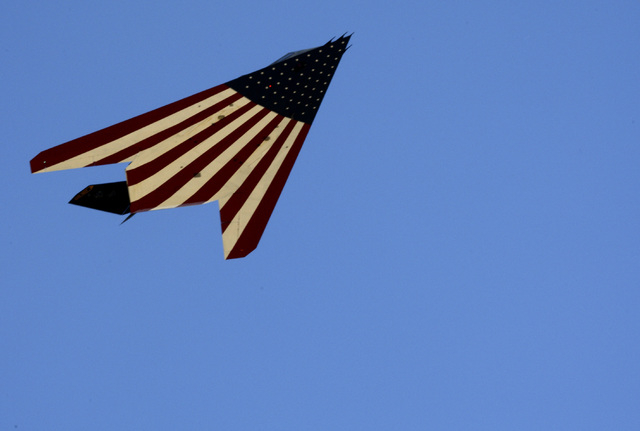 They're back.
The once-secret F-117A Nighthawk, the nation's first stealth combat fighter jet that flew into history in 2008 when the fleet was retired, has been seen winging over the Tonopah Test Range as recently as late September.
A Nellis Air Force Base spokesman confirmed that the Nighthawks have resumed limited flights in an email he relayed from Air Force Materiel Command to answer a Review-Journal query.
"Since its retirement from active flying status in 2008, the Air Force's cadre of F-117 Nighthawks have been maintained at their original, climate-friendly hangars at the Tonopah Test Range Airport in Nevada," according to an email Wednesday from Nellis spokesman Master Sgt. David Miller.
"In order to confirm the effectiveness of the flyable storage program, some F-117 aircraft are occasionally flown," Miller wrote.
That explains the blurry photos of an F-117A operating at the Tonopah Test Range in Nye County, 30 miles southeast of Tonopah, that were posted Oct. 3 on the Aviationist website. The Aviationist is run by David Cenciotti, a military aviation blogger and freelance journalist from Rome. The photos are credited to lazygranch.com and claim to have been taken from Brainwash Butte on Sept. 30.
Other online reports published recently by Defense News and Tyler Rogoway's Foxtrot Alpha blog offered theories on the timing of the flights in connection with radar-signature testing, such as what might be going on 70 miles away from Tonopah Test Range Airport at Area 51.
That's where the F-117A Nighthawk evolved during the late-1970s and early-1980s, and where a large hangar was being built this summer at the south end of a taxiway near Groom Dry Lake. Construction was ongoing in August at Area 51 — an installation where classified work on future, high-tech aircraft is conducted, 90 miles north of Las Vegas.
The new hangar is presumably for a stealthy Unmanned Aerial Vehicle long-range bomber, according to John Pike, director of globalsecurity.org, a military information website.
So why would the F-117A be flying again in the vicinity of Area 51?
"What I think is, the truth can be so precious that it must be protected by a bodyguard of lies," Pike said Wednesday in a philosophical answer about the government's safety catch for masking the truth. He described it as a "strategic deception program."
"If I'm flying a big UAV bomber and if someone catches sight of it, it can be explained away by the flight of the F-117A," Pike said, adding, "There's nobody in here but us chickens."
With much fanfare, the last four F-117A Nighthawks, including one adorned with a specially painted U.S. flag on its belly, were flown April 22, 2008, on the last leg of their retirement journey from Lockheed Martin's Skunk Works plant in Palmdale, Calif., to the Tonopah Test Range. The Nighthawk was lauded at a ceremony for former Skunk Works employees and stealth designers for blazing the trail for today's air-superiority stealth jets, the F-22 Raptor and F-35 joint strike fighters.
The F-117A stealth jet with its secret, black coating and oblique, batlike shape revolutionized air warfare because it could evade detection and drop precision-guided bombs at night.
After years of secrecy, the Nighhawk made its public debut on April 21, 1990, when it was parked at Nellis in a heavily guarded display that drew 350 media representatives from around the world and tens of thousands of viewers.
During the Persian Gulf War the following year, 36 F-117As then assigned to an air wing base at the Tonopah range were used to strike targets in Baghdad. Then in March 2003, a pair of Nighthawks spearheaded the U.S.-led invasion of Iraq during Operation Iraqi Freedom.
Fifty-nine production models were made, with the last rolling off the line at Lockheed's Palmdale plant on July 12, 1990. Seven were destroyed in crashes, including one lost in combat over Yugoslavia on March 27, 1999, in the Kosovo war effort. Two have been put on static display: one at Nellis' Freedom Park and another at Holloman Air Force Base, N.M., the fleet's last operational home base.
In announcing the Nighthawk's mothball plans in January 2008, Arlan Ponder, a spokesman for the 49th Fighter Wing at Holloman, said, "They're basically unbolting the wings. They'll be in recallable condition."
In the Air Force response Wednesday attributed to Materiel Command spokeswoman Susan Murphy, the Air Force chose to retire the fleet "at the pre-existing secure facilities at Tonopah Test Range" instead of the so-called "boneyard" at Davis-Monthan Air Force Base, Ariz.
"Per Congressional direction with the (fiscal year 2007) National Defense Authorization Act, the aircraft were placed in Type 1000, flyable storage for potential recall to future service," according to the Air Force response to the newspaper's query.
But Pike, of globalsecurity.org, speculates that the reference to "future service" could entail radar signature tests for a remotely piloted, long-range bomber project at the hangar. "That could be one thing they're doing in there," he said.
A source familiar with the construction, who spoke on the condition of anonymity because of the project's classified nature, said it will be 4-stories tall and has a square concrete floor, nearly the size of a couple of football fields — 215 feet by 215 feet.
Pike said a hangar of that dimension is needed because the UAV long-range bomber is huge. "It's a big vehicle about the size of the B-2 (Spirit.) You might have more than one of them. Lord only knows what you have to do in there."
He predicts the UAV long-range bomber will be ready for action before the end of the decade. "It's going to cost a lot less than the B-2 cost because they're using a lot of legacy hardware."
He believes Northrup Grumman Corp. won the black-project contract because their proposal "was to take the long-range stealthy reconnaissance UAV they built and put bomb racks on it."
"When they announced that Boeing and Lockheed teamed up for the competition, that's an act of desperation. That said to me neither one of them had a reconnaissance UAV that could be converted to a bomber," Pike said.
Contact Keith Rogers at krogers@reviewjournal.com or 702-383-0308. Find him on Twitter: @KeithRogers2.

Did you know …
Technical notes for the F-117A Nighthawk:
Armament: Up to 5,000 lbs. of assorted internal stores
Engines: Two General Electric F404-F1D2 engines of 10,600 lbs. thrust each
Crew: One
Maximum cruise speed: 684 mph
Range: Unlimited with aerial refueling
Ceiling: 45,000 ft.
Span: 43 ft. 4 in.
Length: 65 ft. 11 in.
Height: 12 ft. 5 in.
Weight: 52,500 lbs. maximum
National Museum of the US Air Force