Army program helps Vegas Valley soldiers adapt to civilian life
December 14, 2015 - 7:00 am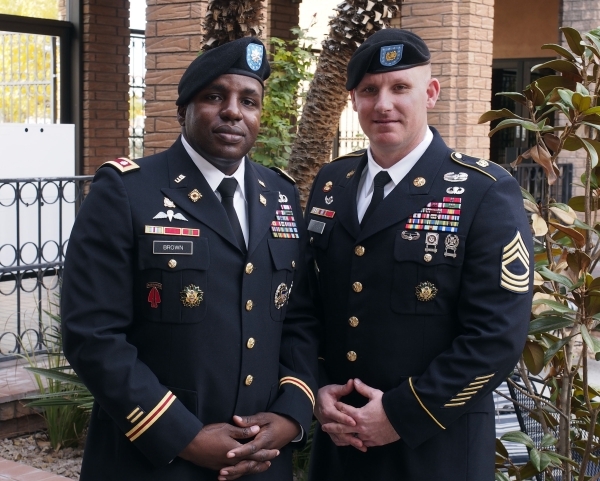 Once a soldier, always a soldier.
That's the philosophy behind the Army's Soldier for Life program.
And it's not only for "lifers" — the moniker given to those who make a long-term career of the military — but for all who are serving in Army, or who have served honorably and can use the tools the program provides for making smooth and worthwhile transitions into civilian life.
That's where their leadership and teamwork skills can be applied to jobs in the private and public sectors, and to make their communities better places to live.
"We are the connection arm to ensure that soldiers, veterans and family members have resources available in society and communities as they transition from the military," said Lt. Col. Derwin Brown, Western Region director of the Soldier for Life program.
Brown, 46, and Master Sgt. George Palmer, 39, the program's Western Region deputy director, have both served multiple tours in the Middle East and elsewhere in Southwest Asia during the nation's Global War on Terrorism.
They visited Southern Nevada last week on a mission to discuss their goals with community leaders and colleagues in the Veterans Affairs health care system.
They also checked out UNLV's military science and ROTC program, which Palmer described as "absolutely rare" because the university is so veteran friendly with on-campus access to VA benefits and educational services.
Brown and Palmer serve in the Army's Office of the Chief of Staff where their jobs become increasingly more important as the Army plans to reduce its force of active-duty soldiers from 490,000 to possibly 450,000 "depending on what happens," Brown said.
"In the bigger scheme when you look at regular retirements from service and the drawdown transitioning, over the next three years we're talking about 374,000 transitioning from the Army component," he said.
"Essentially that was the main driving force for the chief of staff of the Army to create our program so we can ensure that those transitioning service members, family have a soft landing as they come out into society."
The Soldier for Life program helps cushion the "landing" by cultivating combat-trained soldiers to learn how to apply for civilian jobs, write a resume', "dress for success," as Palmer puts it, and use their GI benefits to pursue college courses tailored for landing jobs in the public and private sectors.
The program complements the Army's Partnership for Youth Success — PaYS program — which serves as a recruiting and post-service employment tool. It allows young soldiers to prepare for the future while they serve their country. At the same time it allows for America's corporations to reconnect with the Army.
The PaYS program is based on pacts with private industry, academia, businesses and state and local institutions for which future soldiers and ROTC cadets are guaranteed a job interview and possible employment with a participating partner of their choice.
The list of more than 500 PaYS partners includes the Metropolitan Police Department and companies such as Coca-Cola and Raytheon.
The Soldier for Life program is based on three pillars: health and wellness, employment and education.
"These all revolve around the soldier's life cycle. Start strong, serve strong, reintegrate strong and remain strong," Brown said.
Said Palmer: "The last phase is remain strong. That is when you go out and join your communities and serve as ambassadors for the Army to promote the all-volunteer force."
Contact Keith Rogers at krogers@reviewjournal.com or 702-383-0308. Find him on Twitter: @KeithRogers2.